Main content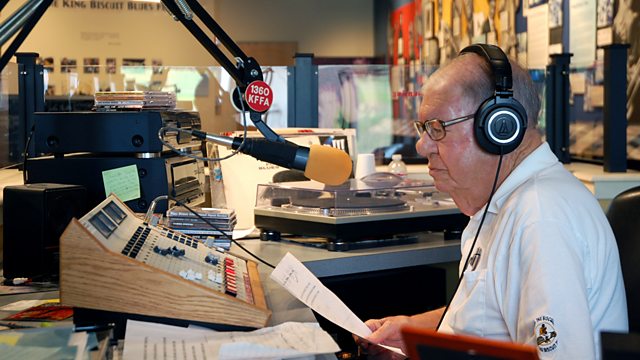 King Biscuit Time Blues
Huey Morgan presents a journey down Highway 61 and the Mississippi delta into prime blues country and the home of the world's longest-running daily radio show.
Meet 'Sunshine' Sonny Payne, a living legend of the blues and a man with a radio career that's lasted 72 years - and is still going.
This is King Biscuit Time Blues: presenter Huey Morgan tells the remarkable story of Sonny Payne's radio show, King Biscuit Time.
Taking a journey down Highway 61 into prime blues country, we cross an enormous iron bridge across the Mississippi to enter the remarkable town of Helena, Arkansas, home of King Biscuit Time and arguably the true centre of delta blues history.
Launched in 1941 on the brand new radio station KFFA in Helena, King Biscuit Time was the first show in the delta area to put African-Americans on the air, the very first radio show to play the blues.
It kick-started the careers of blues greats Sonny Boy Williamson II and Robert Junior Lockwood. It inspired local musicians like BB King and Muddy Waters to leave the cotton fields and seek their fortunes in the music industry.
King Biscuit Time has aired weekday lunchtimes since November 1941. Sonny Payne, who turns 88 in 2013, has presented the show since 1951.
Named after the local flour company and sponsor, King Biscuit Flour, for some 72 years the programme has broadcast in exactly the same slot, 12:15pm, to coincide with the workers' lunch break in the plantations of the Mississippi delta.
The programme is central in music history, helping take the blues out of the fields and into the record stores and concert halls of America, setting off a global chain reaction that would launch the careers of Elvis Presley and the Rolling Stones.
But what's really remarkable - this authentic piece of history is still alive today.
Last on
Broadcast