Main content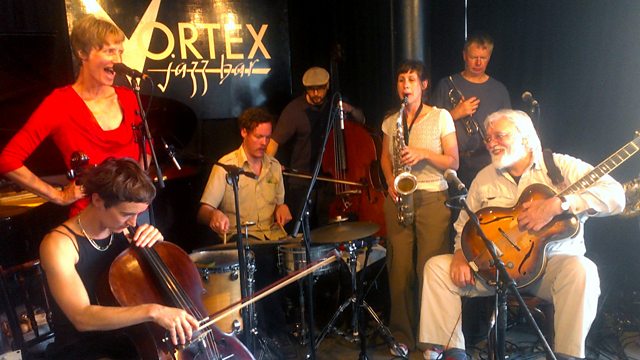 Fete Quaqua Festival 2013
Jez Nelson presents a series of short sets from 2013 Fete Quaqua free improvisation festival at the Vortex jazz club in London.
Jez Nelson presents a series of short sets from the Fete Quaqua festival at the Vortex in London.
Quaqua is Latin for 'in every direction'; guitarist John Russell's annual celebration of free improvisation draws musicians from the UK and beyond to explore existing collaborations and one-off groupings. It's a music that's fresh and surprising every time ? and inevitably ephemeral. In the words of Irish pianist and Quaqua newbie Paul G Smyth, "it couldn't have been made by any of the individuals, it only sounds the way it does because of the people involved". This year's line up of 12 players includes the UK's Rachel Musson (sax), Alison Blunt (violin), Lawrence Casserley (electronics) and returning international artist Ute Wasserman (voice).
Presenter: Jez Nelson
Producers: Peggy Sutton and Chris Elcombe.
Music Played
New Release

Alison Blunt Interview

Fete Quaqua recorded at the Vortex, London on 20 August 2013

All Music Is Entirely Improvised

Lawrence Casserley and Luc Houtkamp explain their approach to electronics

New Release

Fete Quaqua recorded at the Vortex, London on 20 August 2013