Main content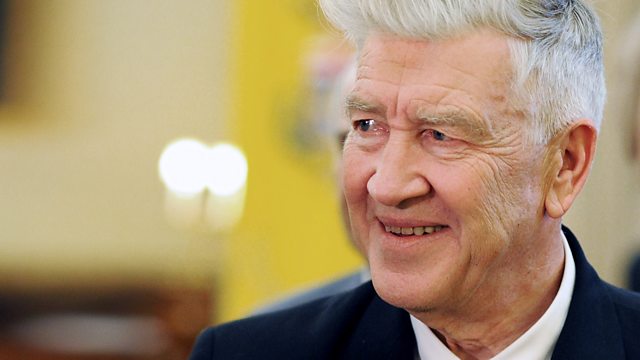 David Lynch
David Lynch discusses the pivotal moments and music that have shaped his life and career with Matt Everitt. First broadcast in 2013.
David Lynch, filmmaker, writer and television director and creator of Twin Peak, Blue Velvet, Lost Highway, Mulholland Drive, Eraserhead and Wild At Heart discusses the pivotal moments and music that have shaped his life and career.
Lynch is also a musician, having helped create the music for many of his movies (he wrote the lyrics to the Twin Peaks theme - Falling sung by Julee Cruise) as well as solo albums such as The Big Dream - a record as hypnotic and disturbingly beautiful as his films.
In a rare interview, recorded in 2013, Lynch speaks to Matt Everitt about his formative early musical influences (Chopin and the sound of B36 bombers flying over his childhood home), his passion for Elvis and early rock 'n' roll, directing David Bowie, his love of jazz, how he creates his own unique music and how the imagery and plot of his classic film Blue Velvet was directly inspired by Bobby Vinton's 1963 classic single, which would never sound the same again.
Last on
Music Played
Roy Orbison

IN DREAMS

ROY ORBISON.
VIRGIN.
VUSCD-68.

Frédéric Chopin

Mazurka No. 49 in A Minor, Op. 68, No.2

Chopin Piano Favourites.
HMV.
HMV-5721332.

Oh My Darling

Oh My Darling Clementine

Sweet nostalgia.
Oh My Darling.
2011.

Buddy Holly

PEGGY SUE

THE NO 1 ROCK 'N' ROLL ALBUM.
POLYGRAM TV.
555-017-2.

Elvis Presley

BABY WHAT YOU WANT ME TO DO

A TOUCH OF PLATINUM - A LIFE IN MUSIC.
RCA.
74321-59598 2.

Percy Faith

A SUMMER PLACE

HERE COMES SUMMER.
OLD GOLD.
OG-3203.

David Lynch

&

Peter Ivers

In Heaven

Eraserhead.
International Record Syndicate.
CD 70027.

Pixies

In Heaven

PIXIES.
COOKING VINYL.
COOKCD-234.

Bobby Vinton

BLUE VELVET

MEMORIES.... ARE MADE OF THIS.
DINO.
DINCD-47.

David Bowie

I'M DERANGED

LOST HIGHWAY (SOUNDTRACK).
MCA.
IND-90090.

Angelo Badalamenti

Laura Palmer's theme

Music From Twin Peaks.
Warner Bros.
7-599-26316-2.

Julee Cruise

FALLING IN LOVE

TRACKSPOTTING.
POLYGRAM TV.
553-430-2.

Dangermouse and Sparklehorse

&

David Lynch

Star Eyes (I Can't Catch It)

Dark Night Of The Soul.
Parlophone.
na-na.

David Lynch

Sun Can't Be Seen No More

The Big Dream.
Sunday Best Recordings.
SBESTCD61.

Neil Young

Love and War

Le Noise.
Reprise.
9362-49618 6.
Broadcasts

The first record I ever bought… by Noel Gallagher, Janelle Monae, Florence Welch, Thom Yorke, Elton John and many more
Podcast
Interviews with major artists revealing the moments and songs that shaped their careers.