Main content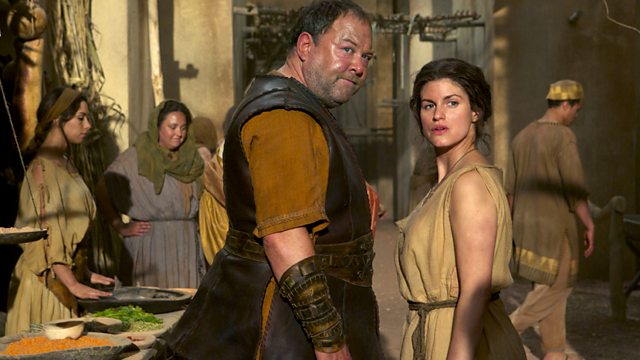 Drama series. The heroes face a race against time and find themselves entangled in the perilous rites of Dionysus alongside a stranger called Medusa.
Despite their newfound fame after slaying the Minotaur, the boys are still penniless and hungry. When an old man asks them to find his missing daughter, things seem on the up, but it soon becomes clear that their task will not be an easy one; she has been taken by the Maenads, fanatical worshippers of the god Dionysus.
With the hopes and life of the old man fading, it is a race against time that Jason cannot turn his back on. But just when their perilous task seems at an end, he comes face-to-face with a stranger named Medusa.
Credits
| Role | Contributor |
| --- | --- |
| Hercules | Mark Addy |
| The Oracle | Juliet Stevenson |
| Anysia | Frances Tomelty |
| Medusa | Jemima Rooper |
| Pythagoras | Robert Emms |
| Jason | Jack Donnelly |
| Itheus | Karl Johnson |
| Ariadne | Aiysha Hart |
| Korinna | Hannah Arterton |
| Karpos | George Savvides |
| Celandine | Shelley King |
| Eris | Naomi Everson |
| Demetria | Stephanie Langton |
| Nereus | David Lloyd |
| Director | Justin Molotnikov |
| Executive Producer | Johnny Capps |
| Executive Producer | Julian Murphy |
| Writer | Howard Overman |