Main content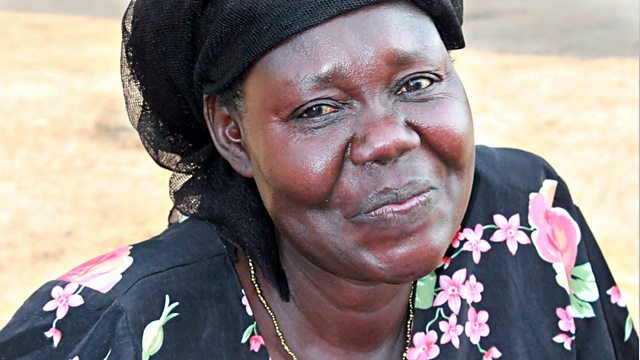 18/10/2013
Ugandan farmer Polly Apio, the women tricked into relationships by undercover police officers, and getting to grips with your pension. Jenni Murray presents the female perspective.
We hear from Polly Apio, a farmer in Uganda. Women tricked into relationships by under cover officers talk about their experiences. And are you getting near retirement and worried about how much money you'll have to live on? Jenni Murray will be joined by Joanne Segars, Chief Executive of the National Association of Pensions Funds.
Presenter:Jenni Murray
Producer:Bernadette McConnell.
Chapters
Undercover Police Officers

Women tricked into relationships by under cover officers talk about their experiences.

Duration: 23:57

Ugandan farmer Polly Apio

Cecile Wright experiences a typical day in Polly's life in Uganda.

Duration: 08:27

Women saving for pensions

Jenni talks to Joanne Segars, Chief Exec of the National Association of Pensions Funds

Duration: 08:45

Ugandan farmer, Polly Apio

Almost as soon as its light Polly Apio is up and working, and she doesn't stop until it's time to go to bed again.  Over 80% of people in Uganda depend on farming to survive. But while most farmers are women like Polly, land is owned and controlled by men. Women produce over 50% of all food grown worldwide.  In sub-Saharan Africa, they grow around 90 per cent of the food, yet little global investment is being made to support women farmers.  Women's access to land ownership, financial services, education, health care and human rights is the key to assuring food security for all. Emboldened by the support of the charity, Action Aid, Polly is helping women's secure their rights. Cecile Wright went to Uganda to meet Polly, and to experience a typical day in her life. She began with a trip to the bore hole to get water.

 

Women saving for pensions

It is just over a year since employers were made to take on board changes to workplace pension schemes. A new law was introduced so that  every employer must automatically enrol workers into such a scheme and pay a contribution towards it. So how has this affected people's attitudes towards saving for their retirement? A survey by the National Association of Pensions Funds this week showed that over the past year women have become more confident about paying into pensions but many still say that they cannot afford to save into a scheme.  Jenni is joined by Joanne Segars chief executive of the National Association of Pensions Funds.

 

 

 

Government Guide to Workplace Pensions

Undercover Police Officers

Eight women are suing the Metropolitan Police and the Association of Chief Police Officers claiming they were tricked into long standing relationships with undercover officers. In 2010  Mark Kennedy was unmasked as an undercover police officer who'd been infiltrating environmental protest groups and this has led to revelations that other officers had relationships with women they were spying on and they didn't reveal their true identities. The women argue that the men  they fell in love with used them physically and emotionally.   So is forming intimate relationships a legitimate part of a difficult and vital area of policing, or an abuse of power by the state? Jenni Murray speaks  to two of the women and   to  Chief Constable Mick Creedon who is leading Operation Herne, an investigation into undercover policing.

Credits

| Role | Contributor |
| --- | --- |
| Presenter | Jenni Murray |
| Interviewed Guest | Polly Apio |
| Interviewed Guest | Joanne Segars |
| Producer | Bernadette McConnell |