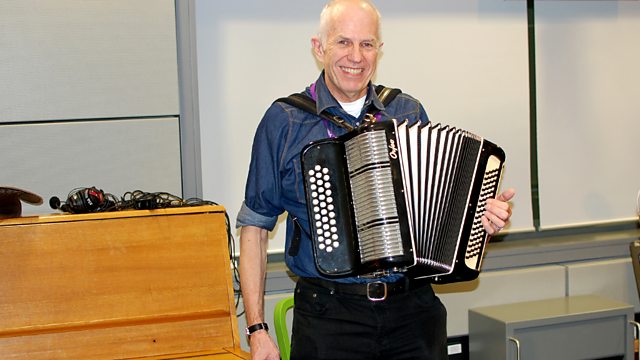 John Kirkpatrick in session
Mark Radcliffe presents an hour of the best folk and acoustic music from Britain and beyond, including the latest releases, classic tracks and news from the folk world.
This week, the popular musician and singer John Kirkpatrick joins Mark live in our Salford studio to perform traditional music from his extensive repertoire.
Known and admired for his mastery of the melodeon and the Anglo concertina, John has been a key figure in British folk music since the early seventies. In a duo with his former wife, the hammered dulcimer player Sue Harris, he played live and released albums into the early eighties. No stranger to big bands, John formed part of Steeleye Span's line-up in 1977, and co-founded folk-brass pioneers Brass Monkey with Martin Carthy in 1982. He explored a rockier sound in the mid-nineties with the short-lived John Kirkpatrick Band.
Some of his collaborations include classic work with Ashley Hutchings, Richard Thompson and Roy Bailey, and his credits as a session musician include performances for Gerry Rafferty and Thea Gilmore (John played melodeon on Thea's popular 2012 single, London).
An established composer and musical director for theatre, John also has a string of broadcasting credits to his name, including the recent Radio 4 documentary Digital Folk and the 2009 BBC Two series Victorian Farm - something he is now revisiting with a series of concerts called 'The Victorian Farmer's Year in Song'. Like his recent solo releases - God Speed The Plough and Every Mortal Place - this work sees John explore his long-standing interest in British seasonal work and its associated customs, songs and dances.
Last on