Main content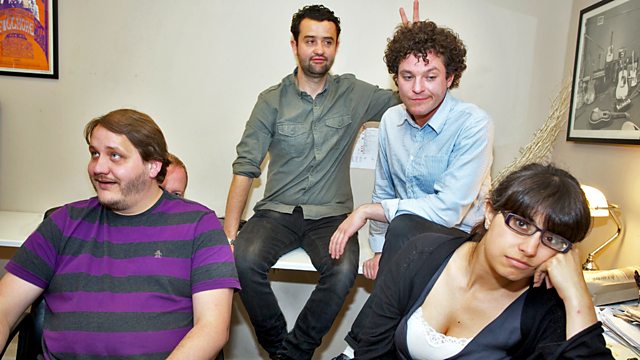 A bloke at the other end of the Job Centre waiting room starts to unnerve the boys. Stars Mathew Horne. From October 2013.
There's a bloke sitting at the other end of the Job Centre waiting room. Joe, Terry and Stuart try and work out who he is. He starts giving the three lads, evil looks. Joe becomes adamant that he is a hitman sent by the Food Standards Agency. Terry thinks it might be a bloke from Benefits fraud. Whoever he is they're determined not to be intimidated and return the evil looks.
Seekers, is about the characters that regularly frequent a Job Centre in the Essex town of Rayleigh. Be it the unfulfilled or aspirational staff that work there, or the mixture of jobless people from every walk of life, some desperate to get back to work, some trying their best to never have to work at all.
We listen into the mundane, pointless and sometimes bewildering conversations, the petty arguments and pointless rivalries that people involve themselves in just to relieve the boredom in the sterile, air conditioned building, they all have to return to day after day.
Episode Three: That Bloke Keeps Looking At Us
Written by Steven Burge
Produced by Katie Tyrrell.
Joe's CV
Joe's CV shows he's full of self-confidence... And not much else!
Credits
| Role | Contributor |
| --- | --- |
| Stuart | Mathew Horne |
| Joe | Daniel Mays |
| Terry | Tony Way |
| Mr Rocastle | Tony Way |
| Nicola | Zahra Ahmadi |
| Gary Probert | Steve Oram |
| Bill Parfitt | David Seddon |
| George Dorset | Alex Lowe |
| Mandy Dorset | Bharti Patel |
| Mr Boland | Michael Bertenshaw |
| Producer | Katie Tyrrell |
| Writer | Steven Burge |