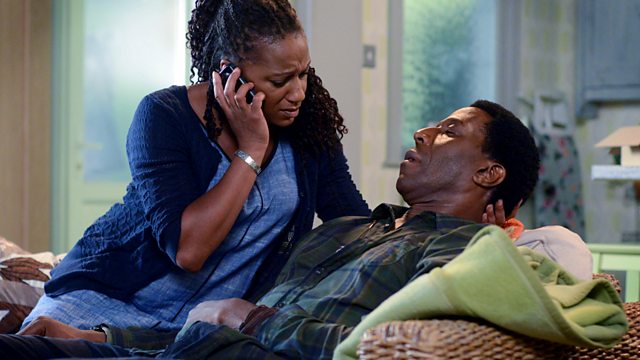 08/10/2013
Exhausted, Janine tries to cheer a fractious Scarlett up and snaps at Alice when she mentions that maybe Michael could help her out. Janine brings Scarlett into work soon finds herself stressed and walks out leaving Danny to remind her to take her baby with her. Janine takes the afternoon off and when Alice tells Michael that Scarlett is unwell, he is agitated he wasn't informed sooner.
In the park, Janine slumps down on a bench by the duck pond with Scarlett. She tries to fight off sleep however as her eyes close, Scarlett walks towards the pond. Jerking awake, Janine panics but just as Scarlett reaches the edge of the pond, Michael appears and scoops her up safely in his arms. Back at home, Janine is horrified when Michael reveals she has played right into his hands and after what has happened today, he will gain full custody of Scarlett.
Guilt starts to eat away at Dexter when he has doubts about the operation and he is concerned when he sees Sam lugging crates outside The Vic. Later, Ava returns home to see Sam struggling for breath and calls an ambulance. Meanwhile, Abi urges Dexter to tell Sam how scared he is and how he wants to wait longer to make a decision. However Dexter is terrified to see Sam being driven away in an ambulance. In the hospital, Ava is relieved to see Dexter and tells him that the hospital have agreed to move the operation to tomorrow.
Ronnie heads to The Vic where Patrick breaks the news that Roxy has gone away with Alfie and Amy leaving Ronnie crushed. Jack calls Roxy, furious that she has taken Amy away without telling him and Ronnie apologises to him – it's all her fault.
David continues his charm offensive and offers to take an old double bed off Ronnie's hands which she had earlier thrown out. Tiffany then lets on to a concerned David that Carol is upset as it would've been Billie's birthday today. Carol thaws when David offers to take her for a quiet meal to remember her son but will she take him up on the offer?
Fatboy's mood brightens when he sees that Alfie has left him in charge of the pub although his big ideas come crashing down when he realises Patrick will be keeping an eye on him. On overhearing Fatboy's concerns over the size of his bed, David makes him a deal on a double bed he has for sale.
Lauren is relieved when she realises Joey has the wrong end of the stick when he thinks she is dating Peter. Joey is upset and leaves when Lauren decides not to tell him who she is dating. Later, Lauren meets Jake for coffee away from Walford where they continue to build on their blossoming relationship.
Last on
Credits
| Role | Contributor |
| --- | --- |
| Dexter Hartman | Khali Best |
| Sam James | Cornell S John |
| Ava Hartman | Clare Perkins |
| Lola Pearce | Danielle Harold |
| Ronnie Mitchell | Samantha Womack |
| Jack Branning | Scott Maslen |
| Carol Jackson | Lindsey Coulson |
| David Wicks | Michael French |
| Whitney Dean | Shona McGarty |
| Michael Moon | Steve John Shepherd |
| Janine Butcher | Charlie Brooks |
| Alice Branning | Jasmyn Banks |
| Danny Pennant | Gary Lucy |
| Arthur 'Fatboy' Chubb | Ricky Norwood |
| Patrick Trueman | Rudolph Walker |
| Poppy Meadow | Rachel Bright |
| Tamwar Masood | Himesh Patel |
| Peter Beale | Ben Hardy |
| Lauren Branning | Jacqueline Jossa |
| Jake Stone | Jamie Lomas |
| Joey Branning | David Witts |
| Abi Branning | Lorna Fitzgerald |
| AJ Ahmed | Phaldut Sharma |
| Tiffany Butcher | Maisie Smith |
| Executive Producer | Lorraine Newman |
| Director | Sophie Lifschutz |
| Writer | Sharon Marshall |