Main content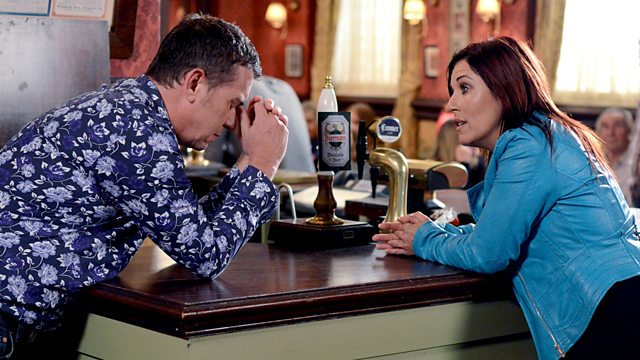 07/10/2013
Alfie gives Roxy the chance to confess that she has been seeing Ronnie behind his back, but will she pass the test? Dexter and Sam receive news about the transplant operation.
Angered by Roxy's betrayal, Michael continues to wind Alfie up and unable to take any more, Alfie heads out of The Vic to confront Ronnie.
In The Arches, Phil isn't impressed that Ronnie is moving in with Jack, however she is adamant it's the right thing to do. As she leaves, she is faced with a furious Alfie who asks Ronnie to tell him the truth about how often she and Roxy have seen each other. Ronnie tells him that she is sorry for the past but she is family too and he'll have to get used to it. Raging, Alfie walks away.
Kat is shocked when Alfie admits that Roxy has been seeing Ronnie behind his back. Kat sympathises and asks him not to take what happened between them out on Roxy.
Roxy returns to the pub and as she embraces Alfie, she notices missed calls and a text from Ronnie on her mobile. Roxy looks at the message – 'Alfie knows'. As Alfie starts to pack a suitcase for her, Roxy begs him to stop, promising she'll never see Ronnie again. Roxy starts to sob, promising she'll do anything for him and Alfie's heart breaks. He tells her that he won't leave her but seeing as they can't go on like this, they are going to leave Walford until they are back on track. That night, Roxy is heartbroken as their cab leaves the Square and her sister behind.
Dexter and Sam receive a letter letting them know that the transplant operation will take place in three weeks. Dexter tries to remain casual however, when he discusses it with a concerned Ava, his smile starts to fade. Dexter asks Phil how he found his hospital stay and Jay laughs when Phil jokingly says it was no worse than prison leaving Dexter further worried.
Dexter decides to hold Jay a birthday party at his house and during the evening, Dexter gradually gets worse for wear as he mixes his drinks and is unhappy to see Lola and Peter becoming close. Dexter misunderstands Lola's concern and when he leans in to kiss her, she pushes him away leaving Dexter humiliated. Later, Dexter holds back the tears as he drunkenly admits to Abi he is terrified about the upcoming operation.
David turns up at Janine's house on the pretence of meeting Scarlett however she warns him she is asleep. Janine softens when David pulls out a tempting bottle of red wine and as they sit and enjoy it, David puts his plan into action. He talks about how important family is to him these days and how Pat would be proud of her. Finally relenting to David, Janine offers him £500 but wants it back with interest, in one week.
Credits
| Role | Contributor |
| --- | --- |
| Alfie Moon | Shane Richie |
| Roxy Mitchell | Rita Simons |
| Ronnie Mitchell | Samantha Womack |
| Jack Branning | Scott Maslen |
| Kat Moon | Jessie Wallace |
| Michael Moon | Steve John Shepherd |
| Janine Butcher | Charlie Brooks |
| David Wicks | Michael French |
| Peter Beale | Ben Hardy |
| Lola Pearce | Danielle Harold |
| Abi Branning | Lorna Fitzgerald |
| Dexter Hartman | Khali Best |
| Sam James | Cornell S John |
| Ava Hartman | Clare Perkins |
| Jay Brown | Jamie Borthwick |
| Alice Branning | Jasmyn Banks |
| Tamwar Masood | Himesh Patel |
| Phil Mitchell | Steve McFadden |
| Tiffany Butcher | Maisie Smith |
| Executive Producer | Lorraine Newman |
| Director | Sophie Lifschutz |
| Writer | Emer Kenny |