Main content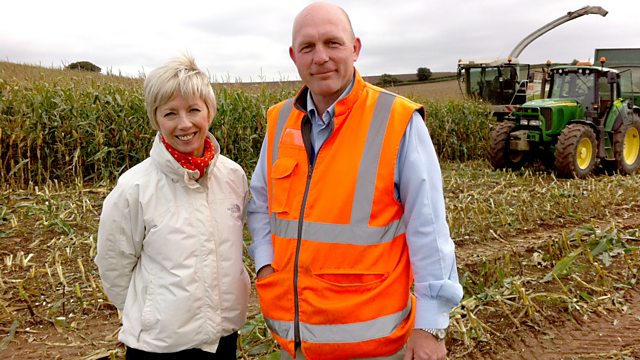 Feeding the Concrete Cow
A farm in Nottingham is harvesting maize on its contaminated land to produce electricity by anaerobic digestion. The farmer compares the process to feeding a concrete cow.
The land surrounding Severn Trent Water's Stoke Bardolph sewage treatment works has been used historically for recycling sewage waste and so cannot be used to grow crops for human consumption, because of contamination. But the farm lies close to the River Trent and is well drained and extremely fertile. In 2010 Severn Trent Water invested £15 million in an anaerobic digester, which is now the UK's largest Energy Crop Anaerobic Digestion plant. Each day 100 tons of crop silage grown on the farm estate is fed into the plant to be anaerobically digested. The silage is converted into methane which is then used to produce 15GWh of electricity a year, equivalent to supplying around 4,500 homes. It also powers the adjoining sewage works. The waste produced at the end of the process makes a good natural fertiliser which is re-applied to the land to help grow next year's crop.
The farmer compares the process to feeding a concrete cow. On Your Farm visits the estate as the maize is being harvested, to see this concrete cow at work.
Presented by Sybil Ruscoe. Produced by Beatrice Fenton.
Last on

Broadcast