Settle-Carlisle Railway
Eric Robson hosts a very special show recorded onboard the Settle-Carlisle railway. Taking to the tracks to answer gardening questions are experts Chris Beardshaw, Bunny Guinness and Pippa Greenwood.
Produced by Howard Shannon
A Somethin' Else Production for BBC Radio 4.
Q. The stems of my Sweet Peas decrease in length as the plant itself increases in height. How can long stems be encouraged throughout the growing season?
A. Pick more and ensure the plants are well tended, well watered and well fed. By picking the flowers just as the colour is showing in the bud, this helps encourage the plant to keep producing new flowers. By removing the little tendrils from the plant, more energy can be expended in growing flowers.
Q. What herbs are recommended for a 17m by 26m (55ft by 85ft) open, sunny site on clay soil? The herbs would need to withstand occasional trampling, occasional cutting and possible hens. Could the herbs be spot planted in grass or would the turf need to be stripped back?
A. Opt for herbs that are used to growing in grassland conditions, such as Oregano or low-growing native Thyme. Mint (for example, the variety Mentha Requienii) will do well in a damper area on the site.
Q. Would it be advisable to alter the shape of a Victoria plum, trained as an espalier against a West-facing fence, to a fan-trained shape?
A. In theory, the stone fruits such as plums and cherries do better when fan-trained, whilst rosaceae fruits such as apples and pears are better off trained horizontally in an espalier. Whilst the wood is still flexible, alter the angle of the wires, if possible, to be slightly sloped.
Q. What can be done with the wet bulrushes once removed fro a pond?
A. A decent piece of shredding equipment would be the best bet for breaking these down before composting them. The stems would also work as a good mulch for hedges or similar. Alternatively, if there are large quantities of bulrushes to tackle, there are aquatic mulch products available that can be laid across the bed of a pond in early spring before the bulrushes come up that will prevent the growth.
Q. What would be good plants to showcase Yorkshire planting when the Tour de France passes through the county next year?
A. Yellow Calendulas to represent the leader's jersey, green Hakonechloa to represent the sprinter's jersey and red-hearted, white-edged Petunias to represent the climber's jersey.
Q. Can Hebes be pruned and if so, when?
A. Hebes need to be regularly pruned, ideally annually in June when the plants are in growth. Pinch out the tips of the fresh growth and this will contain the plant.
Q. Would the panel recommend air-drying of bare-rooted Pelargoniums for over-wintering.
A. This is done in Switzerland where they have very cold winters. Lift the plants, clean off the roots and hang up to dry inside somewhere that won't get below freezing.
Q. Is there anything that can be done to encourage butterflies, whilst still getting a decent crop of cabbages?
A. Experiment with underplanting the cabbages, which - according to one particular theory - will prevent the butterfly from recognizing the cabbages by shape from the air.
Q. A Honeysuckle planted in a southwest corner produced lots of foliage but no flowers. When moved into a tub in the northwest corner, it still produced no flowers and less foliage.
A. Honeysuckle plants do well with slightly cooler roots, so the northwest corner would be better than the southwest corner, but the plant would do better planted out rather than in a tub. If possible, plant it out in this location. Honeysuckles are woodland species and are predetermined to have a strong young growth for the first few years. Stop pruning the plant and allow it to climb to 2-2.5m (6-8ft) in height before laying the climbers down horizontally to encourage flowering.
Q. Would it be feasible to grow a trained or untrained Damson tree against a south-southwest-facing stone wall approx. 2m (6-7ft) tall.
A. Compared to a freestanding tree, a tree in this position would not provide nearly such a good crop. Planting a freestanding tree, even in close proximity to the other fruit trees in the garden, would be preferable.
Last on
All aboard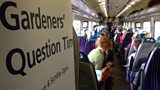 Gardeners' Question Time audience members take their seats on the Settle to Carlisle rail trip.
Broadcast from the tracks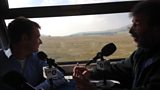 Eric Robson and Chris Beardshaw answering questions as they travel across the Yorkshire Dales and North Peninnes.
The Panel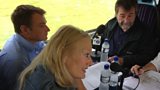 Eric Robson, Chris Beardshaw and Bunny Guinness taking questions whilst on the move.