Main content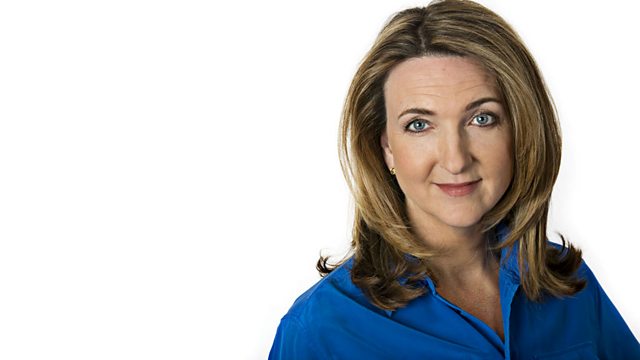 The Abuser's Tale
Victoria Derbyshire talks about domestic abuse with the abusers themselves. This programme contains strong language and descriptions of abuse.
Victoria Derbyshire talks about domestic abuse with the people who rarely discuss it in public - the abusers themselves.
Victoria is granted rare and exclusive access to men who attend perpetrator programmes in an attempt to break the cycle of violence. Victoria also meets female victims of abuse to hear the emotional and harrowing stories of the impact of domestic violence.
This programme contains strong language and descriptions of abuse.
Last on
Clips

Proposed Support Organisations
Respect Phoneline provides confidential information and advice for anyone concerned about their violence and/or abuse towards a partner or ex-partner. They offer information and advice to help domestic violence perpetrators stop being violent or abusive.
Phoneline: 0808 802 4040
Email: info@respectphonline.org.uk
Women's Aid is the national domestic violence charity which helps up to 250,000 women and children every year. If you need information or support, you can visit their website to find details of local domestic violence services or read the Survivor's Handbook which provides practical support and information for women experiencing domestic violence
The Survivor's Handbook
http://www.womensaid.org.uk/domestic-violence-survivors-handbook.asp?section=0001000100080001&itemTitle=The+Survivor%27s+Handbook
National Domestic Violence Helpline (run by Women's Aid and Refuge): 0808 2000 247
The Hideout is a website created by Women's Aid to help children and young people to understand domestic abuse and how to take positive action if it's happening to them.
Refuge provides safe, emergency accommodation and emotional and practical support to women and children experiencing domestic violence. Refuge also provides services for children, individual and group counselling and community based outreach services for women.  It also has a growing team of independent domestic violence advocates and runs the Freephone 24-Hour National Domestic Violence Helpline in partnership with Women's Aid.
National Domestic Violence Helpline: 0808 2000 247
The ManKind Initiative is a national charity that provides confidential help and support for male victims of domestic abuse and domestic violence. Helpline: 01823 334244 (weekdays 10am-4pm & 7pm-9pm)
Men's Advice Line offers confidential advice for men experiencing domestic violence from a partner or ex-partner.  They offer emotional support, provide practical advice and signposting to other services for specialist help.
Helpline: 0808 801 0327 (weekdays 9am-5pm)
Email: info@mensadviceline.org.uk  
The All Wales Domestic Abuse and Sexual Violence Helpline is a confidential, freephone sign posting and information service for anyone experiencing domestic abuse and/or sexual violence or wanting more information on available support services.
Helpline: 0808 80 10 800 (24 hours)
Email: info@allwaleshelpline.org.uk
Scottish Women's Aid is a lead organisation in Scotland working towards the prevention of domestic abuse. An important aspect of their work is ensuring that women and children with experience of domestic abuse get the services they need, both from local Women's Aid groups and from the agencies they are likely to contact. Their members are local Women's Aid groups which provide specialist services to women, children and young people. These include safe refuge accommodation, information and support.
If you are a woman who needs support, please visit the website for the contact details and opening hours of your nearest Women's Aid group. You can also call the Scottish Domestic Abuse Helpline to be referred to a local service.
Helpline: 0800 027 1234 (24 hours)
If you are in immediate danger, please call the police on 999
http://www.scottishwomensaid.org.uk/
Police Scotland: On Line / Third Party / Remote Reporting of Domestic Abuse
On Line / Third Party / Remote reporting offers victims or witnesses to domestic abuse, or any person who has concerns for a victim of domestic abuse, the opportunity to report incidents 'on line' in the privacy of their own homes or at a remote reporting site, in a confidential and supportive environment. You can remain anonymous if you wish. On receipt of this report Police Scotland will:
• Ensure the safety and wellbeing of victims, their families and any other person present.
• Conduct a thorough investigation of all incidents, securing all available evidence and take appropriate action.
• Actively pursue offenders so they can be held accountable through the criminal justice system.
There are currently 62 remote reporting sites available in Scotland with more being added on a regular basis.  They are and will be available in multi-cultural centres to aid victims, families or concerned people who may not speak English as a first language.
Further information about remote reporting:
http://www.scotland.police.uk/keep-safe/advice-for-victims-of-crime/domestic-abuse/remote-recording/
Broadcasts