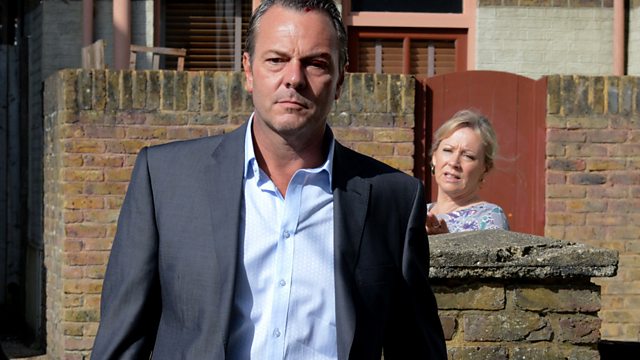 01/10/2013
David is annoyed when he hears Carol and Masood laughing, so he hauls himself out of bed. As Masood leaves, David emerges and Carol is surprised to see him. He mentions leaving to stay with friends and Carol agrees, clearly not the response he was hoping for.
Morgan and Tiffany are sad when David explains he's leaving, but Liam and Whitney couldn't care less, which hurts David. Masood is unconvinced that he'll leave and Carol wonders if David has said something to him. David insists he hasn't said a thing; he's happy for them. David refuses to take Carol's offer of money, hoping she'll change her mind about him leaving. Liam and Whitney bump into Peter, he fills them in on David and Ian's feud from years ago.
When David and Carol enjoy dinner with Morgan and Tiffany they realise it's a glimpse of the life they could have had. Whitney and Liam come home relaying what Peter told them, Carol defuses the situation and an annoyed David prepares to leave.
David tells Carol he wishes he was a better father and granddad; Carol is touched by his sincerity. Before he leaves, David tells Liam he's doing a better job looking after the family than he ever could, which Carol overhears. As David walks away, Carol calls after him, asking him to stay until Bianca's back. He smiles to himself before turning to face Carol - he's got exactly what he wanted.
Fatboy is thrown when an excited Poppy reveals she's been looking into them buying a place close to her parent's outside of London. She ignores Fatboy's reservations about her plans and he eventually explodes. He tells Poppy that he doesn't want any of that. A shocked Poppy runs off in tears. When Fatboy rushes after her, Poppy ends their relationship; Fatboy is stunned.
Dot leaves Sharon to organise the jumble sale stall and later takes all the credit for the idea at the fundraiser meeting, which annoys Sharon. They are both shocked to see David back in Walford and warn an intrigued Peter not to trust him.
Last on
Credits
| Role | Contributor |
| --- | --- |
| David Wicks | Michael French |
| Carol Jackson | Lindsey Coulson |
| Liam Butcher | James Forde |
| Whitney Dean | Shona McGarty |
| Arthur 'Fatboy' Chubb | Ricky Norwood |
| Poppy Meadow | Rachel Bright |
| Alice Branning | Jasmyn Banks |
| Tamwar Masood | Himesh Patel |
| Masood Ahmed | Nitin Ganatra |
| AJ Ahmed | Phaldut Sharma |
| Dot Branning | June Brown |
| Sharon Rickman | Letitia Dean |
| Peter Beale | Ben Hardy |
| Tiffany Butcher | Maisie Smith |
| Morgan Butcher | Devon Higgs |
| Reverend Stevens | Michael Keating |
| Executive Producer | Lorraine Newman |
| Director | Clive Arnold |
| Writer | Kelly Jones |