Main content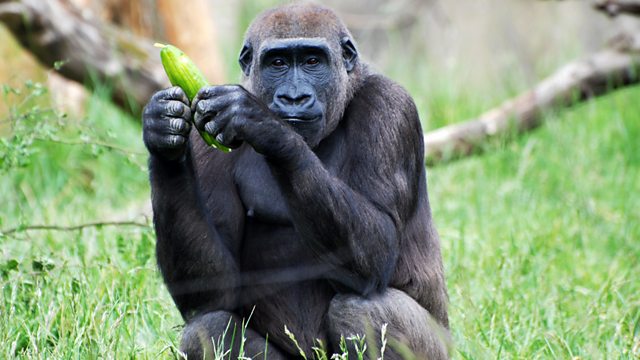 Matthew Sweet discusses the ways we can think about our close association with primates
In a series broadcast from ZSL London Zoo, Matthew Sweet discusses the ways we can think about our close association with primates: biologically, conceptually and culturally.
In the last of Matthew Sweet's visits to ZSL London Zoo we consider our relations with our closest animal relatives - apes.
Daniel Simmonds, Keeper at ZSL London Zoo's Gorilla Kingdom, discusses the problems that come with looking after creatures so similar to but different from us. Unlike most other animals gorillas will integrate their keepers into their social structures. But how do you manage such a relationship with a social creature that can't understand what you say? Is any kind of mutual understanding possible at all?
Matthew picks up the theme with anatomist and anthropologist Alice Roberts, physician and philosopher Raymond Tallis and novelist James Lever. All three have dealt with the questions thrown up by human/primate relations in different ways. So what happens when you stare into the eyes of an ape?
Producer: Luke Mulhall.
Humans and bonobos share 99% of their DNA, so what exactly makes a human, human?
Chapters
Ruth Padel

Ruth Padel discusses Darwin's first encounter with Jenny the orangutan at London Zoo

Duration: 01:59

Daniel Simmonds

Daniel discusses the problems that come with looking after creatures so similar to us

Duration: 17:49

Human / Primate Relations

Matthew picks up the theme with Alice Roberts, Raymond Tallis and James Lever

Duration: 22:24

Alice Roberts

Dr Alice Roberts at the Centre for Comparative and Clinical Anatomy, University of Bristol.

Daniel Simmonds

Daniel Simmonds, head keeper at London Zoo's Gorilla Kingdom.

 

Image Credit: ZSL London Loo

Raymond Tallis

Squirrel Monkey

A Squirrel Monkey (Saimiri) photographed at London Zoo.

 

Image Credit: ZSL London Zoo

Credits

| Role | Contributor |
| --- | --- |
| Presenter | Matthew Sweet |
| Interviewed Guest | Raymond Tallis |
| Interviewed Guest | Alice Roberts |
| Interviewed Guest | James Lever |
| Interviewed Guest | Daniel Simmonds |

Featured in...

Matthew Sweet presents a series of special programmes broadcast from ZSL London Zoo