Main content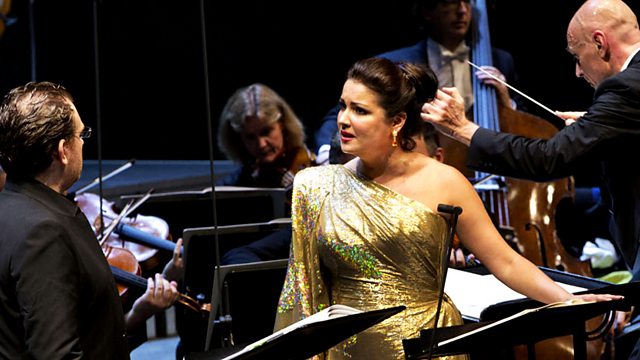 Verdi 200 - Giovanna d'Arco
A performance given at the 2013 Salzburg Festival of Verdi's opera Giovanna D'Arco, with Anna Netrebko in the title role, Francesco Meli as Carlo and Placido Domingo as Giacomo.
Verdi 200: Verdi's dramatic opera Giovanna D'Arco is loosely based around the life of Joan of Arc. Verdi's librettist Solera also used a play by Schiller as the basis. Verdi was in his early 30s when it was written and premiered at La Scala Milan. It was popular with audiences but not with critics and though it received a number of productions throughout Italy during Verdi's lifetime it's rarely staged now. This concert performance took place at this year's Salzburg Festival and features three of the most outstanding Verdi singers today including Placido Domingo singing the baritone role of Giacomo, Giovanna's father for the first time. You can download a Radio 3 Opera Guide to the piece from the Radio 3 website.
Giovanna d'Arco ..... Anna Netrebko (soprano)
Carlo VII ..... Francesco Meli (tenor)
Giacomo ..... Placido Domingo (baritone)
Talbot ..... Roberto Tagliavini (bass)
Delil ..... Johannes Dunz (tenor)
Philharmonia Choir, Vienna
Munich Radio Orchestra
conducted by Paolo Carignani.