Main content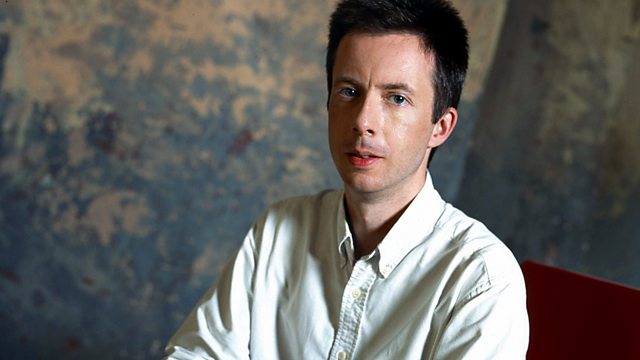 10/10/2013
John Shea presents a recital of music by Schumann and Liszt given by Brazilian pianist Nelson Freire.
John Shea presents a recital of Schumann and Liszt by Brazilian pianist Nelson Freire
12:31 AM
Schumann, Robert [1810-1856]
Arabeske for piano (Op.18) in C major
12:38 AM
Schumann, Robert [1810-1856]
Fantasy in C major Op.17 for piano
1:08 AM
Granados, Enrique [1867-1916]
The Maiden and the Nightingale
1:12 AM
Prokofiev, Sergey [1891-1953]
Excerpts from Visions fugitives (Op.22a)
1:21 AM
Liszt, Franz [1811-1886]
Waldesrauschen (S.145)
1:25 AM
Liszt, Franz [1811-1886]
Valse oubliée No. 1 (S. 215 No.1)
1:27 AM
Liszt, Franz [1811-1886]
Ballade No.2 in B minor (S.171)
1:39 AM
Bach, Johann Sebastian [1685-1750]
Jesu, Joy of Man's Desiring (BWV.147)
1:43 AM
Villa-Lobos, Heitor [1887-1959]
Chicote do diabinho
1:44 AM
Gluck, Christoph Willibald [1714-1787]
Dance of the Blessed Spirits
1:48 AM
Debussy, Claude [1862-1918]
Preludes - book 1, no.5; Les Collines d'Anacapri
1:51 AM
Mompou, Federico [1893-1987]
Jeunes filles au jardin from Scenes d'Enfants
Nelson Freire (piano)
1:54 AM
Ravel, Maurice (1875-1937)
Introduction and allegro
Tinka Muradori (flute), Josip Nochta (clarinet), Paula Uršic (harp), Zagreb String Quartet
2:05 AM
Dvorak, Antonin [1841-1904]
Quartet no. 12 in F major Op.96 (American) for strings
Escher Quartet
2:31 AM
Schumann, Robert (1810-1856)
Concerto for Violin and Orchestra in D minor (Op.posthumous)
Harald Aadland (violin), Norwegian Radio Orchestra, John Storgards (conductor)
3:03 AM
Rameau, Jean-Philippe (1683-1764)
Suite from 'Les Indes galantes'
Neue Düsseldorfer Hofmusik, Mary Utiger (director)
3:36 AM
Couperin, Louis (c 1626-1661)
Allemande (arr. unknown) for two pianos
Tor Espen Aspaas and Sveinung Bjelland (pianos)
3:40 AM
Haydn, (Franz) Joseph (1732-1809)
Trio for strings in B flat major (Op.53 No.2) arr. from Piano Sonata (H.16.41)
Leopold String Trio
3:49 AM
Poulenc, Francis (1899-1963)
Litanies à la Vierge Noire
Maîtrise de Radio France, Orchestre National de France, George Prêtre (conductor)
3:59 AM
Vivaldi, Antonio [1678-1741]
Violin Concerto in D (Op.3 No.9) (RV.230)
Europa Galante, Fabio Biondi (violin/director)
4:07 AM
Mozart, Wolfgang Amadeus [1756-1791]
Sonata for piano duet (K.381) in D major
Martha Argerich (piano), Maria João Pires (piano)
4:21 AM
Verdi, Giuseppe (1813-1901)
Overture - Nabucco
Bergen Philharmonic Orchestra, Alun Francis (conductor)
4:31 AM
Handel, Georg Frideric [1685-1759]
Trio sonata in A major Op.5'1
Concerto Copenhagen, Alfredo Bernardini (director)
4:39 AM
Fauré, Gabriel (1845-1924)
Nocturne in B major (Op.33 No.2)
Stéphane Lemelin (piano)
4:46 AM
Glazunov, Alexander Konstantinovich (1865-1936)
Lyric poem for orchestra in D flat major (Op.12)
West Australian Symphony Orchestra, Vladimir Verbitsky (conductor)
4:57 AM
Viotti, Giovanni Battista (1755-1824)
Duo concertante in D major
Alexandar Avramov, Ivan Peev (violins)
5:04 AM
Turina, Joaquín (1882-1949)
Danzas Fantasticas (Op.22)
The West Australian Symphony Orchestra, Jorge Mester (conductor)
5:20 AM
Monteverdi, Claudio (1567-1643)
Lamento della ninfa
Concerto Italiano; Rinaldo Alessandrini (harpsichord & director)
5:26 AM
Grieg, Edvard (Hagerup) (1843-1907)
Andante con moto for piano trio in C minor
Kungsbacka Piano Trio
5:37 AM
Reicha, Antonin (1770-1836)
Symphony 'a grande orchestre' in E flat major, (Op.41) 'First symphony'
Capella Coloniensis, Hans-Martin Linde (director)
6:02 AM
Lauridsen, Morten (b. 1943)
Contre qui Rose (1993) - 2nd movement from Les Chanson des Roses
Phoenix Chamber Choir, Ramona Luengen (conductor)
6:05 AM
Daunais, Lionel (1901-1982)
Le Pont Mirabeau
Phoenix Chamber Choir, Ramona Luengen (director)
6:09 AM
Saint-Saens, Camille [1835-1921]
Concerto for Cello and Orchestra No 1 (Op.33) in A minor
Luca Sulic (cello), Slovenian Radio Symphony Orchestra, Shuntaro Sato (conductor).