Main content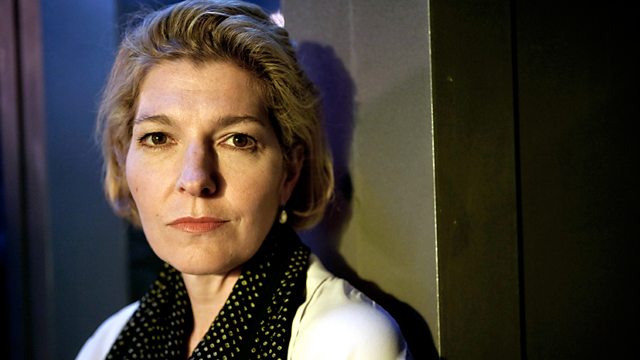 Verdi 200: Verdi - Conflict and Liberty
Verdi, conflict and liberty examined through texts by Dumas, Byron, Schiller and Shakespeare, plus Verdi's own letters, read by David Sibley and Jemma Redgrave.
Verdi 200: texts read by David Sibley and Jemma Redgrave.
Verdi's life seems to have been marked, both on and off stage, by two words: conflict and liberty, both of which constitute the backbone of this Words and Music.
When you examine the composer's artistic life soon you see the image of a man fighting against old ways of making opera: rigid musical structures dominated by singers as well as opera houses subject to censorship. Only his sheer talent and determination saw Verdi succeed to the point of breaking free and creating at will. This particular personal, perilous journey is followed through letters of the man himself and his wife Giuseppina Strepponi.
The drama on stage referred to, which expresses a fight against political oppression or invisible social constraints, is provided here by some of the original sources, texts by Lord Byron, Shakespeare, Victor Hugo, Dumas and Schiller which inspired Verdi to write some of his most memorable masterpieces, among them La Traviata, Rigoletto, Don Carlos and Otello.
Finally, to paint a full picture of Verdi and his time, the so-called Risorgimento, the fight of Italy for its independence and its true identity, and to see also the stature of the composer as a leading figure in the new-born country, this programme combines texts from national idols like Mazzini, with poems by other of his contemporaries, like Giusti, Tasca or Maffei - the later saying: 'You are the Apex of Glory. The words Verdi and Victory ring out together'.
Music Played
Timings (where shown) are from the start of the programme in hours and minutes
Giuseppe Verdi

Extract from letter, reader David Sibley

Benjamin Britten

Extract from text, reader Jemma Redgrave

Giuseppe Verdi

Extract from letter, reader David Sibley

Victor Hugo

Extract from The King Enjoys Himself, reader David Sibley

Giuseppe Verdi

Extract from letter, reader David Sibley

Alexandre Dumas, the Younger

Extract from The Lady of the Camellias, reader Jemma Redgrave

Alexandre Dumas, the Younger

Extract from The Lady of the Camellias, reader Jemma Redgrave

Giuseppe Verdi

Extract from letter, reader David Sibley

Giuseppina Strepponi

Extract from letter, reader Jemma Redgrave

George Bernard Shaw

Extract from text, reader Jemma Redgrave

Alfred Noyes

Excerpt from The Barrel-Organ, reader David Sibley

Friedrich Schiller

Extract from The Maid of Orleans, reader Jemma Redgrave

Friedrich Schiller

Extract from The Maid of Orleans, reader Jemma Redgrave

Lord Byron

Extract from The Corsair, reader David Sibley

Giuseppe Verdi

Extract from letter, reader David Sibley

Giuseppe Mazzini

Extract from essay, reader Jemma Redgrave

Giuseppe Giusti

Extract from letter, reader Jemma Redgrave

Giuseppe Verdi

Extract from letter, reader David Sibley

Giuseppe Mazzini

Extract from letter, reader Jemma Redgrave

Friedrich Schiller

Extract from Don Carlos, reader David Sibley

Friedrich Schiller

Extract from Don Carlos, reader Jemma Redgrave

Giuseppe Verdi

Extract from letter, reader David Sibley

William Shakespeare

Extract from Otello, reader Jemma Redgrave

Giuseppe Verdi

Extract from letter, reader David Sibley

Andrea Maffei

To Giuseppe Giuseppe Verdi, The Glory of Italy, reader Jemma Redgrave

Producer's Note

Verdi's life seems to have been marked, both on and off stage, by two words: conflict and liberty, both of which constitute the backbone of this Words and Music.


  When you examine the composer's artistic life soon you see the image of a man fighting against old ways of making opera: rigid musical structures dominated by singers as well as opera houses subject to censorship, social or political. Only his sheer talent and determination saw Verdi succeed to the point of breaking free and creating at will. As for his political dimension, his patriotic fight for a unified Italy, there's quite a lot of drama and longing for freedom in there too, but more of that later...


This particular personal, perilous journey is followed through letters of the man himself and one particular, touching insight into Verdi's spiritual life (his apparent agnosticism) from his wife Giuseppina Strepponi. At the risk of perhaps aggravating the portrait of the composer - after all Verdi cultivated an image of a rather brusque, rough and grumpy man throughout his life-, I chose letters that reflect vividly those artistic, personal and patriotic fights he engaged in during his lifetime – look out for his passionate defence of 'la Strepponi' when he was living with her out of wedlock! His targets here were librettists, publishers, theatres administrators and friends…


The drama on stage referred to above, which expresses a fight against political oppression or invisible social constraints, is provided here by some of the original sources, texts by Lord Byron, Shakespeare, Victor Hugo, Alexander Dumas and Friedrich Schiller which inspired Verdi to write some of his most memorable masterpieces, among them La Traviata, Rigoletto, Don Carlos and Otello – which are heard throughout the programme.


An intriguing question for me, when putting together this Words and Music, was how to weave those original sources with the way in which Verdi interpreted their conflicting, dramatic situations in the operatic stage. My aim was to explore different options, making readings at different levels, from the more obvious to the more creative and daring. Perhaps the first level was the simplest one: to try and match what Verdi did in music with the precise moment as reflected in the original source – like I did with the Courtiers scene in Victor Hugo's The King Enjoys Himself, when the court jester Triboulet demands to get his kidnapped daughter back, translated quite accurately in Verdi's very own Rigoletto. To follow the same method with every text would have been perhaps too predictable and sometimes impossible as Verdi and his librettists took some often ample liberties when adapting their stories for the opera house. So, I created another level, one in which the music (or the text) propels the action, almost like in an opera itself, so there are instances when a particular climatic moment is immediately followed with another from a different part of the opera, just to concentrate on the gist of the piece, or with whatever came immediately after in the story – like in the case of La Traviata, when after hearing a live recording of Maria Callas portraying the last moments in the life of the doomed Violetta (not without some vague comparisons, by the way, between the celebrated singer's own life and that of the character, and also note the poignancy between the private realm of her rooms and a live recording in front of an audience!), we hear an incredibly moving account of the death of Marguerite, the Parisian courtesan and original inspiration in Dumas' The Lady of Camellias. Yet another level that interested me was the contrast between some of those original literary sources and the way in which other composers interpreted Verdi's music – examples of this are how I mix or intersperse texts with pieces like Liszt's Paraphrases of Il Trovatore or Don Carlos, Tárrega's guitar fantasy on themes of La Traviata, and even more abstractly, Michael Finnissy's contemporary take in his Verdi Transcriptions for the piano.


Worth mentioning also are other British views on Verdi, starting almost at the beginning of the programme with some words by Benjamin Britten praising the Italian, and also later on with an insight into Il Trovatore by George Bernard Shaw. And last but not least, I wanted to include also an excerpt from a poem by Alfred Noyes reflecting on Verdi and his music, in the middle of London's Victorian life.


Finally, to paint a full picture of Verdi and his time, the so-called Risorgimento, the fight of Italy for its independence and its true identity, and to see also the stature of the composer as a leading figure in the new-born country, I combine texts from national idols like Giuseppe Mazzini, taken from the time he was a political exile living in London, with letters and poems by other of his contemporaries, like Giuseppe Giusti or Andrea Maffei - the later saying, once the composer had reached the Olympus, no doubt: 'You are the Apex of Glory. The words Verdi and Victory ring out together'. Some of this patriotic or rebel spirit can also be seen in texts by Schiller and Byron, taken from Giovanna d'Arco (Joan of Arc) and The Corsair, respectively.

Producer: Juan Carlos Jaramillo


The hidden history of plant-based diets