Main content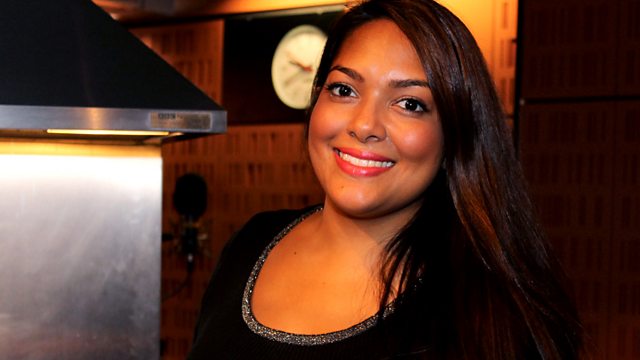 Shelina Permalloo; Charlotte Raven
Do we need national minimum staffing levels in maternity units? Will a new feminist magazine find readers? And folk musicians Marry Waterson and Eliza Carthy perform live.
The Royal College of Midwives has said there is a shortage of 5,000 midwives in England which is affecting antenatal and postnatal care - is it time for compulsory national minimum staffing levels?
As the website of the Feminist Times launches, we look at whether there's a gap in the market for a feminist publication or if feminism is amply covered by the mainstream women's glossies.
French journalist Annick Cojean talks about her new book based on the testimonies of the women abused by Colonel Gaddafi in Libya. We continue our look at university life - Masterchef winner Shelina Permalloo offers tips for the novice cook and creates the perfect student dish - Egg Rougaille. And Marry Waterson and Eliza Carthy, members of the renowned Waterson folk music dynasty, will be performing live and talking about a classic 'lost' family album called 'Bright Phoebus'.
Presented by Jenni Murray
Producer Ruth Watts.
Chapters
Do we have enough staff in maternity units?

With the current baby boom, how well staffed are our maternity units?

Duration: 07:10

Feminist Times

Is there a gap in the market for a feminist publication?

Duration: 04:28

Gaddafi's Harem

Annick Cojean joins Jenni to talk about the women abused by Gaddafi in Libya.

Duration: 10:04

Shelina Permalloo Cooks The Perfect Student Meal

Shelina Permalloo demonstrates her version of a perfect student meal live in the studio.

Duration: 12:07

Mary Waterson and Eliza Carthy

Mary and Eliza talk about a classic 'lost' family album called 'Bright Phoebus'.

Duration: 08:22

Do we have enough staff in maternity units?

The Royal College of Midwives

has said there is a shortage of 5,000 midwives in England which is affecting antenatal and postnatal care – and now, they claim, it's hitting acute services, as hospitals are closing their doors to women in childbirth with increasing frequency. So with the current baby boom, how well staffed are our maternity units? And is it time for compulsory national minimum staffing levels? Jenni speaks to Suzanne Tyler, Director for Services to Members at the Royal College of Midwives and to Professor Alan Cameron, Vice President at the Royal College of Obstetricians and Gynaecologists.

Gaddafi's Harem

Colonel Muammar Gaddafi arranged for schoolgirls to be kidnapped and held as sex slaves, according to an investigation by French journalist Annick Cojean.  He kept teenagers locked in a basement below his compound in  Tripoli.  Cojean bases her story on the testaments of Soraya (her name has been changed) who was selected by Gaddafi when she was fifteen years old, held captive for five years and repeatedly raped.  Cojean also says that the female bodyguards that Gaddafi famously surrounded himself with, were in fact mistresses with no weapons knowledge.  She joins Jenni to talk about the women abused by Gaddafi in Libya, a country where rape is the highest taboo.

Gaddafi's Harem by Annick Cojean - The Story of a Young Woman and the Abuses of Power in Lybia. Published by Grove Press on 7 October.  ISBN: 978 1 61185 6101.

Shelina Permalloo Cooks The Perfect...Student Meal

This week we've been looking at aspects of student life and today it's student cooking. Fried Spam on rice is just one of the culinary delights on the menu when Catherine Carr visits the shared kitchen of some students in Cambridge!  Masterchef winner Shelina Permalloo gives some tips and demonstrates her version of a perfect student meal live in the studio.

Marry Waterson and Eliza Carthy

Marry Waterson and Eliza Carthy, members of the renowned Waterson folk music dynasty, join Jenni to talk about a classic 'lost' family album called 'Bright Phoebus'. The cousins also perform a Lal Waterson classic live in the studio.

Star Packed Tour Celebrates Folk Classic 'Bright Phoebus'

Accompanying book and CD, 'Teach Me To Be A Summer's Morning', is out on the 21st October.

Feminist Times

The website of the Feminist Times launches today. It aims to be an alternative to women's magazines. So is there a gap in the market for a feminist publication or is feminism amply covered in the mainstream women's glossies? Jenni is joined by Charlotte Raven, editor of The Feminist Times a member-led feminist magazine, website and movement.

Credits

| Role | Contributor |
| --- | --- |
| Presenter | Jenni Murray |
| Producer | Ruth Watts |
| Interviewed Guest | Marry Waterson |
| Interviewed Guest | Eliza Carthy |
| Interviewed Guest | Suzanne Tyler |
| Interviewed Guest | Alan Cameron |
| Interviewed Guest | Charlotte Raven |
| Interviewed Guest | Shelina Permalloo |
| Interviewed Guest | Annick Cojean |