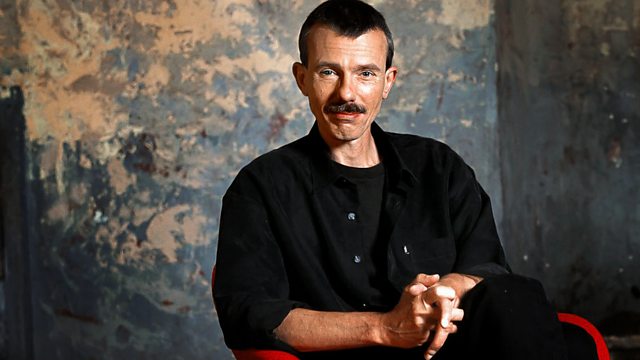 02/10/2013
Jonathan Swain presents a concert given by Il Canto di Orfeo of Lassus's Lagrime di San Pietro from Biasca, Switzerland.
12:31 AM
Lassus, Orlande de [1532-1594]
Lagrime di San Pietro
Il Canto di Orfeo, Gianluca Capuano (director)
1:22 AM
Britten, Benjamin (1913-1976)
Lachrymae (reflections on a song of John Dowland for viola and strings)
Rivka Golani (viola), Toronto Symphony Orchestra, Andrew Davis (conductor)
1:37 AM
Dowland, John (1563-1626)
Lamentatio Henrici Noel (1597)
Angharad Gruffydd Jones (soprano), Concordia, Mark Levy (conductor)
1:41 AM
Vivaldi, Antonio [1678-1741]
Concerto in D minor RV 129 'Concerto madrigalesco'
Arte dei Suonatori (ensemble)
1:46 AM
Salzedo, Carlos (1885-1961)
Variations sur un thème dans le style ancien (Op.30)
Mojca Zlobko (harp)
1:57 AM
Respighi, Ottorino (1879-1936)
Ancient airs and dances for lute - suite No.3 for strings
I Cameristi Italiani
2:16 AM
Schnittke, Alfred (1934-1998)
Suite in the olden style arr. D.Shafran for cello and piano
Daniil Shafran (cello), Anton Osetrov (piano)
2:31 AM
Cherubini, Luigi (1760-1842)
Ballet music from 'Anakreon'
Radio Bratislava Symphony Orchestra, Ondrej Lenard (conductor)
2:39 AM
Halévy, Jacques-François (1799-1862)
Gérard and Lusignan's duet: 'Salut, salut, à cette noble France' - from 'La Reine de Chypre', Act 3
Benjamin Butterfield (tenor - Gérard), Brett Polegato (baritone - Lusignan), Canadian Opera Company Orchestra, Richard Bradshaw (conductor)
2:51 AM
Saint-Saëns, Camille (1835-1921)
Introduction and rondo capriccioso for violin and orchestra (Op.28)
Moshe Hammer (violin), Winnepeg Symphony Orchestra, Kazuhiro Koizumi (conductor)
3:00 AM
Fauré, Gabriel (1845-1924)
Piano Trio in D minor (Op.120) (1923)
Grumiaux Trio
3:22 AM
Ravel, Maurice (1875-1937)
Ma Mère l'Oye (Mother Goose) ballet
BBC National Orchestra of Wales, Richard Hickox (conductor)
3:51 AM
Vaughan Williams, Ralph [1872-1958]
Fantasia on a theme by Thomas Tallis for double string orchestra
BBC Symphony Orchestra, Sir Andrew Davis (conductor)
4:07 AM
Jacob, Gordon (1895-1984)
5 Pieces arranged for harmonica and strings
Gianluca Littera (harmonica), I Cameristi Italiani
4:22 AM
Arnold, Malcolm (1921-2006), arr. John P. Paynter
Little Suite for brass band No.1 (Op.80)
Edmonton Wind Ensemble, Harry Pinchin (conductor)
4:31 AM
Berlioz, Hector (1803-1869)
Le Carnaval romain - overture (Op.9)
Toronto Symphony Orchestra, Andrew Davis (conductor)
4:40 AM
Cavalli, Francesco (1602-1676)
Dixit Dominus à 8
Balthasar-Neumann-Chor, Balthasar-Neumann-Ensemble, Thomas Hengelbrock (conductor)
4:52 AM
Salieri, Antonio (1750-1825)
Sinfonia in D major 'Veneziana'
Stavanger Symphony Orchestra, Fabio Biondi (conductor)
5:02 AM
Liszt, Franz (1811-1886)
Tarantella from Venezia e Napoli (S.162)
Janina Fialkowska (piano)
5:12 AM
Valente, Antonio (fl.1565-80)
Gallarda Napolitana
Hesperion XX, Jordi Savall (director)
5:14 AM
Strozzi, Barbara [1619-1677]
Mascara, sonata e ballata da piu Cavalieri Napolitani
Maria Cleary (Arpa Doppia)
5:17 AM
Tchaikovsky, Pyotr Ilyich (1840-1893)
Souvenir de Florence arranged for Strings (Op.70)
The "Amadeus" Polish Radio Chamber Orchestra in Poznan, Agnieszka Duczmal (conductor)
5:51 AM
Rózycki, Ludomir (1884-1953)
Symphonic Poem: Mona Lisa Gioconda (Op.31)
National Polish Radio Symphony Orchestra, Wojciech Czepiel (conductor)
6:01 AM
Mendelssohn, Felix (1809-1847)
Symphony No.4 in A major (Op.90) 'Italian'
Bergen Philharmonic Orchestra, Heinz Wallberg (conductor).
Last on