Main content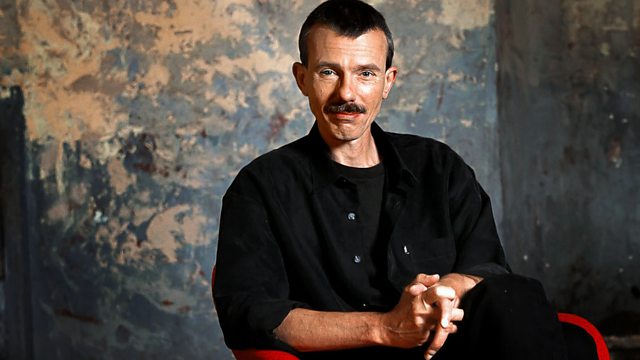 Sound of Cinema
Jonathan Swain presents the Hollywood Rhapsody Prom from 2013, with John Wilson and his orchestra.
BBC Proms 2013. Hollywood Rhapsody. Part of the BBC's Sound of Cinema season, John Wilson and his orchestra bring to life the Golden Age of Hollywood with music from famous soundtracks.
0:31 AM
Newman, Alfred [1901-1970]
20th Century Fox Fanfare; and Street Scene from How to Marry a Millionaire
0:38AM
Bronislaw Kaper [1902-1983]
Confetti from Forever, Darling
0:40 AM
David Raksin [1912-2004]
Laura theme
0:47 AM
Herrmann, Bernard [1911-1975]
Psycho
0:54 AM
Herrmann, Bernard [1911-1975]
Salammbo's Aria from Citizen Kane
Venera Gimadieva (soprano)
1:00 AM
Korngold, Erich Wolfgang [1897-1957]
The Adventures of Robin Hood - Symphonic Suite
1:16 AM
Moross, Jerome [1913-1983]
The Big Country
1:20 AM
Steiner, Max [1888-1971]
Casablanca
1:30 AM
Movie Theme Song Medley
including Something's Gotta Give/Young at Heart/The Tender Trap/Three Coins in a Fountain/That's Amore/Que Sera Sera/All the Way
Jane Monheit and Matthew Ford (vocalists)
1:45 AM
Waxman, Franz [1906-1967]
A Place in the Sun
1:54 AM
Bradley, Scott [1891-1977]
Tom and Jerry at MGM
2:01 AM
Rozsa, Miklos [1907-1995]
Ben-Hur
2:10 AM
Waxman, Franz [1906-1967]
Taras Bulba
John Wilson Orchestra
John Wilson
2:16 AM
Gershwin, George [1898-1937]
Gershwin Rhapsody in Blue (transcribed for solo piano)
Benjamin Grosvenor (piano)
2:31 AM
Bach, Johann Christian (1735-1782)
Quartet for flute/violin and strings (T.309/3) in A major
Sofia Soloists Chamber Ensemble, Plamen Djurov (Conductor)
2:48 AM
Mendelssohn, Felix (1809-1847)
Trio for piano and strings no.2 (Op.66) in C minor
Leonidas Kavakos (violin), Eckard Runge (cello), Enrico Pace (piano)
3:17 AM
Delibes, Leo [1836-1891]
Sylvia - suite from the ballet
Slovak Radio Symphony Orchestra in Bratislava, Oliver Dohnányi (conductor)
3:35 AM
Tchaikovsky, Pyotr Il'yich (1840-1893)
Slavonic March in B flat minor 'Marche slave' (Op.31)
BBC Philharmonic, Rumon Gamba (conductor)
3:45 AM
Handel, Georg Frideric [1685-1759]
Organ Concerto No.1 (Op.4 No.1) (HWV.289)
Concerto Copenhagen, Lars Ulrik Mortensen (organ and director)
4:01 AM
Cassado, Gaspar (1897-1966)
Requiebros for cello and piano
Il-Hwan Bai (male) (cello), Dai-Hyun Kim (male) (piano)
4:07 AM
Schütz, Heinrich (1585-1672)
Two madrigals (SWV 1 & 2)
Cantus Cölln, Konrad Junghänel (lute and director)
4:13 AM
Chopin, Frédéric (1810-1849)
Polonaise in A flat major (Op. 53) "Polonaise héroïque"
Jacek Kortus (piano)
4:20 AM
Ranta, Sulho (1901-1960)
Finnish Folk Dances - suite for orchestra (Op.51)
Finnish Radio Symphony Orchestra, Jukka-Pekka Saraste (conductor)
4:31 AM
Schmelzer, Johann Heinrich [c.1620-1680]
Sonata in D for 3 violins and continuo
Il Giardino Armonico
4:38 AM
Reinecke, Carl (1824-1910)
Ballade for flute and orchestra
Matej Zupan (flute), Slovenian National Radio Symphony Orchestra, David de Villiers (conductor)
4:46 AM
Liszt, Franz (1811-1886)
Gnomenreigen - from Two Concert studies for piano (S.145)
Lana Genc (piano)
4:50 AM
Schubert, Franz (1797-1828)
Quartet for strings in C minor (D.703) 'Satz'
Tilev String Quarte
5:01 AM
Bartók, Béla (1881-1945)
A falu tanca (Village dance) - from 2 Pictures for orchestra (Sz.46) (Op.10)
Slovak Radio Symphony Orchestra in Bratislava, Bystrik Rezucha (conductor)
5:17 AM
Mozart, Wolfgang Amadeus (1756-1791)
Piano Sonata in C major (K.545)
Vanda Albota (piano)
5:28 AM
Rautavaara, Einojuhani (b. 1928)
Canticum Mariae virginis
Jutland Chamber Choir, Mogens Dahl (director)
5:36 AM
Wieniawski, Henryk (1835-1880)
Concerto for violin and orchestra No.2 in D minor (Op.22)
Bartlomiej Niziol (violin), Sinfonia Varsovia, Grzegorz Nowak (conductor)
6:00 AM
Suk, Josef (1874-1935)
Serenade for string orchestra (Op.6) in E flat major
BBC National Orchestra of Wales, James Clark (conductor).
Last on

Broadcast