Main content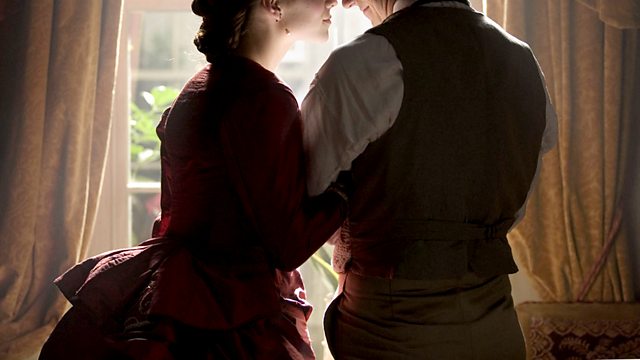 You Never Can Tell
Martin Jarvis directs George Bernard Shaw's breezy seaside comedy, which features tangled romance, 'the New Woman' and doubtful dentistry.
A starry cast in George Bernard Shaw's dazzling romantic comedy from 1897, in a production directed by Martin Jarvis. The play follows a battle of the sexes beside the seaside, with marital mayhem and social strategy.
Mrs Clandon (Rosalind Ayres) celebrated New Woman, returns to England from Madeira, with her three grown children. In Torbay they meet Valentine (Jamie Bamber), an impecunious dentist. The offspring know nothing of their father, but they'll need one in British polite society. Valentine introduces the Clandons to his landlord, Mr Crampton (Christopher Neame.) Guess who he turns out to be?
Valentine is besotted by gorgeous Gloria Clandon (Sophie Winkleman). But in accepting him it's clear who'll be wearing the Shavian trousers. Matters are resolved by old William-the-waiter (Ian Ogilvy), his QC son (Julian Holloway) and cynical solicitor (Adam Godley.) Gloria's feisty twin siblings (Moira Quirk and Matthew Wolf) satirise everybody and it's barrister Bohun whom Gloria allows to have the first dance. As the waiter remarks: 'You never can tell, sir.' Richard Sisson's piano arrangements reflect the sea-breezy emotions of these engaging characters.
Piano music arranged and performed by Richard Sisson
Sound design, Wesley Dewberry
A Jarvis and Ayres Production
First broadcast 29/09/2013.
Credits
| Role | Contributor |
| --- | --- |
| Valentine | Jamie Bamber |
| William | Ian Ogilvy |
| Fergus Crampton | Christopher Neame |
| Finch McComas | Adam Godley |
| Mrs Clandon | Rosalind Ayres |
| Gloria Clandon | Sophie Winkleman |
| Dolly Clandon | Moira Quirk |
| Phillip Clandon | Matthew Wolf |
| Boon QC | Julian Holloway |
| Jessie | Paula Jane Newman |
| Jo | Darren Richardson |
| Musician | Richard Sisson |
| Director | Martin Jarvis |