Main content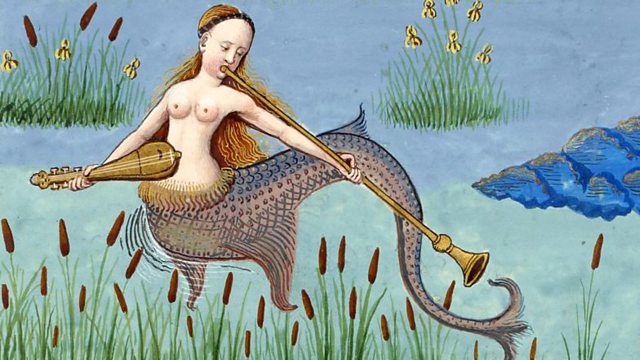 Mermaids
Texts and music on the theme of mermaids, with readings by Amanda Root and Toby Stephens. With Ravel, Zemlinsky, Debussy and Gershwin, plus Hans Christian Andersen and TS Eliot.
Amanda Root and Toby Stephens are the readers in this edition of Words and Music which is inspired by the multi-faceted character of the mermaid. Responding to the call of the siren are composers including Debussy, Ravel, Zemlinsky and Gershwin and writers such as Hans Christian Andersen, Shakespeare, Oscar Wilde and T.S. Eliot.
First broadcast 29 September 2013
Devised by Sarah Peverley
Producer: Philippa Ritchie.
Last on
Music Played
Timings (where shown) are from the start of the programme in hours and minutes
00:00

Ravel

Ondine from Gaspard de la Nuit

Performer: Vladimir Ashkenazy (piano).

J.M. Barrie

Peter Pan, read by Amanda Root

William Shakespeare

The Comedy of Errors Act III Scene 2, read by Toby Stephens

00:06

Toru Takemitsu

Towards the Sea: The Night

Performer: London Sinfonietta, cond. Esa-Pekka Salonen.

Dante Gabriel Rossetti

Sea Spell, read by Amanda Root

Bartholomeus Anglicus

De Proprietatibus Rerum (13th century encyclopedia) read by Toby Stephens

00:11

Claude Debussy

Nocturnes: Sirenes

Performer: Berliner Philharmoniker, cond Claudio Abbado.

DEUTSCHE GRAMMOPHON 4713322.
Tr4.

Walter de la Mare

Sam read by Toby Stephens

00:21

Acker Bilk

(Instrumental Memories) Stranger on the Shore

Performer: Acker Bilk.

VIRGIN VTDCD629.
CD1 Tr1.

Walter de la Mare

Mermaid read by Amanda Root

00:25

Antonín Dvořák

Rusalka, Song to the Moon

Performer: Gabriela Beňačková.

Catriona O'Reilly

The Mermaid read by Toby Stephens

00:32

Wagner

Das Rheingold, Prelude

Performer: Wiener Philharmoniker, cond. Solti.

Christopher Columbus

Extract from the journal of Christopher Columbus, read by Toby Stephens

00:37

Rimsky-Korsakov

Scheherazade, The Sea and Sinbad's Ship

Performer: London Philharmonic Orchestra cond. Haitink.

00:40

Joseph Haydn

Mermaid's Song, from English and Scottish Songs

Performer: Mhairi Lawson (soprano), Olga Tverskaya (fortepiano).

W.B. Yeats

The Mermaid read by Amanda Root

00:44

George Gershwin

Lorelei

Performer: Sarah Vaughan.

Oscar Wilde

The Fisherman and his Soul read by Toby Stephens

00:48

Granados

Granados Piano Music, La Sirena

Performer: Douglas Riva (piano).

00:52

Jules Massenet

Manon Complete Ballet

Performer: Orchestra of the Royal Opera House cond Richard Bonynge.

Samuel Daniel

Ulysses and the Siren read by Amanda Root and Toby Stephens

T.S. Eliot

The Love Song of J. Alfred Prufrock read by Toby Stephens

00:56

Alex Cottrell and Sarah Peverley

Transitions

Performer: Alex Cottrell and Sarah Peverley.

digital album publisher alex cottrell.
Tr9.

00:57

Zemlinksy

The Mermaid

Performer: Radio-Symphonie-Orchester Berlin, cond. Riccardo Chailly.

Hans Christian Andersen

The Little Mermaid read by Toby Stephens

01:08

Reinecke

(Rietz, Reinecke, Molique) Undine

Performer: Mario Ancillotti (flute), Pier Narciso Masi (piano).

Hans Christian Andersen

The Little Mermaid read by Amanda Root

Mermaids

Image by kind permission of La Bibliothèque nationale de France

A note from Sarah Peverley (devisor)

One of my earliest memories is watching the Japanese anime version of Hans Christian Anderson's The Little Mermaid. Released over a decade before Walt Disney's movie, the anime film broke my heart by remaining true to the original ending of Anderson's tale (published in 1837), in which the mermaid dies after sacrificing everything to gain the love of a prince she saved from drowning. As a little girl who demanded a happy ending for the brave, faithful and selfless mermaid, I recall fleeing to the bathroom in tears as she perished and turned to sea foam. Even the hope of her gaining an immortal soul as she transformed into a Daughter of the Air failed to console me. From that moment I fell in love with mermaids and wanted to be part of their world as much as Anderson's Little Mermaid wanted to be part of ours.

 

My older self still has that childlike fascination and feeling of injustice at the Little Mermaid's story, but mermaids also appeal to me more broadly because they embody mystery and duality: longing to be a mermaid, or see a mermaid, is a longing to explore the uncharted depths of our world; to glimpse or enter places that we can't ordinarily access. As hybrid creatures, Mermaids help to define what makes us human, yet they can also act as a metaphor for nature itself: beautiful and terrifying, with the capacity to nurture or destroy man.

 

This programme is inspired by the multi-faceted character of the sea-maid and the element in which she dwells: from Dvořák's tragic water sprite Rusalka, who asks the moon to tell her beloved how she feels, to Gershwin's 'trollop' Lorelei, whose liberty and sexual allure prompts the human singer of her tale to aspire to be a femme fatale of similar calibre.

 

In my choice of texts I have attempted to offer a taste of the different ways in which mermaids have ignited the imaginative power of composers and writers from diverse cultures across time. The first recorded mermaid appears to be the Syrian goddess Atargatis, known to the Greeks as Derketo, who became pregnant with her lover's child and threw herself into a lake in shame, becoming part-fish in the process. Classical mythology also gives us the famous sirens of Homer's Odyssey, who enticed sailors to their death with a sweet song; though Homer fails to elucidate what the sirens looked like, classical art and literature frequently depicted them as part-female, part-avian creatures. Later, the sirens were portrayed as fishtailed women, especially in medieval England where the word 'siren' was often used interchangeably with 'mermaid', as noted by the fourteenth-century poet Geoffrey Chaucer in his translation of The Romance of the Rose. In the Middle Ages piscine-sirens and mermaids were used to depict worldly vanity, appearing in churches and illuminated manuscripts holding mirrors and combs as symbols of pride and warnings against pursuing fleshly temptations.

 

Alluring and often deadly, we see the darker, predatory and sexual side of mermaids at the forefront of the extract taken from a thirteenth-century encyclopaedia, De Proprietatibus Rerum, written by the Franciscan scholar Bartholomeus Anglicanus, or Bartholomew of England. Later still, mermaids feature in the journals of explorers such as Christopher Columbus and Henry Hudson. Attempting to make sense of the new creatures and worlds that he encountered, Columbus's observation that mermaids 'are not so beautiful as they are painted, though to some extent they have the form of a human face' seems to imply that he saw manatees rather than the arousing, yet sexually unavailable fish-maidens conjured by imaginative sailors.

 

The programme begins with Undine, or Ondine, a water sprite first recorded in the alchemical writings of Paracelsus (1493-1541). Originally the name Undine defined the species of elementals inhabiting waterfalls and forest pools, but by the nineteenth century it had become the forename of a water nymph that fell in love with a human and married him to gain an immortal soul. Undine's story became incredibly popular in the nineteenth century when the German Romantic writer Friedrich de la Motte Fouqué wrote a novella, Undine (1811), about her ill-fated marriage to a knight called Huldebrand. Her story is similar to The Little Mermaid, and it inspired the work of several composers, including Tchaikovsky, Debussy, and Henze. The vibrant pieces selected here by Ravel and Reinecke evoke the ethereal quality of Undine's aquatic humour with energetic trills and lilting phrases that cascade through the various movements of her sad story like the rising and falling waters of her natural habitat.

 

By contrast, Haydn's canzonetta, 'The Mermaid's Song' (1794), offers a more playful rendition of the mermaid's seductive call to 'follow, follow, follow' her beneath the waves. One of a small number of technically simple songs composed for performance in a drawing room setting by a solo voice and keyboard, the expressive flourishes and unrelenting liveliness of the piano's watery soundscape complements the simplicity of Anne Hunter's charming lyric.

 

Almost all of the pieces I have chosen for this programme use mermaids to explore aspects of the human condition and psyche. Walter de la Mare's 'Sam', for example, contrasts the self-doubt and inexperience of youth with the playful confidence and self-awareness that comes with old age. The extract from T. S. Eliot's 'The Love Song of J. Alfred Prufrock', on the other hand, employs mermaids and their underwater world to reflect the narrator's feelings of sexual inadequacy and, more generally, the isolation of the individual in the modern world.

 

Several pieces draw upon mermaids' lack of an immortal soul to explore the power of love and difference. While Anderson's The Little Mermaid is the most famous example, Oscar Wilde's The Fisherman and his Soul (1891) turns the motif on its head to highlight the conflict between physical love and spiritual salvation, and individual happiness versus social expectation. The very form of mermaids - part animal, part female – is ideally suited to negotiating such tensions, a concept that is also brilliantly tackled in Daniel's 'Ulysses and the Siren' (1605), as we find Ulysses (the Latin counterpart of Odysseus) impervious to the siren's lure. Writing during a new wave of exploration, Daniel's poem addresses the pursuit of honour and renown achieved through an active life, not adverse to war, versus passivity and the pursuit of individual pleasures closer at hand. For Ulysses, the promise of fame is more attractive than the siren's song.

 

As we move from the lively and colourful mermaid lagoon in Barrie's Peter Pan, to the poignant death of Anderson's heroine, we find the mermaid constantly caught between two worlds, a position that many people can empathise with. This aspect of her nature is perhaps key to her enduring attraction and popularity with artists the world over.

 

Sarah Peverley  a Radio 3 New Generation Thinker 2013 and Senior Lecturer in English at the University of Liverpool.  @sarah_peverley

Broadcasts