Main content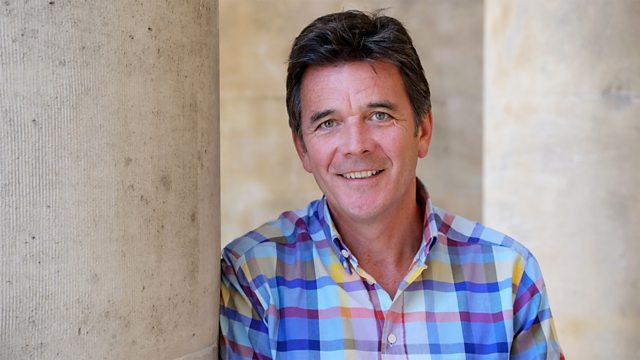 Flu vaccine and narcolepsy, Stoptober, Herbal medicines, Calcium supplements
New research linking a swine flu vaccine to child narcolepsy. Stoptober successes. Examining the current licensing system for herbal medicines. Are calcium supplements harmful?
New research has found an association between Pandemrix, a swine flu vaccine, and a rare sleep disorder in children. Fears about a pandemic of H1N1 flu, so called "swine flu", over the winter of 2009/2010 led to millions of vulnerable people across the UK, including every child under five, being offered a new vaccine. There has since been a dramatic rise in the number of children diagnosed with narcolepsy. Paul Gringras, Professor of Children's sleep medicine and neurodisability at the Evelina Children's Hospital in London, is one of the researchers investigating this link.
October 1st marks the start of a mass stop smoking campaign called Stoptober. Last year, 160,000 people gave up for the month, saving themselves £25 million from not buying cigarettes. Inside Health spoke to two of them, Adrian Osborne and Donna Horton.
The Traditional Herbal Medicines Registration Scheme was brought in by the Medicines Healthcare Products Regulatory Agency (MHRA) in 2005. But there are concerns that the threshold for this type of licensing is set too low, and is misleading consumers. To debate the issue, Mark Porter is joined by resident sceptic Margaret McCartney and Dr Linda Anderson from the licensing division at the MHRA.
It is thought that around five million people in the UK, most of them women, take some form of high dose calcium supplement to keep their bones healthy. But there have been a number of reports linking them to
heart attacks and stroke. So what is the latest thinking on their use? Juliet Compston is Emeritus Professor of Bone Medicine at the University of Cambridge School of Clinical Medicine.
Programme Transcript - Inside Health
Downloaded from www.bbc.co.uk/radio4 
THE ATTACHED TRANSCRIPT WAS TYPED FROM A RECORDING AND NOT COPIED FROM AN ORIGINAL SCRIPT.  BECAUSE OF THE RISK OF MISHEARING AND THE DIFFICULTY IN SOME CASES OF IDENTIFYING INDIVIDUAL SPEAKERS, THE BBC CANNOT VOUCH FOR ITS COMPLETE ACCURACY.
INSIDE HEALTH
Programme 2.
TX:  01.10.13  2100-2130
PRESENTER:  MARK PORTER
PRODUCER:  ERIKA WRIGHT
Porter
Coming up in today's programme:  Calcium supplements - prescribed to millions of people across the UK to help maintain healthy bones, but might they do more harm than good?
Herbal medicines - is the current licensing system misleading consumers?
And giving up smoking - we catch up with some of the 160,000 smokers who managed to give up thanks to the Stoptober challenge.
Clip
Anybody who knew me knew I used to more or less eat the cigarettes, I just used to light them one after the other and now I am so healthy, I don't smell, I don't need my ventolin inhalers anymore and I can sleep without coughing.
Porter
More from Donna later.
But first, new research linking a flu vaccine to a rare sleep disorder in children. Fears about a pandemic of H1N1 flu - so called "swine flu" -over the winter of 2009/10 led to millions of vulnerable people across the UK being offered a new vaccine - and that included every child under the age of five.
The most widely used form - Pandemrix - has since been linked to a dramatic rise in the number of children diagnosed with narcolepsy. Paul Gringras, Professor of Children's sleep medicine and neurodisability at the Evelina London Children's Hospital is one of the researchers investigating the link.  So Paul, what is narcolepsy?
Gringras
Narcolepsy is a sleep disorder, it's actually a very severe sleep disorder – about one in 3,000 people might get this at any stage in their life.  Now it's characterised by excessive sleepiness – so being really sleepy during the day at unpredictable and irresistible moments, so you fall asleep while you're eating, while you're talking with friends.  And there are a number of other features including probably the best known is cataplexy, and this is weakness where the body might go limp following an extreme emotional reaction.  So maybe you're with friends and laughing or you're even telling a joke and these young people feel their knees buckle and collapse to the floor.
Porter
You say young people, is this something that normally develops in childhood?
Gringras
So my context is young people because I work in a children's sleep unit and we've got about 60 young people with narcolepsy under our care at the moment.  Traditionally much more common in adulthood.  Two reasons are one, it used to take a long time to get the diagnosis right, probably about 14 years so people would suffer being told that they were sleepy and being lazy at school for a long time.  But the other really interesting thing is that we are seeing an increase in cases of narcolepsy in young people under the age of 18.
Porter
Now in the group that was vaccinated I said there was a dramatic increase but this is still a rare condition?
Gringras
When you compare the actual numbers in the unvaccinated versus those in the vaccinated groups sure there was a big increase and remarkably consistent whatever country you looked at - so about 14 times the increased rate.  But this remains a very rare disorder with probably between one in 20,000 and one in 50,000 vaccination associated cases.
Porter
Do we know what the mechanism is – presumably this is of great interest to you, someone who studies narcolepsy, to find that it's associated with a vaccine might give you a clue as to what's going on?
Gringras
Yeah absolutely, so this is the big fascinating question that actually within this tragedy for the families affected we ought to be able to get much better at finding the mechanisms.  It's really important because we now know a lot more about the origins of narcolepsy.  We know that there are certain cells that produce a certain neurochemical that helps keep us awake called hypocretin and we know that there's an autoimmune reaction, so the body goes overboard in its immune response and can end up, as well as destroying the cells that are causing an infection, for example, destroying some of its own cells. So we do know that that's part of the origins of narcolepsy and the question is what is it in the vaccine or in the adjuvant – that's the thing that makes a vaccine powerful for the immune system – that's triggering narcolepsy?
Porter
And it was one particular vaccine – this Pandemrix – which had a particular adjuvant in it, something to stir up the immune system?
Gringras
Yeah for sure, so this was the interesting thing – there were a number of vaccines available and this spike, this increased rate, has only been seen in Pandemrix.  It's got an oil in water adjuvant, containing squalene, which is a substance found in shark liver quite naturally, but I think this particular vaccine was chosen because there was this risk of a lot of deaths from this epidemic and they needed a very powerful immune reaction so that one vaccination would be enough to cover a wide percentage of the population.
Porter
And it's that, we think, that may have triggered the narcolepsy in susceptible individuals?
Gringras
That would seem to be the case, I say seem to be because we also know that narcolepsy can get triggered by viruses, by flu, by sore throats – so different things can trigger this immune reaction but there certainly seems to be something distinct to Pandemrix as compared with other vaccinations.
Porter
We should point out that this vaccine wasn't tested particularly in children, as it might have been in other cases, because of the urgency.
Gringras
I assume that that's the case, if you've got to bring out a vaccine very quickly in response to the strain that's there and I think about a third of children under five were vaccinated, a quarter of children in high risk groups, and other European countries far higher, so they really did manage to immunise huge percentages.
Porter
So what does this tell you do you think about the use of adjuvants going forward?
Gringras
So the Pandemrix is now not going to be given to people under the age of 20 and the current vaccines don't use an adjuvant and I think there's just got to be a lot more work and a lot more thought and perhaps a balance against all the advantages of having a potent vaccine versus wanting to know about very rare but significant neurological side effects.
Porter
Professor Paul Gringras, thank you very much.  And just to be clear this is not the same vaccine as used each year to protect against seasonal flu.  We asked the company that makes Pandemrix - GSK - for a comment and this is what they said:
Statement
Patient safety is our number one priority and we're actively researching how narcolepsy is triggered and how this vaccine might have interacted with other risk factors in affected individuals.  We hope these ongoing research efforts will enable us to provide more answers.
Now October not only marks the start of the annual flu vaccine campaign, it is now also associated with the mass stop smoking campaign - Stoptober.  A hundred and sixty thousand people completed the challenge last year by giving up for a month, we caught up with two of them.
Osborne
My name's Adrian Osborne, I've been a smoker – or I was a smoker – for about 25 years and whilst towards the end I wasn't the heaviest of smokers I was still probably smoking around 10 cigarettes a day and certainly much more on a social night out.  And I have been able to quit for short periods before but only a few weeks or a few months at a time and certainly never before for a year.
I think Stoptober helped me give up because with a really simple message about well if you stop smoking for 28 days you're five times more likely to stop for good, well that felt achievable, I felt optimistic that I would do that.  Last year, for Stoptober, I signed up and I got sent my Stoptober support pack and I think each part of that was useful in its own way.  There was a little squeezy Stoptober stress toy, so that was sat right in front of me on my desk at work as this conscience all the way through to remind me that look you're somebody who's trying to quit here.  And there was a little calendar as well with handy hints and reminders.  So it was all that kind of stuff about well for every day you give up smoking this is the positive impact on your health.  It provided extra motivation.  And then on top of that getting regular daily text messages to keep me going, keep me enthused and also help me out when I did lapse and have a drag on a cigarette.
Donna
My name is Donna.  I have been smoking since I was 12 and I am 49 now and before October of last year I was smoking 25 plus a day.  I've tried to give up on loads of occasions – the longest I've lasted was six weeks.  The actual Stoptober website – I went on it every day and it told you how many days you're free, it used to congratulate you and also Facebook had Stoptober on there and people were offering help and support to each other.  At the beginning I had insomnia and I went on to the site and this particular day everybody was writing about insomnia, so it's very helpful.  I couldn't have given up without it because where a load of other people were packing up smoking at the same time – like thousands – I knew I wasn't alone and I knew that lots of other people would be struggling like I was.
Porter
And if you want to join Adrian and Donna and become a non-smoker than it's not too late to sign up to this year's Stoptober challenge - details are on the Inside Health website at bbc.co.uk/radio4.
The UK has a longstanding tradition of relying on herbal medicines but attempts to drag them into the 21st Century through increased regulation have proved controversial. While some herbal medicines in the UK have full product licences like conventional pharmaceuticals, such as Senna for constipation, the vast majority do not. The introduction of the Traditional Herbal Medicines Registration Scheme in 2005 was designed to address this and bring the UK into line with tighter regulation in Europe. 
The scheme gave manufacturers two options - either remove their herbal remedies from the market altogether, or apply to the Medicines and Healthcare Products Regulatory Agency for inclusion on a new herbal medicines register.
But there are concerns that the threshold for this type of licensing has been set too low, and that it is misleading consumers. Joining me to debate the issue is GP Dr Margaret McCartney and Dr Linda Anderson from the licensing division at the MHRA. Linda, what criteria are required for inclusion on your register?
Anderson
You have to be around for a 30 year period, you have to show us that you're safe, the company who applies under the traditional scheme would give us a full safety review.
Porter
But that needn't include – I mean when you say a safety review I mean that needn't include any clinical trials that we would regard as gold standard for a medicine for instance?
Anderson
Well gold standard today for a medicine in the current regulatory framework but of course we do have lots of other older medicines, I mean if you take something like calamine lotion I dare say there aren't many clinical trials showing that that has an effect but nonetheless we would put it on our chickenpox spots if needs be.  So there's lots of things that – particularly in the OTC – the over-the-counter – self-medication area – where the evidence base is not perhaps state of the art because time has moved on but we don't want to throw those old things away all the time.  But just going back to the traditional scheme – you've got to have this traditional evidence for 30 years and that's to give us some sense that it's been around, people have used it and come to no harm.  But the other main thing is we're trying to bring the products into regulation so that we can apply the right controls, particularly on quality – quality is a big issue with some of these products – but we want to make sure that if people are going to use them and they are using them very importantly they get the right information on the label and in the leaflet and all these traditional products now have an up to date leaflet setting out who should use the product, who shouldn't use it and that's often children, invariably children, often adolescents even, maybe the elderly, but telling you how long in many cases – how long you should use the product for and giving you guidance particularly if your symptoms persist or worsen that you see your doctor.  Because the last thing we want is for people to defer effective treatment.  Perhaps I should make the point that the traditional medicines are only ever for minor conditions that a patient would be seeking self-medication for in any event, we're not in any way endorsing delaying effective treatment, that would be hazardous without a doubt.
Porter
Margaret, pharmacies' shelves are full of remedies for coughs and colds, most of which have no evidence base whatsoever, so what's the difference with herbal medicines?
McCartney
Well we discussed this in series one I think didn't we, about cough mixtures and how many of them just don't work at all and I think what I'm really disappointed with is the idea that we've got a double standard and we're just going to leave it there.  I really don't care whether a medicine that I prescribe is "herbal" or "non-herbal", they're all chemical, chemicals can be good for us or bad for us or a mixture, with pros and cons, it doesn't matter what the origin is of a compound.  What does matter is whether it works for a patient, whether it's useful, whether it's effective or not and what the side effects and benefits might be and how those weigh up together.  What I care about is that they've all been evaluated to the same high standard and at the moment what we're doing is we're just sort of basically saying okay if these products have been around for a while never mind, let's just let them have a licence anyway which really seems to me to be a little bit of a dereliction of duty to people who want the same standard of quality of healthcare products whether or not they are herbal or whether they're over-the-counter or not – they all should have the same standard.
Porter
But that's not true about conventional medicines – I mean a lot of these older medicines, the example we heard there was calamine, I mean doesn't meet the sort of evidence base that you'd accept these days.
McCartney
Yeah but do we really prescribe calamine lotion, I don't think doctors do, this stuff might still be available over-the-counter – I mean personally I think chickenpox spots I usually put an ice cube in a poly bag, that was my treatment, not very evidence based either but I think there's a degree of sense about it.  We want to be up front about the pros and cons of hazardous and ineffective treatments so we maybe should be thinking well instead of cough bottles that have been sold from chemists let's have the same standard of evidence for all of them and I would be delighted to see a pharmacy that had many empty shelves because they were only stocking stuff that was of high evidence, high value and high quality for patients.
Porter
Linda, this is one of the concerns, isn't it, that if a product is on the registry or "licensed" that actually the general public who are purchasing that – so they're buying a remedy for the menopause or whatever they're doing feels that it is somehow pucker, that this is safe, it's been proven to be efficacious, it's an alternative to a medicine?
Anderson
Well I think Margaret made some very good points and in many ways I can see some of the issues that she's raised very clearly.  I think obviously our emphasis is on the safety of products and if they're doing harm and sometimes we have to take maybe very modest efficacy based on almost like a well-established use in our stride.  And I think we've all got our own cough/cold remedy that we use and it's probably got absolutely no evidence base but we would hate to be deprived of it because it does no harm but it gets rid of that tickle when you're in bed at night.
McCartney
But surely there's a difference though between being deprived of something that you feel is useful and having a product that endorsed by the MHRA or an organisation that puts a stamp or seal of approval on it.  So you know – and I would really hope that the stamp of approval really has gone not just to talk about a lack of harm, because how can we really know without really good quality studies, but also it's the waste – it's the waste that we spend a lot of money, time and effort.  I mean the market for unproven cough/cold remedies is in the millions in the UK.  Why do we accept the status quo, don't we want to have a population of really better informed citizens that can make really good informed choices about healthcare or saving their money to use on stuff that's actually useful to them and feeling free to ditch the stuff that isn't?
Anderson
In many ways I see that point very clearly but certainly with the traditional scheme it's very clearly on the label and in the patient leaflet that the products are only based on traditional evidence.  And we've made great strides in trying to communicate that to the public and trying to bring across to them the fact that these are only ever for minor conditions, they're palliative, they're things that don't have a strong efficacy base.  That's not to say that they have no basis, I think we should remember that some of the products, in fact, were the mainstay of conventional medicine, okay maybe some while back and have been superseded by other things.  But it wasn't because they didn't work, it was because other things moved in to take their places.  I suppose we have to bring it back to some extent to consumer choice because our fear and it's a genuine fear is that if you remove products, particularly modest products, from the market people will just go on to the internet and buy really much more dangerous commodities that could present a real hazard.  But if they want a choice and menopause is a good example, people don't always want the hard-line treatment that may well work, they often want to dabble in things that may just tick over and help them.  And if we don't provide the products with a guaranteed quality and the right information where will they turn to?
McCartney
I mean I think you're right – the internet is this kind of hell hole of made up pharmaceuticals that you can buy – I don't think that problem's going to go away and in many ways what you want is better law enforcement for people that are doing illegal things.  But the idea about the menopause is really interesting because I think that women tend to be misled by an awful lot of the – in herbal remedies that are on shelves.  I was in a high street chemist at the weekend and the amount of packaging, seductive claims – gentle help for the menopause, this and that – it's really misleading I think and it's not fair to women, we know that herbal remedies for the menopause just aren't effective, they just don't work very well.  Why aren't we just fessing up and saying look we don't have great pharmaceutical solutions, these things that you buy over-the-counter they are placebos and they're expensive, let's look at other things that work, let's be honest and open and straightforward with people.
Porter
Linda, you've mentioned the consumer in this a number of times but how much pressure to licence these products comes from the consumer and how much comes from the manufacturer?
Anderson
Well I don't there's pressure from the manufacturer as such because they've obviously got to go through a hoop and register their products with us…
Porter
But you insinuated that if you were to pull these products off the shelves lots and lots of people would be upset, you have proof of that?  I mean I know lots of manufacturers would be upset.
Anderson
Well I think we would definitely know that people would be upset because of the usage and certainly every time we've taken action, even on something that we think is clearly unsafe, we find patients slightly up in arms about the fact that we've withdrawn something, where we can explain very clearly that this is hazardous.  So I think there is a body of people.  And…
McCartney
Surely this should not be about popularity though, surely the MHRA is not there in order to keep consumers happy – to have whatever they want – surely that's entirely the wrong approach, I mean surely you should just be going out there and saying okay we're going to start from the beginning, make sure everything's approved properly and really telling the public when things don't work and they shouldn't be wasting their money on it?
Anderson
I mean I can see your point of view that these things shouldn't exist but I think the fact of life is that throughout the European Union there's a very longstanding tradition in herbal medicine and it's not going to vanish overnight, even if us, as the UK, wanted it to.  And our job at the moment is to drive up the quality standards and the information standards.  The traditional scheme has offered us an opportunity that we didn't have before.  The market before was in a dire state now we're moving forward.
Porter
Margaret, does it make a difference to you where these products are being sold, I mean presumably they're sitting on the shelves next to proper medicines in some cases?
McCartney
Absolutely.  Where I have a real issue is that a lot of pharmacies now are offering NHS services like stop smoking or sexual health testing and what I really object to is that these products are on a shelf underneath an NHS banner.  And to me the ethos of the NHS should be about evidence based compassionate healthcare, not about herbal remedies that happen to have been around for a long time, don't seem to have killed anyone and so are given a product licence.  And I think that makes a real – really difficult for consumers to know what it is that they're buying, who's approving it and what efficacy they can expect from that product.
Porter
We must leave it there, Margaret McCartney and Dr Linda Anderson, than you both very much.
Now, we have had an e-mail from listener Robin Hill:
Hill (Read)
Studies have been reported in the press claiming that calcium supplements cause an 87% increase in the risk of heart disease.  This has been a worry and concern for myself and many other people using this supplement to help osteoporosis.  Please can you establish the truth and risk of this worrying suggestion and hopefully put our minds at rest or at least quantify the true risk?
Porter
It is thought that around five million people in the UK - most of them women - take some form of high dose calcium supplement to keep their bones healthy. So what is the latest thinking on their use? Juliet Compston is emeritus Professor of Bone Medicine at the University of Cambridge.
Compston
The consensus at present is that when we see a patient and we're considering treatment for osteoporosis we do a rough assessment of their dietary calcium – this is just done in the clinic by asking questions about dairy produce intake, because dairy produce has by far the highest amounts of calcium, and they are other foods like pulses and some vegetables which also contain calcium.  And if the dietary intake appears to be adequate, based on that sort of questioning, then we wouldn't prescribe additional calcium supplements.  But if, for example, the patient says well I never have any dairy products at all then there would be a case for giving calcium supplements with the osteoporosis treatment.
Porter
Now that might well be happening in a clinic like yours but I suspect there are many women out there who are taking calcium who have just been prescribed them without proper assessment of their dietary intake, does that matter?
Compston
The ideal situation is certainly to assess dietary intake before deciding whether or not to use calcium supplements.  Having said that most people in the UK have rather lower calcium intake in their diet than the recommended daily intake and so prescribing an extra supplement may not be harmful at all.  On the other hand because of the concerns that have been voiced recently about a possible link between calcium and cardiovascular disease we would prefer to err on the side of caution and only prescribe calcium supplements in those people where dietary calcium intake is insufficient.
Porter
A review of the recent evidence in the medical journal Heart suggested roughly that women taking calcium supplements – older women taking calcium supplements – were something like 20% more likely to have a heart attack and 15% more likely to have a stroke than women who did not take supplements, what's your take on that research, is this something we should be worried about?
Compston
My take on the research in general is that the evidence is very conflicting.  So there have been some studies suggesting a possible link between calcium supplements and heart disease and in some cases stroke as well but these studies have not been designed to show whether or not heart disease or stroke are increased in people taking calcium supplements, they've been studies where people have looked at other trials, usually with fracture or bone mineral density as an outcome, and examined the adverse effects in those studies.  And that kind of study – and there have been many meta-analyses too – are prone to a number of flaws, there have been weaknesses in the statistical approach that's been used, there may be other factors which predispose to heart disease in these women which are not accounted for in the data in those studies.  And so the other thing to say is that there have been a number of studies which have shown absolutely no link at all between calcium supplements and cardiovascular disease and stroke.  So it's a very controversial area.  The consensus amongst experts in the field at present I would say is that there's no well proven link between calcium supplementation and heart disease or stroke but it would be nice clearly to have further studies in this area.
Porter
But in the meantime it would make sense, would it not, that women only take supplements if they need them.  What sort of daily intake in milligrams should women be consuming?
Compston
Well recommendations vary a bit but generally between 750 and 1,000 milligrams a day.  A pint of milk is about 750 milligrams, so you're almost there if you have a pint of milk a day.  And if you have, let's say, half a pint of milk and you have some cheese and yoghurt you're going to reach pretty much the recommended levels.
Porter
And assuming that you're not and you turn to supplements what sort of dose of supplements should be taking – you're suggesting just enough to get you up to that recommended daily intake?
Compston
Yes I mean most people have some calcium in their diet so a supplement of between 500 and 1,000 milligrams of calcium would be appropriate, probably more like 500 in many women than a thousand because they will already have some intake in their diet.
Porter
Professor Juliet Compston. Dr Margaret McCartney has been listening to that, Margaret, forget the potential harms for the moment, how convincing is the evidence that calcium supplements help protect against thinning bones in the first place?
McCartney
We are prescribing calcium supplements because we think that it will reduce the amount of fractures people get because of osteoporosis but the bottom line is we really don't have the evidence to say that.  And it makes me feel very uncomfortable because there is the risk that we are actually doing harm to people by increasing the risk of heart disease and stroke.  So I think we're in a bit of a dilemma at the moment and certainly I think we need better trial evidence so that we can be sure that we're helping people more than we're potentially harming them.
Porter
Common sense would dictate that being on calcium supplements – let's put this very simply – ensures that you're getting enough bricks delivered to the building site to maintain healthy bones so therefore you would expect your bones to be healthier – but that doesn't translate into reduced fractures.
McCartney
No, no…
Porter
Do you know why that is?
McCartney
No and I think like so many things in medicine what seems eminently sensible and reasonable just doesn't work out quite that logically in real life.  And what's really interesting as well is in America the US Preventive Services Taskforce came out in February to say that actually they felt they didn't have good enough evidence of prescribing calcium supplements in post-menopausal women.
Porter
So they might be falling out of favour slightly?
McCartney
Well I think we just need better evidence so that we know really what we're doing and at the moment…
Porter
But we've had these for decades, I mean they're not new.
McCartney
Yes it's shocking and I really wonder sometimes what direction medicine's going on, such a fundamental question we haven't started to answer it yet.  But what I think it's important to know is that there's lots of other ways to think about reducing the risk of osteoporosis – things like not smoking, things like weight bearing exercise and actually not being underweight, which is a risk factor as well.
Porter
What about this thing about assessing your patient's intake before you prescribe them to make sure that they're not taking more than a thousand milligrams or whatever – the sort of figure that they need – do you do that?
McCartney
No I don't, in my defence I have to say that most of the patients that we're asked to prescribe calcium supplements for will come from having a DEXA scan, a bone density scan, where the recommendations are usually made after they've been seen by a nurse in the clinic there.  But I am going to go back and find out whether or not these women have had a dietary assessment done of how much calcium they're taking in.
Porter
Margaret McCartney.  And if that has left you even more confused then there is a simple overview, including how to work out how much calcium you may need, on our website. Go to bbc.co.uk/radio4 and click on I for Inside Health.
Next week I will be learning more about the science behind mixing alcohol and caffeine based energy drinks, and discovering why doctors are particularly worried about people who binge drink on the combination.
And the latest on eating disorders - we dispel the myths that continue to surround anorexia. Join me then to find out more.
ENDS