Main content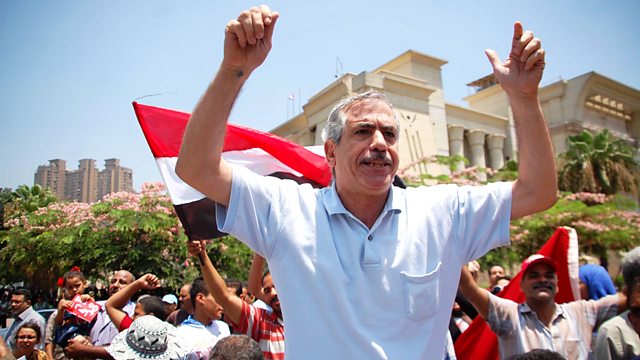 Egypt's Muslim Brotherhood: Why Did They Fail?
The Muslim Brotherhood came to power in Egypt's first democratic elections, but the party was ousted after just one year. Christopher de Bellaigue asks why the Brothers failed.
Barely a year after Egypt's post-revolution elections were held, millions of protestors took to the streets to demand the resignation of President Mohammed Morsi. After a short stand-off with army leaders, he was removed from power in what many describe as a coup d'etat.
The subsequent clashes between Mr Morsi's Muslim Brotherhood supporters and security forces have proved violent and bloody and the country is once again being governed by the military - but what were the events which closed this short chapter in the fledgling Egyptian democracy?
Christopher de Bellaigue speaks to insiders from across Egypt's political spectrum to reveal the mistakes and power-plays which led to the downfall of the country's first democratically elected president.
Contributors:
Dr Abdul Mawgoud Dardery, former Freedom and Justice Party MP for Luxor.
Dr Hisham Hellyer, associate fellow at the Royal United Services Institute (London) and the Brookings Institution (Washington).
Dr Omar Ashour, senior lecturer in Middle East Politics and Security Studies, University of Exeter.
Angy Ghannam, Head of BBC Monitoring, Cairo.
Dr Wael Haddara, former communications adviser to President Mohammed Morsi.
Dr Abdel Moneim Aboul Fotouh, founder of the Strong Egypt party.
Producer: Richard Fenton-Smith
Editor: Innes Bowen
Last on
Does the Middle East still recognise the 'lines in the sand' imposed by the West?

What are the consequences of the new culture of questioning authority in Arab society?
Broadcasts

Featured in...
A collection of programmes exploring political issues from around the world.

A selection of the best Analysis programmes exploring political Islam around the world.