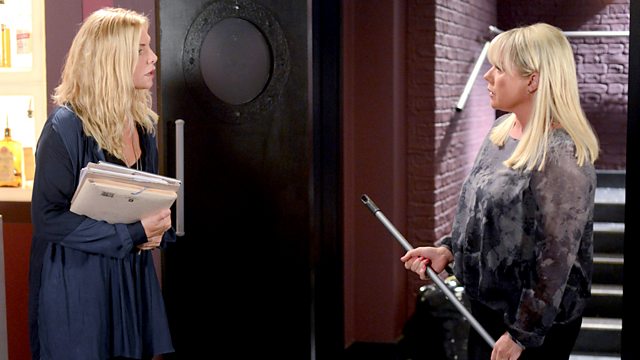 23/09/2013
Ava is unaware that Dexter has been tested as a suitable donor, but later at The Arches, Sam tells Dexter he won't accept his kidney if he is a match, which infuriates Dexter. Jay overhears and Abi and Lola soon find out. Dexter soon realises how big the operation is, but Lola tells him she will stand by him whatever he decides.
Ava is heartbroken when the hospital tells her she isn't a match. Dexter confesses he has also been tested, but Ava demands that he lies to Sam if he is a match. Jay is relieved when Dexter prepares to call the hospital to cancel finding out the results. But the consultant calls first; he's a match. What will Dexter do?
Roxy finds it increasingly difficult to sneak around to see Ronnie behind Alfie's back. When Ronnie tells her she has served her time and shouldn't be punished anymore, Roxy feels guilty and wonders how to solve the situation.
At R&R, Sharon confronts Ronnie about how the club is being run. She vents her feelings to Phil but he's uninterested and offers to buy Sharon out of R&R. Later, Sharon attends a meeting with Ava at the school to discuss Dennis' behaviour. Ava reads a list of his misdemeanours and Sharon loses her cool. She storms out, unable to accept that her precious son could do such things.
With Kirsty desperate for money, Carl offers to lend her some but she rejects it. Instead she persuades a reluctant Kat to give her a job on the stall in Bianca's absence.
Lauren gets a cleaning job at The Vic, promising Alfie that being around alcohol isn't a problem. Later, Joey arrives with groceries wanting to look after Lauren and Abi. However, he's disappointed when Lauren, busy secretly texting Jake, doesn't pay him any interest.
After a run in with Kat, Tamwar tries to cheer up a hung-over Alice with the help of sock puppets, but Michael is unimpressed. Fatboy encourages Tamwar to try again, but Michael intervenes and ruins Tamwar's chance to make it up to her.
Last on
Credits
| Role | Contributor |
| --- | --- |
| Dexter Hartman | Khali Best |
| Jay Brown | Jamie Borthwick |
| Sam James | Cornell S John |
| Ava Hartman | Clare Perkins |
| Lauren Branning | Jacqueline Jossa |
| Joey Branning | David Witts |
| Abi Branning | Lorna Fitzgerald |
| Alice Branning | Jasmyn Banks |
| Tamwar Masood | Himesh Patel |
| Michael Moon | Steve John Shepherd |
| Arthur 'Fatboy' Chubb | Ricky Norwood |
| Kat Moon | Jessie Wallace |
| Kirsty Branning | Kierston Wareing |
| Carl White | Daniel Coonan |
| Ronnie Mitchell | Samantha Womack |
| Sharon Rickman | Letitia Dean |
| Phil Mitchell | Steve McFadden |
| Roxy Mitchell | Rita Simons |
| Alfie Moon | Shane Richie |
| Lola Pearce | Danielle Harold |
| Executive Producer | Lorraine Newman |
| Director | John Greening |
| Writer | Jeff Povey |