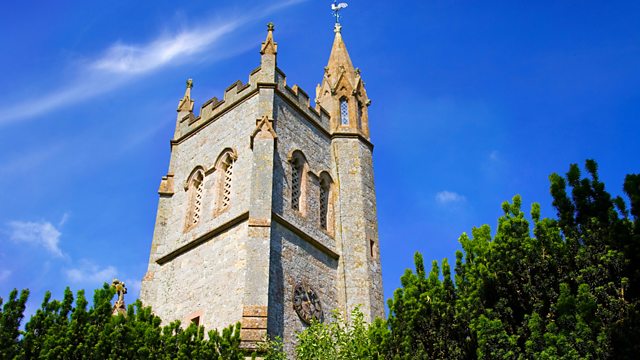 Back to Church Sunday
Over the last ten years, Back to Church Sunday has become the largest single local-church invitational initiative in the world, welcoming back many who have, over the years, stopped regularly attending church.
Latimer Minster, near Gerrards Cross in Buckinghamshire is a new Church of England community which aims to be a new model of what church can be, reaching out to those who have become disconnected from traditional and conventional models of church.
In this service, Latimer Minster's leaders Frog and Amy Orr-Ewing are joined by the Bishop of Hertford, the Rt Revd Paul Bayes, who is a member of the national leadership team for Back to Church Sunday.
Music directors: Natasha Edwards and Nathan Fellingham.
Producer: Simon Vivian.
Last on
Sunday Worship
<?xml:namespace prefix = o ns = "urn:schemas-microsoft-com:office:office" /> 
Radio 4 Opening Announcement:
BBC Radio 4.  It's 10 past 8 and time for this morning's Sunday Worship which comes from Latimer Minster in Buckinghamshire.  The service is introduced by Amy Orr-Ewing.
AMY ORR-EWING:
Welcome to Latimer Minster – a new church community based at Stampwell Farm near Gerrards Cross.
Wherever you are this moment - in your house making coffee, on a journey somewhere, perhaps lying in a warm bed - may you hear the voice of God speaking into your situation, and may you know the joy of his Presence:
PRAYER:
Let us pray:
How lovely is your dwelling place, O Lord of Heaven's Armies.
I long, yes I faint with longing to enter the courts of the Lord.
With my whole being, body and soul, I will shout joyfully to the living God.
So Come, Holy Spirit
HYMN: CROWN HIM WITH MANY CROWNS:
AMY ORR-EWING:
Following last weekend's tragic news of the death of more than 80 Christians in the bombing of a church in Peshawar, Pakistan, it's easy to forget the fear and potential sacrifice many Christians around the world are prepared to make to worship God. 
Fortunately in this country, we are free to gather as friends in Christ.  And, with a growing diversity of churches to suit all tastes – traditional or contemporary, majestic or intimate -  it's never been easier to find something which fulfills our desire to worship God.
Started a couple of years ago, Latimer Minster is a new Church of England community with a focus on outreach to the growing population in this area.  It's a work in progress as, in addition to this new wooden church space, we begin to develop the old farm buildings on the site to provide other opportunities for people to gather here throughout the week, creating a diverse and multi-layered community.  Some joining us here have perhaps attended a more traditional church in the past.  Others may be first-timers to church.  Whatever – the Minster is a contemporary model of what church can be, and never fails to surprise and delight people as an informal spiritual home of warmth and friendship.
So let's pray: Lord of Mercy and Compassion, we thank you for the freedom we have to worship you, and we pray for all those Christians around the world for whom worship involves great risk and sacrifice, especially remembering in our prayers the communities in Pakistan. Would you visit us and them with your presence as we meet – whether openly or in secret, in freedom or under oppression.
ALL:
Amen
AMY ORR-EWING:
Today is Back to Church Sunday, when church members around the country have given personal invitations to friends and family to join them at their local church.  So, here at the Minster, we've also been inviting friends and family to join us for this special service.  And I'm delighted that we're also joined by The Rt Revd Paul Bayes - Bishop of Hertford – who is also on the national leadership team for Back to Church Sunday.
BP PAUL BAYES:
In mid-September 2007, in the village of Whittlebury, Northamptonshire, Cheryl Evans popped round to see her neighbours - the Watkins – and, over a cup of tea, she said: "Would you like to come to church with me?" And they did.  They both came back to church.  When I spoke to them afterwards, I asked Mr Watkins why they'd decided to come.  He said; "Cheryl invited us, and I said, 'Cheryl, because it's you, we'll come'.  And there they were.  They came because they had an invitation from a friend.  And Cheryl invited them because that particular Sunday happened to be Back To Church Sunday.
It's good to be here in Latimer Minster this morning.  It's a new community with a clear vision to share the good news of God with the people around.  Of course not every church looks and sounds like this.  We perhaps too often think of the word 'church' meaning a building.  But the word 'church' also refers to the group of people who meet in God's name.  So that could be in the splendour of a centuries-old gothic masterpiece on the corner of our street or in the comfort and informality of a coffee shop – or even somebody's sitting room.  But, wherever it is, every church hopefully has the same vision - a vision to invite people home.  Home to church, home to God.
And these churches, wherever they meet, all have one thing in common – people go out of love. They love the friendship, and the silence and the warmth and the beauty of worship in all sorts of different styles. Most of all they sense that in this place, with these people, they can meet God in Jesus Christ and come to know him better.
And if they really love all this, then of course they'll want to share it with someone they know, and to invite them too – to invite someone they know to something they love; to invite their friend to their church.
Encouraging that invitation is what Back to Church Sunday is all about. It started ten years ago in a few churches in Manchester and since then it's spread all over the world. Hundreds of thousands of people have come to church on this day because they were invited by a friend. And hundreds of thousands of Christians have learned that inviting someone isn't hard to do. You simply do it like this : you say "Would you like to come to church with me?"
Next year, we're actually going to be expanding the Back to Church Sunday project.  We're introducing a season of invitation, starting in September and going through to Christmas, a season with five moments. Back to Church Sunday, Harvest , Remembrance, Christmas starts, and Christmas. Happy moments and a sad moment too, because the church is there for us in good times and bad.
Before we hear from the Rector of Latimer Minster – Frog Orr-Ewing – here's a song setting old words to a new melody.  It reminds us of the cornerstone of every Christian church, the cornerstone of our eternal home, Jesus Christ.
SONG: CORNERSTONE:
SERMONETTE PT1 - Frog Orr-Ewing:
There's a feeling, shared by all humans, when you know you're in the right place, or with the right people, or doing what we were made for – it's hard to describe properly, but 'home' is nearly there.  Homecooking, homecoming, homerun, Home is where your heart is…all these phrases lean on a strong and powerful reality. Home is peace, a safety and refuge where you are truly yourself.  Home is the starting point for computers from which we branch off into increasing complexity. We were all made to long for home as well as for adventure.
And yet…we leave home, become homesick, we run away from home, and have broken homes as well.
I've been struck again and again about how deeply we're wired for home, and how precious it is when we find it.  God created us to be at home with him and with ourselves and our neighbours, and he's always on the lookout for us to come closer and stop running away or ruining our lives in isolation.  Without knowing God through Christ we're all essentially living a life tinged with homesickness.  The Welsh have a word which has no direct English equivalent - hiraeth - (n.) a homesickness for a home to which you cannot return, a home which maybe never was; the nostalgia, the yearning, the grief for the lost places of your past.  And some of us feel this way about God – somehow tinged with longing and nostalgia, but not sure if we can ever go back or find this home for the first time.  Bob Dylan said "I was born very far from where I'm supposed to be, and so, I'm on my way home, you know?"
Jesus told a story, recorded in Luke's gospel, to illustrate what it means to run away and then realize you have a loving God wanting you to come home:
READING: AMY ORR-EWING:
'There was a man who had two sons.  The younger one said to his father, "Father, give me my share of the estate."  So he divided his property between them.  'Not long after that, the younger son got together all he had, set off for a distant country and there squandered his wealth in wild living.  After he had spent everything, there was a severe famine in that whole country, and he began to be in need.  So he went and hired himself out to a citizen of that country, who sent him to his fields to feed pigs.  He longed to fill his stomach with the pods that the pigs were eating, but no one gave him anything.  'When he came to his senses, he said, "How many of my father's hired servants have food to spare, and here I am starving to death!  So he got up and went to his father.  'But while he was still a long way off, his father saw him and was filled with compassion for him; he ran to his son, threw his arms round him and kissed him.  'The son said to him, "Father, I have sinned against heaven and against you.  I am no longer worthy to be called your son."  'But the father said to his servants, "Quick!  Bring the best robe and put it on him.  Put a ring on his finger and sandals on his feet.  Bring the fattened calf and kill it.  Let's have a feast and celebrate.  For this son of mine was dead and is alive again; he was lost and is found."
SONG: AMAZING GRACE:
SERMONETTE PT2 - Frog Orr-Ewing:
The son in the story we've just heard – frequently referred to as the Prodigal Son - walks away from home.  He didn't really value what he had, broke faith with the culture of honour he grew up in and took all the resources with him.  In the story – or parable - the father can be seen as representing God, and the son lives as if God, the father, is dead, out of date or irrelevant.  After a while, the son's situation changes and he gives his life a rethink – he 'comes to his senses' and stops running and ruining his life.  A life of minimum wage employment in his father's business is surely better than starvation and humiliation abroad.  The father has been straining his eyes daily into the distance, hoping for the son to return.  And when he does start to take a few steps back - wondering, enquiring, exploring the options for life - the father comes running - past the house, the neighbours, the workers in the fields - to meet his son and bring him home, throwing his arms around him, and holding a feast in his honour.  Only then, does the prodigal son realise what the father is really like; when he needed him and didn't dismissively take him for granted or assign him a place in history and culture.  Perhaps this is why Jesus' most famous parable always surprises -  even shocks us. 
God quickly embraces and forgives and restores, and church is pictured here with roasted calf and shouting and joy and dancing.  When we come to our senses for a moment, and explore a few faltering steps, the love of God reaches out further than our legs can take us and draws us home.  In the words of Amazing Grace – 'your grace will lead me home'.
I ran away a few times as a child.  My parents divorced when I was about 6, and, before we left to live with our mother, my father took us on holiday to France.  On the beach one morning I started to run, and before long I was running and running down the beach, past the bathers and the noise.  I wasn't really sure where I was running to, or running from, or why I was running at all, but I was totally taken up in the activity, the physicality of it all.
After some time I came to the end of the long beach, into a hotel driveway, upto the main door, and then came to my senses… I turned around and started running back.  I was gone over an hour and when I returned back to the spot on the beach where I'd started my father and grandparents, along with the police, were scouring the beach still, waiting for me to be found.  Every blonde haired boy had been asked, every possibility explored. My legs hurt, I had caused deep worry, but they were not angry with me, just relieved that I was back and safe.
Are you a runner too?  Apparently the spy novelist John le Carre was.  In a newspaper interview, he once said: "I was by nature a defector, a bolter. While the patriot and child in me rushed to embrace one great institution after another, so the would-be artist was already secretly packing his bags, tunnelling under the castle walls, and testing the depth of the moat." 
That was John le Carre.  Some of us have wandered, drifted, or run away from God, and the home we were meant for.  But we can and should come home.
Despite our inbuilt instinct to bolt, escape, or run away, we need to turn this flight instinct into a pursuit of God.  If we are to run – let us run INTO God, rather than away from Him.  Swallows are famous for the great distances they travel from one side of the world to another during the course of the year, and yet they build their nests in the eaves of homes and buildings like churches and barns.
Psalm 84 says "With my whole being, body and soul, I will shout joyfully to the living God.  Even the sparrow finds a home and the swallow builds her nest and raises her young at a place near your altar. My King and my God!  What joy for those who can live in your house always singing your praises."
The truth is that without the gift of the saving cross every single human being is trapped, condemned to distance, grief, lostness and longing.  
That love - that sense of home - is more important than any money, than any other attraction.  This deep soul union is what God offers us, what God created us to seek for and search for until we find it in relationship with him.  Jesus' death and resurrection were to turn homesickness and wandering into peace and being found.  And I am so relieved that the love God has for us is stronger than death and as unyielding as the grave.  We are safe, you and I, if we entrust ourselves to him.  We swap the 'hireath' of homesickness for the hearth and heart of home.
SONG: HOSANNA:
PRAYERS: BP PAUL BAYES:
Let us pray.
Generous God, help us to receive today as a gift from you. Thank you for all you give us. Give us one thing more; a thankful heart.
We pray for all who will come back to church today, and for those who invite them. May we all know that there's room for us in the home you have prepared for us through our brother and our friend, Jesus Christ. Amen.
Compassionate God, we pray for those whose lives are torn apart by war, conflict, and terrorism.  For the families and friends of those killed last weekend, both in the Nairobi shopping centre and in the bombing of a church in Peshawar, Pakistan.  For those displaced by violence, thinking especially of those in Syria who have had to flee their homes in these days of trouble. For those living in temporary camps and those who depend on the kindness of strangers. And we pray for the work of the aid agencies and for all those who seek to give a home to the homeless. Bless and prosper their work, for your dear name's sake. Amen.
Caring God, in this season of party conferences we pray for all politicians; fill them with skill and vision, with integrity and honesty. Focus their minds and widen their hearts. May they speak clearly and listen well.
And as Jesus taught us, so we pray together:
Our Father in heaven, hallowed be your name,
Your kingdom come, your will be done on earth as in heaven.
Give us today our daily bread.
Forgive us our sins as we forgive those who sin against us.
Lead us not into temptation, but deliver us from evil.
For the kingdom, the power and the glory are yours,
Now and for ever. Amen.
Loving God, you help us to be at home with you; you strengthen us to serve others; you teach us to bring our friends home to you. Thank you for the gift of Jesus, the gift of life. Your love never fails, never gives up, you never leave us.
SONG: ONE THING REMAINS:
BLESSING: AMY ORR-EWING:
As Jesus says in the Gospel of John: "I am the door.  If anyone enters by me, they will be saved" and "whoever comes to me, I will never drive away".
So I bless you in the name of the Father, the Son, and the Holy Spirit, to return to the Father who loves you, and calls you home.  Amen.
Your love never fails it never gives up it never runs out on me