Main content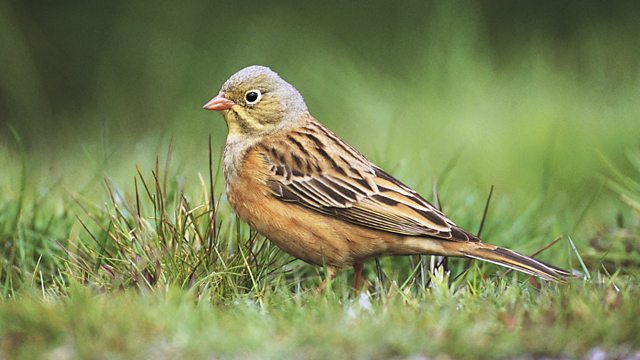 Ortolan Bunting
Wildlife sound recordist Chris Watson presents the ortolan bunting.
Tweet of the Day is a series of fascinating stories about the British birds inspired by their calls and songs.
Wildlife Sound Recordist, Chris Watson, presents the Ortolan Bunting. Ortolan Buntings are smart relatives of our yellowhammer. They're migrants which winter in Africa and small numbers of birds heading south for the winter may turn up on our coasts in autumn. But until recently in parts of southern Europe, their arrival was welcomed by hunters with nets.
The sound archive recording of the ortolan bunting featured in this programme was sourced from:
Volker Arnold, XC139765. Accessible at www.xeno-canto.org/139765.
Ortolan Bunting (Emberiza hortulana)
Image courtesy of Gordon Langsbury (rspb-images.com)
Recording of Ortolan Bunting by Volker Arnold (Xeno-Canto.org)
One of the sources of audio recording of the Ortolan Bunting bird was recorded by Volker Arnold and sourced via the website Xeno-Canto.org.
Source reference Volker Arnold, XC139765 Accessible at www.xeno-canto.org/139765.
Used under the conditions as per licence: CC BY-NC-SA 3.0
Podcast
Discover birds through their songs and calls. 265 programmes of 90 seconds, over a year