Main content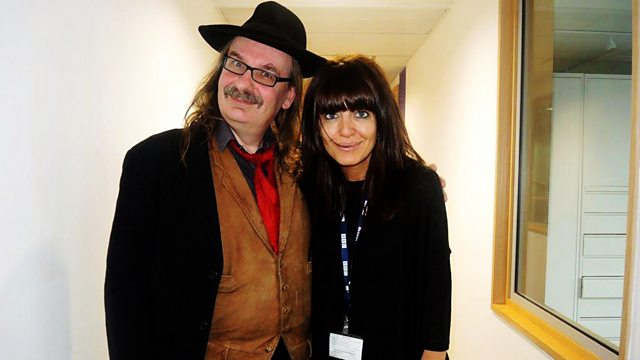 Kim Newman, Jim Ennis and Jessica Cohen
Claudia meets cabaret act Fascinating Aida and horror author Kim Newman and Anna Bailey interviews Jane Horrocks. Plus, the latest theatre and arts reviews for the next seven days.
Claudia's joined by the comedy vocal group, Fascinating Aida and meets the horror author, Kim Newman to chat about his new Anno Dracula novel. Anna Bailey interviews Jane Horrocks and Dexter Fletcher about their new Proclaimers-inspired movie, Sunshine on Leith. Plus, the latest theatre and arts reviews for the next seven days.
Fascinating Aida join us ahead of their UK tour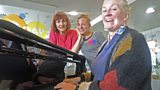 Fascinating Aida formed 30 years ago and are about to head out on nationwide tour which begins on Wednesday 2nd October and runs until next April.
Author Kim Newman reads from his latest novel, Johnny Alucard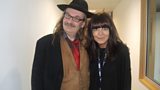 In Kim Newman's award-winning Anno Dracula series of books, Dracula rises to power in Britain and from there, vampires become increasingly common and dominant in society, while also being present at major events from the past. The latest instalment is called Johnny Alucard and Kim reads from it. 

Johnny Alucard is out now, published by Titan Books.
Sunshine on Leith star Jane Horrocks and director Dexter Fletcher talk to Anna Bailey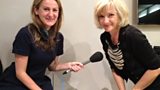 Sunshine on Leith is the latest musical film to hit our cinemas.  It features the songs of Craig and Charlie Reid - The Proclaimers and tells the story of a modern day family living in Leith in Scotland.   Jane Horrocks and Peter Mullan star in the film which is directed by Dexter Fletcher.

Sunshine on Leith  opens across cinemas this weekend.
Helen O'Hara reviews the latest films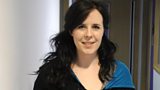 1. PRISONERS
Director: Denis Villeneuve
Cast: Hugh Jackman, Jake Gyllenhaal, Viola Davis
When Keller Dover's daughter and her friend go missing, he takes matters into his own hands and the pressure mounts. How far will this desperate father go to protect his family?

Prisoners  on general release now

2. AUSTENLAND
Director: Jerusha Hess
Cast: Keri Russell, JJ Feild, Jennifer Coolidge
Obsessed with Pride and Prejudice, a woman travels to a Jane Austen theme park in search for her perfect gentleman.

Austenland is on general release now

3. BLUE JASMINE
Director: Woody Allen
Cast: Cate Blanchett, Alec Baldwin, Peter Sarsgaard
A New York socialite, deeply troubled and in denial, arrives in San Francisco to impose upon her sister. She looks a million, but isn't bringing money, peace, or love...
Blue Jasmine is out now
4. Byzantium
Director: Neil Jordan
Cast: Saoirse Ronan, Gemma Arterton, Sam Riley
Residents of a coastal town learn, with deathly consequences, the secret shared by the two mysterious women who have sought shelter at a local resort.
Byzantium  is on DVD and Blu ray

Earthfall's Jim Ennis and Jessica Cohen talk about Chelsea Hotel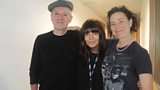 New York's Chelsea Hotel was once the heart of bohemian louche decadence.Dance Company Earthfall are celebrating the events from the icnonic hotel via the medium of theatrical dance .

The Chelsea Hotel by Earthfall will tour England and Wales from the 1st October until the 5th December.
Thomas Magill goes behind the scenes of Rodelinda at the Scottish Opera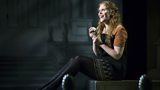 George Frideric Handel  is better known for Messiah and Water Music but he actually wrote over forty Baroque operas, oratorios, anthems and organ concertos including Rinaldo and Semele over a career that lasted almost forty years.
Scottish Opera is bringing one of his most successful works, Rodelinda to life for the very first time in their history - and taking it on the road to venues
Thomas Magill joined the cast as they rehearsed in Glasgow ahead of the 16 date tour and spoke to its director Chris Rolls, Sarah Power who plays Rodelinda and Music director and harpsichordist Susanna Wapshott about what audiences can expect.
Photograph of Sarah Power courtesy of  K  K Dundas
Scottish Opera's Rodelinda is on tour now until November 2nd
Michael Billington reviews latest Theatre productiions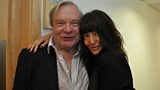 1. A Midsummer Night's Dream
This is the fourth production in Michael Grandage's current West End season and stars Sheridan Smith as both Titania, the Queen of the Faeries, and Hippolyta while David Walliams plays Bottom.
A Midsummer Night's Dream runs at the Noel Coward Theatre until November 16.

2. The Herd
Rory Kinnear is not only a brilliant Iago in the current National Theatre Othello. He's also written his first play which is all about a family gathering to celebrate the 21st birthday of the severely disabled Andy. We never get to see Andy but we do see the tensions within the family.
The Herd runs at the Bush, London until October 26.
3. Another Country
This is a revival of a play by Julian Mitchell, first seen in 1981, that launched the careers of Rupert Everett and Kenneth Branagh. It's set in a boys' public school in the 1930s and and shows how the feeling of being outsiders leads two of the characters into eventually betraying their country.
Another Country runs at the Minerva, Chichester until October 19
4. Routes
A new play by the Birmingham-born Rachel De-lahay that deals with the hot topic of immigration. It focuses on six characters, aged from 15 to 28, and their experience of what it is like to be an exile from their home country and living in Britain.
Routes runs at the Royal Court's Theatre Upstairs, London until October 12.
Thomas Magill brings latest Arts news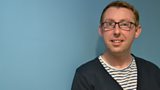 LITERATURE  The Children's Bath Literature Festival features illustrators, film makers, cartoonists, comedians and authors Michael Rosen, Dave McKean, Caroline Lawrence and Charlie Higson.   Tom Fletcher and Dougie Poynter from McFly to talk about their second children's book "The Dinosaur the Pooped a Planet"
THEATRE  Time for the Good Looking Boy is the name of the latest play to open at the New Wolsey Theatre in Ipswich on Wednesday for a  3 night run.  It's all about coming of age and putting your feet into the real world for the first time - and it comes complete with an original rap soundtrack. 
Also worth noting if you're in Suffolk tomorrow evening you may want to catch the last night of "A Clockwork Orange" - 50 years on from Anthony Burgess's horrific book was published - incredible it still remains popular
VISUAL ART  Abandon All Devices - the three day festival, now in its third year; moves to Liverpool,  looks at new cinema,  attracting  anyone from academics to people looking to do somehing completely different.  It takes place at a variety of venues across the city and includes a mix of screenings, installations, online projects, and exhibitions - all designed to stimulate debate.
EXHIBITION   Defining Me: Musical Adventures opens tomorrow.at the Lowry in Manchester until the end of February Through photography, posters, old ticket stubs and video footage, the exhibition explores the rich musical history of the city and charts its significance in the wider arts and cultural scene in the North West and beyond.
EXHIBITION The British Museum's latest exhibition "Sex & Pleasure in Japanese Art". opens on Thursday and runs until the first week in January.  It's the first show of its kind here in the UK and looks at what's been described as funny, tender, beautiful and accomplished works of art by Japanese masters who apparently produced thousands of sexually explicit works of art over hundreds of years.