Main content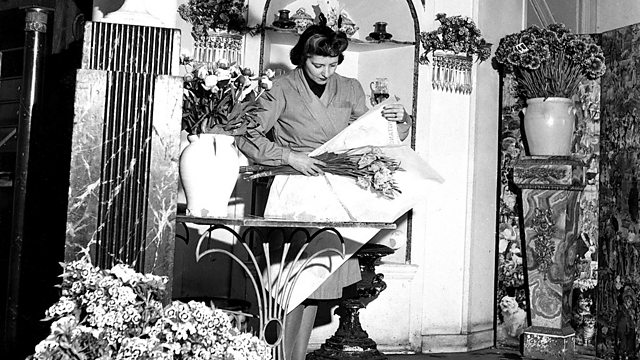 Constance Spry; Vivien Duffield; Mary Morrissy
The play inspired by the life of society florist Constance Spry; WH Powerlister and philanthropist Vivien Duffield; author Mary Morrissy on her new book The Rising of Bella Casey.
For 30 years until her death in 1960, Constance Spry was the society florist choice with her arrangements being part of many Royal occasions. A Storm in a Flower Vase is a new play inspired by her life. Its producer Mig Kimpton and floral designer Susie Edwards talk about her life and work.
Writer Mary Morrissy on her latest novel The Rising of Bella Casey - the story of the sister of renowned Irish playwright Sean O'Casey. Woman's Hour Power Lister and philanthropist, Dame Vivien Duffield who inherited a vast fortune from her father Sir Charles Clore, the retail tycoon who owned Selfridges chats about the charitable Foundation that bears their names. And as the centre-right's Erna Solberg becomes the second woman to be elected Prime Minister of Norway we ask why women are reaching the top in Norwegian politics and what the impact of Norway's move to the right might have on women.
Chapters
How did a community miss a case of domestic violence that led to murder?

What can we do to prevent cases like these?

Duration: 07:39

Dame Vivien Duffield, philanthropist

Powerlister and founder of the Clore Duffield Foundation.

Duration: 08:45

A new play on the life of Constance Spry

Jenni talks to Mig Kimpton, producer of A Storm In A Flower Vase

Duration: 09:54

Norweigan women in Politics

Marie Simonsen explains what's on the horizon for Norwegians.

Duration: 07:36

Mary Morissy's novel 'The Rising of Bella Casey'

In her latest novel, writer Mary Morrissy tells the story of enigmatic beauty Bella Casey.

Duration: 07:42

How did a community miss a case of domestic violence that led to murder?

A Norfolk council leader and former mayor killed his wife last year after a decade of abuse that took place behind closed doors. The case illustrates how a public image of respectability can hide domestic violence. How do such cases continue to happen and what lessons do we still need to learn to stop them happening again? Journalist Steve Downes covered the case for the Eastern Daily Press and Karen Ingala Smith is Chief Executive of Nia, which provides services to end violence against women and children.

Karen Ingala Smith's blog

Dame Vivien Duffield, philanthropist

Woman's Hour Power Lister, Dame Vivien Duffield is a philanthropist. She inherited a vast fortune in 1979 after the death of her father Sir Charles Clore, the retail tycoon who owned Selfridges, and became Chair of the Clore Foundation. In 2000 she merged this with her own organisation to produce the Clore Duffield Foundation.  She is thought to have given over £200 million to charity projects.

A new play on the life of Constance Spry

For three decades – until her death in 1960 – Constance Spry was the society florist, making  flower arrangements for the wedding of the Duchess of Windsor and for the Queen's Coronation in Westminster Abbey. But Constance was more than just a florist, in the first half of her life she had been a social reformer and teacher which led to her passionate belief that floristry can be enjoyed by everyone. Mig Kimpton is a theatre producer and an enthusiastic florist who has co-produced a play about the life of Constance Spry called A Storm in a Flower Vase.

Guests: Mig Kimpton and floral designer Susie Edwards

Norwegian women in politics

This month Norwegians elected the centre-right leader Erna Solberg to be the new Prime Minister, making her the second female Prime Minister in the country and the first conservative one since 1990. Solberg is currently negotiating a coalition with other centre-right parties and women are likely to bag some of the top jobs, continuing a tradition of excellent female representation in Norwegian politics. But what explains the rise of so many women to the top and will a move to the right impact the lives of women? Marie Simonsen, political editor of Dagbladet  explains what's on the horizon for Norwegians.

Mary Morrissy's novel "The Rising of Bella Casey"

In her latest novel, writer Mary Morrissy tells the story of enigmatic beauty Bella Casey, sister of renowned Irish playwright Sean O'Casey. Bella features in her brother's autobiography, but for reasons known only to him, Sean kills her off prematurely, at least 10 years before her actual demise.  Mary imagines what Bella's life might have been like at a time when women's daily lives were affected by religious hypocrisy, sexual disease and the demands of large families. She begins her story on the strife-torn streets of Dublin at Easter 1916 when the city is in social upheaval.

Credits

| Role | Contributor |
| --- | --- |
| Presenter | Jenni Murray |
| Interviewed Guest | Susie Edwards |
| Interviewed Guest | Mig Kimpton |
| Interviewed Guest | Mary Morrissy |
| Interviewed Guest | Vivien Duffield |
| Interviewed Guest | Marie Simonsen |
| Producer | Ruth Watts |