Main content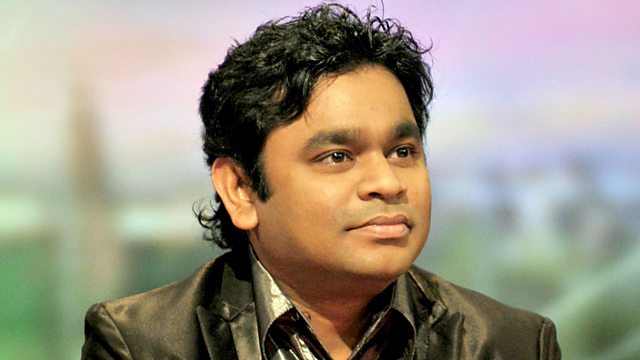 Sound of Cinema: AR Rahman Profile, 2013 Darbar Festival
Lopa Kothari profiles Indian film composer AR Rahman and presents highlights of 2013's Darbar Indian classical music festival, featuring Budhaditya Mukherjee and Sudha Ragunathan.
Lopa Kothari with a profile of Indian film composer A R Rahman, plus highlights from last weekend's Darbar Festival of Indian classical music, including the sitar of Budhaditya Mukherjee and the voice of Sudha Ragunathan.
In the first hour of the programme, as part of the Sound of Cinema season, Lopa Kothari meets A R Rahman, who brought about a revolution in Indian cinema in the 1990s with music that introduced fresh elements from Indian traditional and sacred music, plus western pop and classical. Rahman also insisted on a state-of-the-art approach to sound quality, and two decades on, the technical standards in Indian films and in urban Indian cinemas are the equal of anywhere in the world. Emerging from the Tamil film industry, Rahman moved to Bollywood and then went on to popularise Indian film music to a global audience, not least with his song 'Jai Ho' from 'Slumdog Millionaire'. Rahman is still based in the Tamil city of Chennai, and Lopa Kothari visits his studio, and also Rahman's own music conservatory, where he is seeking to train a new generation of orchestral and traditional Indian musicians to perform for Indian films in the future.
The second hour is devoted to two performances from the Darbar Festival, with leading performers from both north and south India.