Main content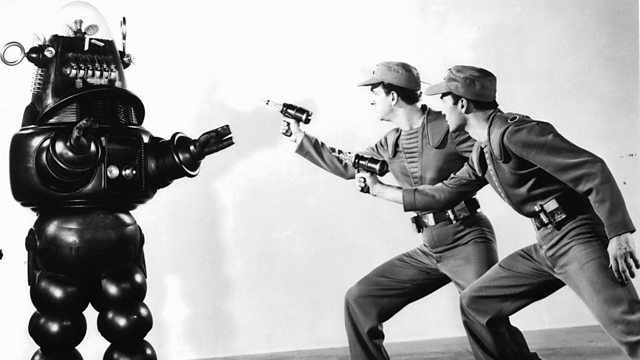 Return of the Monster from the Id
In 1956 Hollywood and the avant-garde made strange, wonderful music. Ken Hollings uncovers how Louis and Bebe Barron tortured electronic circuits to make Forbidden Planet's score.
In 1956 Louis and Bebe Barron birthed the world's first electronic film score with their unearthly soundtrack to M.G.M.'s Forbidden Planet. Ken Hollings considers their act of creation and wonders if the Monster from the Id can ever be re-awakened?
Forbidden Planet was M.G.M.'s lavish leap into science fiction. Fusing Shakespeare's Tempest, pop Freud and pulp SF. Fleetingly Hollywood and the electronic avant-garde embraced to make unworldly music inspired by the new science of cybernetics. The Barrons were close associates of John Cage and at the cutting edge of new technology and music. Their "electronic tonalities", as credited on screen in deference to an anxious musicians union, were groundbreaking for both experimental music film scoring.
In the cramped space of their Greenwich village apartment the Barron's poured current through homemade circuits made up of valves, oscillators and wires. Music, sound effects and character were all arrived at by wiring, art and sweat. The roaring Monster from the Id, the bubbling sounds of Planet Altair IV and the vast caverns of glowing, ancient Krell technology. Even the Krell music, anthem to a long dead race of technologically advanced beings.
Audiences and filmmakers were startled by this great musical experiment. It remains one of the most perfect fusions of film and music, defining the way we thought the future would sound. In rare recordings Bebe and Louis Barron relate their adventures in sound. Meanwhile, somewhere near Stoke, Ken Hollings challenges music boffin Phil Taylor to a hardwired search for the secrets of Krell music and the electronic heartbeat of the Monster from the Id.
Producer: Mark Burman
Electronic tonalities: Phil Taylor and Donald MacDonald
Last on
Louis and Bebe Barron, 1956, at the time of creating the Forbidden Planet soundtrack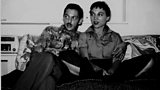 Photograph used with permission of their son, Adam Barron
Searching for the soul of the Id Monster-one of Phil Taylor's ring modular circuits awaiting torture by electricity!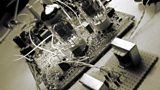 Broadcasts