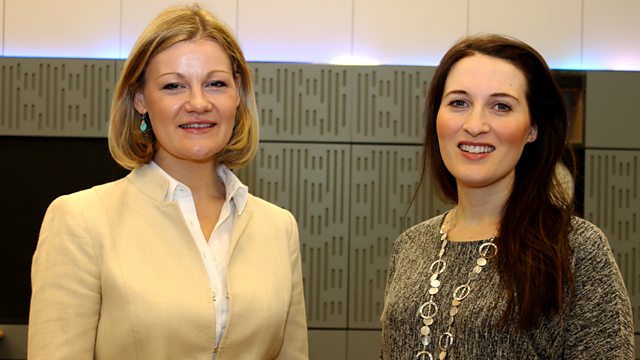 Pussy Riot protest; Fertility and media headlines; Colourism
The convicted Pussy Riot protestor, Nadezhda Tolokonnikova, is on hunger strike over conditions in her prison - we hear from Judith Pallot who has visited the Penal Colony 14. The film 'Dark Girl' looks at the way women with darker skin suffer discrimination from women with lighter skin. How can patients who hope to get pregnant navigate their way through the reporting of 'breakthroughs' in fertility treatment? Helen Sherman and Paula Sides are performing in The Coronation of Poppea and sing live in the studio. And have you managed to stay friends with your ex after divorce? Jenni Murray presents.
Last on
Pussy Riot Hunger Strike
Pussy Riot protestor Nadezhda Tolokonnikova has announced that she is going on hunger strike to protest about conditions in Prison Colony Number 14, where she is serving her two year sentence. Tolokonnikova claims that she is being forced to work for up to 17 hours a day and that inmates are being treated like cattle – allegations the Russian authorities deny. She has now been placed in isolation in the prison colony in the remote region of Mordovia. Professor Judith Pallot of Oxford University is a specialist in the Russian penal system and has visited Penal Colony 14. She joins Jenni to talk about conditions in women's prisons in Russia.
Nadezhda Tolokonnikova hunger strike announcement
Opera singers Helen Sherman and Paula Sides on The Coronation of Poppea
Monteverdi's
The Coronation of Poppea
is being performed as part of the English Touring Opera's Baroque Opera of Venice season this autumn. Premiered during a Venice Carnival in the seventeenth century, it was criticised for its immorality in punishing virtue and rewarding greed.
Helen Sherman 
plays the 'trouser role' of Nero and
Paula Sides 
takes the title part of Poppea.
Hype, hope and headlines - how should fertility breakthroughs be reported by the media?
Professor of Obstetrics and Gynaecology at the University of Southampton Dr Simon Fischel from CARE Fertility and Connie St Louis the Director MA Science Journalism course at City University discuss how fertility stories are reported and whether they offer people false hope or vital information that could help them have a baby.
More on Hype, Hope and Headlines
Dealing with Colourism
The American documentary film "Dark Girls" looks at the way women with darker skin suffer discrimination from women with lighter skin. It has sparked a debate about 'colourism' – discrimination based on skin shade and how this should be tackled. Dr Jude Smith Rachele organised the premiere of "Dark Girls" and journalist Reni Eddo-Lodge is a journalist who specialises in covering gender and race relations and has experienced 'colourism'.
Credits
| Role | Contributor |
| --- | --- |
| Presenter | Jenni Murray |
| Interviewed Guest | Judith Pallot |
| Interviewed Guest | Paula Sides |
| Interviewed Guest | Helen Sherman |
| Editor | Alice Feinstein |
| Producer | Karen Dalziel |
| Producer | Beverley Purcell |