Main content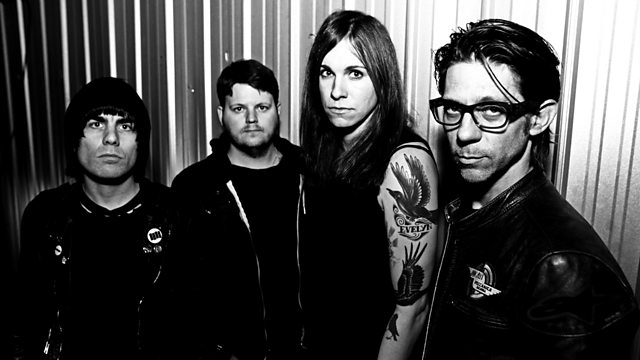 My Transgender Punk Rock Story
Laura Jane Grace, singer with rock band Against Me!, outed herself as a transgender woman in 2012. With help from Radio 1's Paris Lees, Laura tells her transgender punk rock story.
Last year, Rolling Stone Magazine featured an interview with the lead singer of punk rock band Against Me! Her name, Laura Jane Grace was new to even the most die-hard of Against Me! fans, yet she was the very same person who had been singing with the band since its inception. Before that interview Laura's fans would have known her as lead singer Tom Gabel, but after living her life as a man for 31 years, Laura decided enough was enough and took the big decision to be the person she knew she always had been. A woman.
Against Me! have played venues all over the world, sold thousands of albums and have high profile fans like the Foo Fighters, Frank Turner and Bruce Springsteen. Against Me! are a true part of the Punk Rock scene and have a healthy fan base to show it. With help from Radio 1's Paris Lees, Laura takes some time out from her punk rock life to find out what it's like being a transgender person in the UK and the challenges people face from being born in the wrong body.
We meet transgender people from all walks of life, from those forced to live under anonymity to YouTube stars, beauty queens and even transgender stand-up comics. We discuss the dark world of transphobic attacks that happen in the streets, in the workplace and at school. We ask the Gendered Intelligence Trust about the impacts of these attacks and the resulting pain, depression and even suicide. Above all this Radio 1 Story celebrates the spirit of the transgender community, often misunderstood and challenged, but simply a group of individuals looking to live a happy and normal life like anybody else.
Radio 1's Surgery Doctor Sanjay Pawar is on hand to talk to about the options people have if they do decide to change gender, from puberty blockers to surgery or just doing nothing at all. And we hear from the British public and find out what they really know about transgender issues. With the trans community having had a dogged past with the media, we tackle them as well. We look into why this has been the case and talk to a few people who could help with making that a thing of the past.
As well as talking to the UK transgender community, we will find out what it's been like for Laura over the past year. We talk about life before Laura Jane Grace and how she fought her need to be a woman with drug and drink abuse whilst praying to God and the devil to make her a woman. We also look at what her life has been like since May 2012 - from band mates quitting the band and her relationship with her family, friends and fans.
Last on
Broadcast