Main content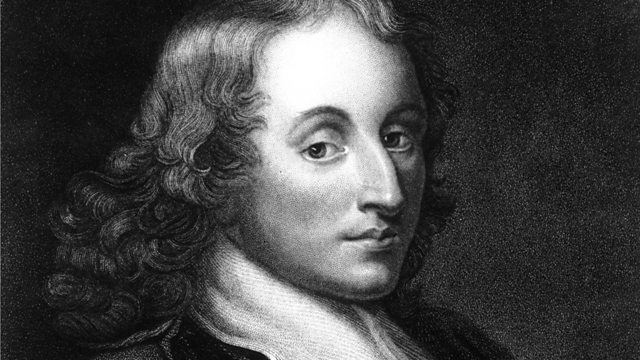 Pascal
Melvyn Bragg and his guests discuss the life and work of the French polymath Blaise Pascal.
Melvyn Bragg and his guests begin a new series of the programme with a discussion of the French polymath Blaise Pascal. Born in 1623, Pascal was a brilliant mathematician and scientist, inventing one of the first mechanical calculators and making important discoveries about fluids and vacuums while still a young man. In his thirties he experienced a religious conversion, after which he devoted most of his attention to philosophy and theology. Although he died in his late thirties, Pascal left a formidable legacy as a scientist and pioneer of probability theory, and as one of seventeenth century Europe's greatest writers.
With:
David Wootton
Anniversary Professor of History at the University of York
Michael Moriarty
Drapers Professor of French at the University of Cambridge
Michela Massimi
Senior Lecturer in the Philosophy of Science at the University of Edinburgh.
Producer: Thomas Morris.
Last on
LINKS AND FURTHER READING
David Wootton at the University of York
Michael Moriarty at the University of Cambridge
Michela Massimi at the University of Edinburgh
Blaise Pascal - Stanford Encyclopedia of Philosophy
Pascal's Wager - Stanford Encyclopedia of Philosophy
READING LIST:
Donald Adamson, Blaise Pascal: Mathematician, Physicist and Thinker about God (Palgrave Macmillan, 1994)
John Cruickshank, Pascal: 'Pensées', Critical Guides to French Texts (Grant & Cutler, 1998)
Keith Devlin, The Unfinished Game: Pascal, Fermat, and the Seventeenth-Century Letter that Made the World Modern (Basic Books, 2010)
Nicholas Hammond (ed.), The Cambridge Companion to Pascal (Cambridge University Press, 2003)
A. J. Krailsheimer, Pascal (Past Masters) (Oxford University Press, 1980)
Blaise Pascal (trans. A. J. Krailsheimer), Pensées (Penguin Classics, 1995)
William Shea, Designing Experiments and Games of Chance: The Unconventional Science of Blaise Pascal (Science History Publications, 2008)
Credits
| Role | Contributor |
| --- | --- |
| Presenter | Melvyn Bragg |
| Interviewed Guest | David Wootton |
| Interviewed Guest | Michela Massimi |
| Interviewed Guest | Michael Moriarty |
| Producer | Thomas Morris |
Broadcasts