Main content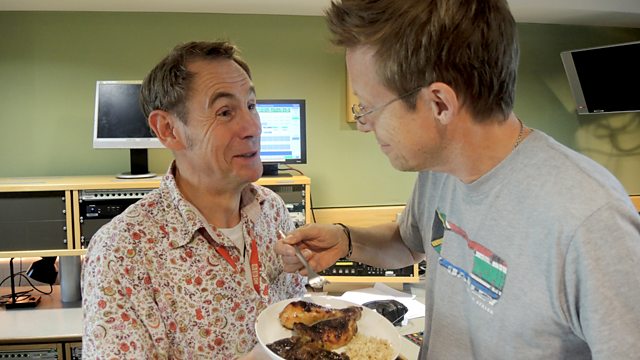 Foodie Thursday
It's Foodie Thursday and resident chef Nigel Barden cooks up another culinary delight! Plus there's a brand new confession for the collective's conscience!
Matt has the sport news, Rebecca is on the money and Sally updates the travel.
Nigel's Marinated Lavender Chicken
From Christine Vidal of Made in Provence (www.madeinprovence.co.uk)
Serves 3-4
Prep time 10 mins (3hrs min marinading / overnight)
Cooking time 35 mins
Ingredients
6 pieces of chicken (ideally legs or thighs)
2 tbsp of Extra Virgin First Cold Pressed Olive Oil
zest & juice of 1 large lemon
2 garlic cloves peeled and finely chopped
a few sprigs of fresh thyme finely chopped or a pinch of 'Herbes de Provence' (dried herbs)
1 tsp of Made in Provence "Cooking Lavender" (or any dried lavender).
2 tbsp of Made in Provence "Lavender Honey" (or any lavender honey)
Salt & freshly ground pepper
Method
1. In a bowl, crush the lavender flowers & thyme; add the olive oil, garlic, lemon zest & juice & lavender honey. 
2. Season well. 
3. Coat your chicken pieces with this marinade, cover & put in the fridge for at least 3 hrs, or overnight.
4. Cook in a preheated 200C / gas mark 6 oven, for approximately 35min or until the chicken has caramelised & the juices run clear (pierce the thigh with a skewer to check). 
5. Turn the chicken pieces half way through cooking time.  
Nigel would serve this with new pots or rice & ratatouille.