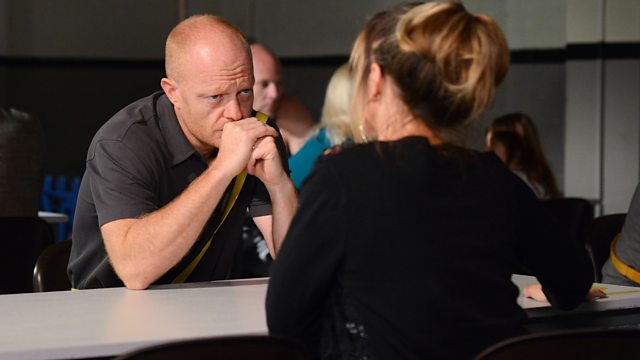 12/09/2013
Ronnie flees the Vic after Roxy's decision but Shirley praises her on returning. Roxy's upset with Alfie for making her choose. Ronnie bumps into Jack, who tells her to leave despite feeling sorry for her. Billy convinces Ronnie to visit Phil, who asks her to look after the R&R so Carl cannot take over, but she cannot face Walford. Later, Ronnie storms into the car lot office, telling Jack she doesn't need his pity. Ronnie gets into Shirley's abandoned taxi, but passing the Vic she changes her mind and decides to stay.
Before leaving, Shirley shows Jean a present from baby Jimmy – palm tree sunglasses. Seeing a smug Carl, Shirley takes a detour. Carl arranges for more cars to be delivered to the Arches. Shirley visits Phil and learns that Carl's blackmailing Ian. She vows to sort Carl out before she leaves. Back on the Square, she confronts Ian; realising he lied to help Carl frame Max. Seeing Shirley, Jeans makes her promise to pick up her forgotten sunglasses before leaving. Ian warns Carl about Shirley, who awaits Carl in the Arches, sending his dodgy cars away. Carl snarls he'll show her how he deals with his problems and slams the door shut.
Peter and Lucy grow suspicious of Cindy's finances after spotting her with multiple bags. A bored Kim jumps at the chance of a family meal with the Beales, but is unimpressed at the food Ian serves to embrace their culture. Worried about Denise moving in, Cindy flatters her and Kim and gives Denise an expensive necklace. Questioned by an irritated Lucy, Cindy claims Liam lent her the money. The families (minus Ian) toast to a new chapter.
Kirsty visits Max in prison who tells her he's guilty of tampering with Carl's car. She doesn't believe him but he tells her that they're over. At home, she lies to Abi and Lauren that all is fine.
With Shirley gone, Jean feels low. Alfie thinks she should find Ollie. Patrick urges Jean to go to Ollie's retirement party before Ollie moves to Brighton.
Last on
Credits
| Role | Contributor |
| --- | --- |
| Carl White | Daniel Coonan |
| Shirley Carter | Linda Henry |
| Phil Mitchell | Steve McFadden |
| Ronnie Mitchell | Samantha Womack |
| Jack Branning | Scott Maslen |
| Joey Branning | David Witts |
| Lauren Branning | Jacqueline Jossa |
| Abi Branning | Lorna Fitzgerald |
| Max Branning | Jake Wood |
| Kirsty Branning | Kierston Wareing |
| Alfie Moon | Shane Richie |
| Roxy Mitchell | Rita Simons |
| Jean Slater | Gillian Wright |
| Ian Beale | Adam Woodyatt |
| Denise Fox | Diane Parish |
| Kim Fox | Tameka Empson |
| Patrick Trueman | Rudolph Walker |
| Lucy Beale | Hetti Bywater |
| Peter Beale | Ben Hardy |
| Jay Brown | Jamie Borthwick |
| Dexter Hartman | Khali Best |
| Billy Mitchell | Perry Fenwick |
| Lola Pearce | Danielle Harold |
| Cindy Williams | Mimi Keene |
| Cab Driver | Andy Clarkson |
| Executive Producer | Lorraine Newman |
| Director | Jennie Darnell |
| Writer | Matt Evans |