Main content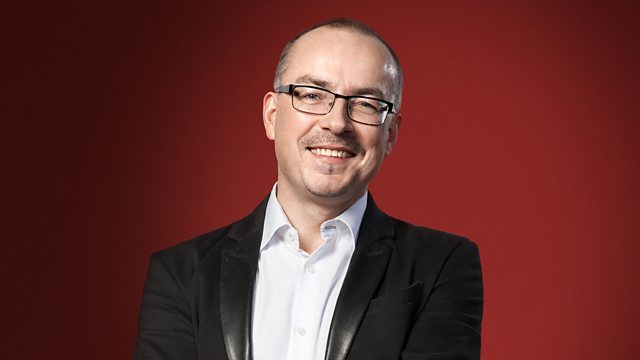 Building a Library: Bartok: Dance Suite
With Andrew McGregor. Including Building a Library: Bartok: Dance Suite; Sound of Cinema: David Huckvale's top ten film soundtracks; Disc of the Week: Amore e morte dell'amore.
9.05am
SCHUMANN: Waldszenen Op. 82; Piano Sonata No. 2 in G minor Op. 22; Gesange der Fruhe Op. 133
Mitsuko Uchida (piano)
DECCA 4785393 (CD)
Moura Lympany - The complete HMV recordings 1947 -1952
CHOPIN: Fantasy Impromptu Op. 66
SCHUMANN: Etudes symphoniques Op. 13; Vogels als Prophet Op. 82 No. 7
BRAHMS: Variations on a theme by Paganini Op. 35 Book II; Intermezzo in Bb minor Op. 117 No. 2
LISZT: Feux Follets S.139 no. 5; Les jeux d'eaux a la Villa d'Este S. 163 No. 4; Polonaise No. 2 in E S223 No. 2; Mephisto Waltz No. 1 S.514
DEBUSSY: Clair de Lune
RAVEL: Toccata from Le Tombeau de Couperin
GRANADOS: The Maiden and the Nightingale
ALBENIZ: Tango Op. 165 no. 2
PROKOFIEV: Toccata Op. 11
SHOSTAKOVICH: Three Fantastic Dances Op. 5
MENDELSSOHN: Piano Concerto No. 1 in G minor Op. 25; Rondo brillant in E flat Op. 29
FRANCK: Symphonic Variations
TURINA: Rapsodia sinfonica
LITOLFF: Scherzo from Concerto symphonique No. 4
Moura Lympany (piano) with other artists
APR APR6011 (2CD mid-price)
SCHUMANN: Klavierstucke Op. 32
BRAHMS: Ballades Op. 10
CHOPIN: Polonaise No. 2 in C minor Op. 40; Piano Sonata No. 3 in B minor Op. 58
MOZART: Fantasy in D minor K397
Emil Gilels (piano)
Abbotsholme Arts Society, Staffordshire, 22 March 1979
ICA CLASSICS ICAC5108 (CD mid-price)
SCHUMANN: Der Rose Pilgerfahrt Op. 112; Requiem in Db Op. 148
Britta Stallmeister and Antonia Bourve (sopranos), Olivia Vermeulen (mezzo-soprano), Daniel Behle (tenor), Tobias Berndt (baritone), Chorus Musicus Cologne, Das Neue Orchester, Christoph Spering (conductor)
OEHMS OC871 (2CD)
9.30am Building a Library
Rob Cowan explores recordings of Bartok's Dance Suites and makes a recommendation:
BARTOK: Dance Suite for Orchestra
c/w Suite No. 2 for Orchestra; Romanian Dance; Romanian Folk Dances for orchestra
Hungarian National Philharmonic Orchestra, Zoltan Kocsis (conductor)
HUNGAROTON HSACD32506 (Hybrid SACD)
10.15am
Steffani: Danze e Ouvertures
STEFFANI: Orlando Generoso; Marco Aurelio; Henrico Leone; I Trionfi del Fato; Le rivali concordi; Tassilone; Niobe Regina di Tebe; La lotta d'Hercole con Acheloo; Briseide; La superbia d'Alessandro; Alcibiade
I Barocchisti, Coro Della Radiotelevisione Svizzera, Diego Fasolis (conductor)
DECCA 4785741 (CD)
Arias for Caffarelli
CAFARO: Rendemi piu sereno (L'Ipermestra)
HASSE: Fra l'orror della tempesta; Ebbi da te la vita (Il Siroe, Re di Persia)
LEO: Misero pargoletto; Sperai vicino il lido (Demofoonte)
MANNA: Cara ti lascio, addio (Lucio Vero ossia Il Vologeso); Odo il suono di tromba guerriera (Lucio Papiro dittatore)
PERGOLESI: Lieto cosi talvolta (Adriano in Siria)
PORPORA: Passaggier che sulla sponda (Semiramide riconosciuta)
SARRO: Un cor che ben ama (Valdemaro)
VINCI, LEONARDO: In braccio a mille furie (Semiramide Riconosciuta)
Franco Fagioli (countertenor), Il Pomo d'Oro, Riccardo Minasi (conductor)
NAIVE V5333 (CD)
PORPORA: Mira in cielo (Arianna e Teseo); Si pietoso il tuo labbro (Semiramide Riconosciuta); Come nave in ria tempesta (Semiramide Regina dell'Assiria); Placidetti zeffiretti (Polifemo); Alto Giove (Polifemo); La gioia ch'io sento (Mitridate); Le limpid'onde (Ifigenia in Aulide); Dolci freschi aurette...Nell'attendere il mio bene (Polifemo); Nel gia bramoso petto (Ifigenia in Aulide); Dall'amor piu sventurato (Orfeo); Sente del mio martir (Orfeo)
Philippe Jaroussky (countertenor), Cecilia Bartoli, Venice Baroque Orchestra, Andrea Marcon (conductor)
ERATO 9341302 (CD)
Handel: Cantate 01
HANDEL: Notte placida e cheta, HWV 142; Qualor l'egre pupille, HWV 152; Ne' tuoi lumi, o bella Clori, HWV 133; Armida abbandonata, HWV 105
Roberta Mameli (soprano), Stefan Plewniak & Enrique Gomez-Cabrero Fernandez (violins), Marta Semkiw (cello), Contrasto Armonico, Marco Vitale (harpsichord & direction)
AYROS AYHC01 (CD)
HANDEL: Serse
Anna Stephany (Serse), Rosemary Joshua (Romilda), David Daniels (Arsamene), Hilary Summers (Amastre), Joelle Harvey (Atalanta), Andreas Wolf (Elviro), Brindley Sherratt (Ariodate), Early Opera Company, Christian Curnyn (conductor)
CHANDOS CHAN0797(3) (3CD mid-price)
10.50am New Releases
David Huckvale joins Andrew to discuss his favourite CDs of film music 
Now Voyager – The Classic Film Scores of Max Steiner
STEINER: Now Voyager; King Kong; Saratoga Trunk; The Charge of the Light Brigade; Four Wives; The Big Sleep; Johnny Belinda; Since You Went Away; The Informer; The Fountainhead
National Philharmonic Orchestra, Charles Gerhardt (conductor)
RCA GD80136 (CD)
KORNGOLD: Captain Blood; The Green Pastures; Anthony Adverse; The Prince and The Pauper; The Adventure of Robin Hood; Juarez; The Private Lives of Elizabeth and Essex; The Sea Hawk; The Sea Wolf; Kings Row; The Constant Nymph; Devotion; Between Two Worlds; Of Human Bondage; Escape Me Never; Deception
PREMIER SOUNDTRACKS 8381182 (2CD)
Sunset Boulevard – The Classic Film Scores of Franz Waxman
WAXMAN: Prince Valiant; A Place in the Sun; The Bride of Frankenstein; Sunset Boulevard; Old Acquaintance; Rebecca; The Philadelphia Story; Taras Balba
National Philharmonic Orchestra, Charles Gerhardt (conductor)
RCA GD80708 (CD)
Citizen Kane - The Classic Film Scores of Bernard Herrmann
HERRMANN: On Dangerous Ground; Citizen Kane; Beneath the 12-Mile Reef; Hangover Square; White Witch Doctor
National Philharmonic Orchestra, Charles Gerhardt (conductor)
RCA GD80707 (CD)
The Carl Stalling Project  - Music from Warner Bros. Cartoons 1936-1958
WARNER 260272 (CD)
Forbidden Planet – Electronic music by Louis and Bebe Barron
BARRON & BARRON: Forbidden Planet
GNP CRESCENDO PRD001 (CD)
David Raksin Conducts his Great Film Scores
RAKSIN: Laura; Forever Amber; The Bad and the Beautiful
New Philharmonia Orchestra, David Raksin (conductor)
RCA GD81490 (CD)
FRANKEL: Curse of the Werewolf; So Long at the Fair; The Net (Love Theme); The Prisoner
Royal Liverpool Philharmonic Orchestra, Carl Davis (conductor)
NAXOS 8557850 (CD budget)
50 years of Classic Horror Film Music
GOLDSMITH: The Omen
BERNARD: She
KOMEDA: Rosemary's Baby
WAXMAN: Dr Jekyll and Mr Hyde
STEINER: King Kong
ROBINSON: The Vampire Lovers
MCCABE: Fear in the Night
MORRICONE: Exorcist II The Heretic
YOUNG: Hellraiser
WHITAKER: Doctor Jekyll and Sister Hyde
SILVA SCREEN FILMCD017 (CD)
Some of David's favourites have officially been deleted, but may be tracked down online with a little persistence and luck.
11.45am Disc of the Week
Amore e morte dell'amore
MONTEVERDI: Interrotte speranze; Mentre vaga Angioletta; Pur ti miro; Ohime dov'e il mio ben; Vorrei baciarti
MARCELLO: Se morto mi brami
HANDEL: Tanti strali; Sono liete fortunate
LOTTI: Giuramento amoroso
SCARLATTI: Keyboard Sonata K90 in D minor
DURANTE:Son io barbara donna
Roberta Invernizzi (soprano), Sonia Prina (contralto), ensemble claudiana, Luca Pianca (lute, conductor)
NAIVE OP30549 (CD)