Main content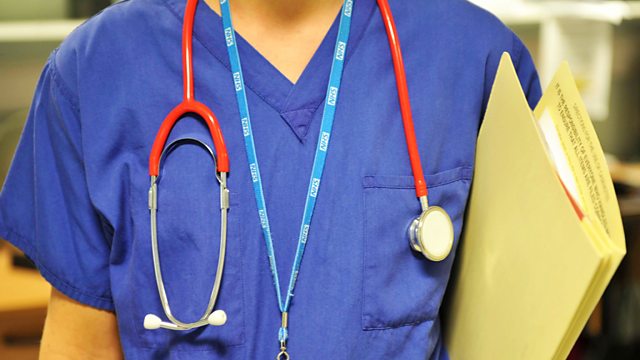 Costing the NHS
NHS England has called for a public debate on the future of healthcare, saying the current rate of expansion is unsustainable. Julian Worricker explores some of the options.
This summer NHS England called for a public debate to find ways of renewing and revitalising the NHS. One of the widely reported claims in its report "The NHS belongs to the people: a call to action" was that continuing with the current model of care in England could lead to a funding gap of around £30bn by 2020/21.
In this special programme, Julian Worricker looks at the growing demands on the health service in the UK, the willingness of the public to fund a service that meets those demands and the scope for savings without compromising care. Can the UK afford a health service that follows the NHS core principles: one that meets the needs of everyone, is free at the point of delivery and is based on clinical need, not ability to pay?
Joining Julian are:
Prof John Appleby, chief economist, the Kings Fund,
Christina McAnea, UNISON head of health,
Don Redding, policy director, National Voices,
Dr Mark Porter, chair of the BMA ruling council,
Stephen Dorrell MP, chair, Health Select Committee,
Tony Whitfield, director of finance, Salford Royal NHS Foundation and president of HFMA,
Sandie Keene, president, Association of Directors of Adult Social Services,
Andrew Dillon, chief executive, NICE,
Karen Taylor, research director, Deloitte UK Centre for Health Solutions,
Dr Clare Gerada, chair, RCGP,
Anita Charlesworth, chief economist, Nuffield Trust,
Chris Hopson, chief executive, Foundation Trust Network,
Christoph Lees, obstetrician, founder of Doctors Policy Research Group,
Andrew Haldenby, director, Reform and
Sir David Nicholson, chief executive, NHS England.
Presenter: Julian Worricker
Producer: Simon Tillotson
Editor: Andy Smith.
Last on
Follow the debate, read the comments and find extra information on the topics discussed.
Clips

Broadcast

Featured in...
A selection of recent Radio 4 programmes investigating the state of the health service.