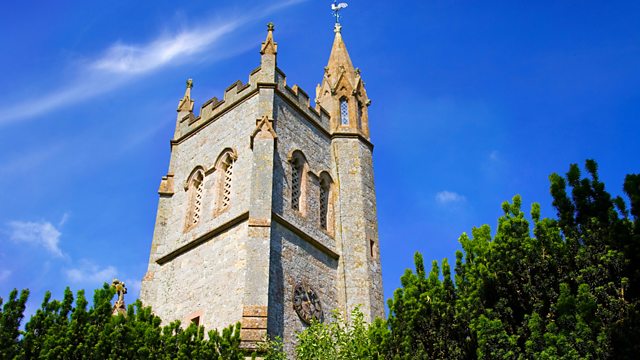 Living Stones
from Leominster Priory celebrating heritage and culture at the Festival of Churches. This weekend at least 270 churches across Herefordshire, Shropshire and Worcestershire are opening their doors to visitors, revealing their curious histories and staging events from exhibitions of wedding dresses to the history of Hereford cattle. The Bishop of Dudley, the Rt Revd David Walker reflects on how church buildings tell stories from the past to inspire people today.
Leader: the Rector, the Rev'd Mike Kneen. He is joined by the priory congregation, members of Leominster Priory Choir and the Leominster Choral Society.
Director of Music: James Atherton
Organist: Simon Bell
Producer: Clair Jaquiss.
Last on
Sunday Worship - Leominster Priory
Please note:

This script cannot exactly reflect the transmission, as it was prepared before the service was broadcast. It may include editorial notes prepared by the producer, and minor spelling and other errors that were corrected before the radio broadcast.

It may contain gaps to be filled in at the time so that prayers may reflect the needs of the world, and changes may also be made at the last minute for timing reasons, or to reflect current events.<?xml:namespace prefix = o ns = "urn:schemas-microsoft-com:office:office" />
 BBC RADIO 4 SUNDAY WORSHIP
LEOMINSTER PRIORY  Rx. 14.09.13
Radio 4 Opening Announcement:
BBC Radio 4.  It's ten past eight – and time for this morning's Sunday Worship from Leominster Priory in Herefordshire, during the Festival of Churches.  The Team Rector, the Rev'd Michael Kneen leads the service.
[Acclamation]
MIKE KNEEN
How awesome is this place.
This is none other than the house of God,
and this is the gateway of heaven.

You will see heaven wide open,
and God's angels ascending and descending upon the Son of Man.
This is none other than the house of God,
and this is the gateway of heaven.

You are the temple of the living God,
and the Spirit of God dwells in you.
The temple of God is holy, and you are that temple.
This is none other than the house of God,
and this is the gateway of heaven.
HYMN  Angel voices ever singing (Angel Voices) NEH 336
* asterisked verses in hymns may need to be cut for timing
[Introduction ]
MIKE KNEEN
Leominster Priory has rung with praises to God for nearly 14 hundred years.  Its pale grey stones almost breathe the prayer and worship of many centuries and its architecture is a witness to the work of craftsmen and artists from Saxon times.
Celtic Missionaries from Northumberland first brought the Christian Message here in 660, founding this Church and a Christian Community here. The Priory has been home to three monastic orders over its earlier years, as well as the Church of the town that grew up around it. Today, like many other ancient church buildings, it is still a place of prayer and pilgrimage where all are welcome. It is a place where prayer is offered every day through the Week, and the Holy Communion, the Eucharist is celebrated by Christians united in time and space as Christ's body now on earth.
Wendy Coombey sings in the choir here and is a key person in the planning of the Festival of Churches.
WENDY COOMBEY
"This weekend, across the 3 counties of Herefordshire, Worcestershire and Shropshire, over 270 parish churches are opening their doors to welcome everyone.  There are local history days, exhibitions, children's activities, wine tasting, cream teas, and markets with local produce … In fact anything you can think of (and many things you wouldn't,  (give example, something in the Priory – ducking stool?)
 will be happening in our churches as part of the Festival.  Our parish churches are spiritual beacons to be found in every community; they are places where communities have kept and treasured documents and objects that tell their story past and present.  Today we want to celebrate their unique role in our lives through the Festival of Churches."
[Collect ]
MIKE KNEEN
We offer ourselves, our stories and our hopes to God in prayer.
God of eternity,
in your Son Jesus Christ you redeemed all of human history
and called your church to proclaim the Good News of his death and resurrection to the ends of the earth
and to the end of the age:
pour out your Spirit afresh upon your people wherever they may be.
By your grace
help us to remember and rejoice in your blessings in the past
and give us courage to trust your power to shape our future,
through Jesus Christ our Lord,
who lives and reigns with you in the unity of the Holy Spirit,
one God, now and for ever.
Amen.


[INTRODUCTON TO HYMN ]
MIKE KNEEN
The Church is made up of people rather than just stones, none the less the places where people have met for worship over centuries have become special and hold great affection for their communities.  Henry Williams Baker, a local Victorian priest caught something of this is the words of our second hymn.
HYMN We love the place, O God (Quam dilecta) NEH 471
William Bullock (1787-1874), Henry Williams Baker (1821-1877)
[INVITATION TO CONFESSION  ]
MIKE KNEEN
The Psalms have been spoken or sung in this church by monastic communities and church congregations from the beginning so now we draw on the Psalmist's words for our prayers of confession.
We are a temple of God's indwelling Holy Spirit,
yet we have grieved him.

So we come, in sorrow yet with confidence,
to ask forgiveness of our Father in heaven.
Zeal for your house has eaten me up
and the taunts of those who taunt you have fallen upon me.
Lord, have mercy.
Lord, have mercy.

I would rather stand at the threshold of the house of my God
than dwell in the tents of ungodliness.
Christ, have mercy.
Christ, have mercy.



The Lord will defend your going out and your coming in
from this time forward for evermore.
Lord, have mercy.
Lord, have mercy.
[ABSOLUTION  ]
MIKE KNEEN
Almighty God,
who forgives all who truly repent,
have mercy upon you,
pardon and deliver you from all your sins,
confirm and strengthen you in all goodness,
and keep you in life eternal;
through Jesus Christ our Lord.
Amen.
[INTRODUCTION TO THE PEACE]
MIKE KNEEN
Peace to this house from God our heavenly Father.
Peace to this house from his Son who is our peace.
Peace to this house from the Holy Spirit, the life-giver.
The Peace of the Lord be always with you.
And also with you.]
[FIRST READING   1Kings 8:22-30]
JOHN BUTLER
A reading from the first book of Kings, chapter 8
Then Solomon stood before the altar of the Lord in the presence of all the assembly of Israel, and spread out his hands to heaven. He said, 'O Lord, God of Israel, there is no God like you in heaven above or on earth beneath, keeping covenant and steadfast love for your servants who walk before you with all their heart, the covenant that you kept for your servant my father David as you declared to him; you promised with your mouth and have this day fulfilled with your hand. Therefore, O Lord, God of Israel, keep for your servant my father David that which you promised him, saying, "There shall never fail you a successor before me to sit on the throne of Israel, if only your children look to their way, to walk before me as you have walked before me." Therefore, O God of Israel, let your word be confirmed, which you promised to your servant my father David.
'But will God indeed dwell on the earth? Even heaven and the highest heaven cannot contain you, much less this house that I have built! Have regard to your servant's prayer and his plea, O Lord my God, heeding the cry and the prayer that your servant prays to you today; that your eyes may be open night and day towards this house, the place of which you said, "My name shall be there", that you may heed the prayer that your servant prays towards this place. Hear the plea of your servant and of your people Israel when they pray towards this place; O hear in heaven your dwelling-place; heed and forgive.
This is the word of the Lord
Thanks be to God 
[INTRODUCTION TO ANTHEM  ]
MIKE KNEEN
Solomon's house of prayer was the place where the psalms were sung.  This was a place of beauty  - an inspiration to worship - and the Psalmist expresses that longing to come close to God in such a setting. The Choir sings verses of Psalm 84, set to music by Brahms.
[CHOIR ANTHEM  ]
How lovely are thy dwellings (Brahms)
[SECOND READING 1 Corinthians 3:10-17 ]
A reading from St Paul's first letter to the Corinthians, chapter 3
According to the grace of God given to me, like a skilled master builder I laid a foundation, and someone else is building on it. Each builder must choose with care how to build on it. 11For no one can lay any foundation other than the one that has been laid; that foundation is Jesus Christ. 12Now if anyone builds on the foundation with gold, silver, precious stones, wood, hay, straw— 13the work of each builder will become visible, for the Day will disclose it, because it will be revealed with fire, and the fire will test what sort of work each has done. 14If what has been built on the foundation survives, the builder will receive a reward. 15If the work is burned, the builder will suffer loss; the builder will be saved, but only as through fire.
16 Do you not know that you are God's temple and that God's Spirit dwells in you?* 17If anyone destroys God's temple, God will destroy that person. For God's temple is holy, and you are that temple.
This is the word of the Lord
Thanks be to God
[ACCLAMATION  ]
ELIZABETH BROWN
Alleluia, alleluia.
Lord, we love the house of your habitation
and the place where your glory abides.  
Alleluia.
[INTRODUCTION TO THE NEXT HYMN ]
MIKE KNEEN
Buildings have their importance and offer a symbolic link between past present and future. But the words of our next hymn remind us that, really speaking, the Church is a body of people built on Jesus as its foundation stone
HYMN The Church's one foundation (Aurelia) AMNS 170
Samuel J. Stone (1839-1900)
[SERMON ]
BISHOP DAVID WALKER
My colleagues were distracted and fidgety. They were looking more at the grinning mouths of the medieval gargoyles than each other. We weren't going to get our work done. Half an hour in, I sensed something was wrong.
I was leading a meeting for a national charity.  And here was I, Bishop David Walker trying to inspire the committee members from the chair.   We were in one of the many former minor stately homes of England that has been turned into a hotel and conference venue. The difference was that this one had, long before it fell into the hands of some wealthy landowner, begun life as a monastery. The room we were in formed part of the original buildings.
So I called a halt and took five minutes to tell the story of the monks who had built the place, why they had constructed it in this form, and how they would have used it as a base from which to meet the needs of the sick and poor as well as to give themselves a venue for prayer.  Everybody relaxed.  We had engaged with the stones around us, attended to their story, and from that point on the architecture became a help to our deliberations, not a hindrance.
For Christians the material world around us, and the way in which our relationships both with God and one another are impacted by it, matters. It matters so much that God himself took physical form in Jesus Christ. The divine became solid matter. And the same Lord who upheld the role of the Jerusalem temple as a special place of prayer continues to hallow the countless buildings erected to his praise and glory over the succeeding two thousand years. It's what inspires this Festival of Churches taking place across Herefordshire, Shropshire, Worcestershire, and beyond, this weekend.
God speaks to us in a whole variety of ways and places. He is not confined to buildings, as King Solomon made very clear in our first reading, but, as those who built that original Jerusalem temple knew, he uses the very stones of our places of worship to address us. As a young graduate student I was lucky enough to be based in King's College, in Cambridge with its iconic Chapel. One day, in an agony of uncertainty as to what direction my future should take, I locked myself into one of the side chapels, so angry with God for not making the way forward clear to me that I kicked at the stones of the little altar there for about half an hour. Finally I calmed down. It's not easy to describe what happened next, but I distinctly heard God gently laughing at me, and as the laughter cleared I knew that I had to give up a promising research career and the comforts of Cambridge life, to train as a Church of England priest. My story is not unusual. Over the last three decades I have heard again and again the stories of men and women who have gone into an open, empty church and come out different. If you don't want to risk your life being turned upside down then stay clear of churches! I've also learned how important it is to keep as many churches open as possible during the hours of daylight. A locked church door is potentially locking somebody out of an encounter with God.
If God speaks to us through the stones of our buildings at moments of very private decision making then he equally speaks to us through the stones at more public moments of significance. I was fortunate enough, through most of the 1990s, to have responsibility for a small rural Georgian church that was much in demand for weddings. As I reflected with couples as to what was the added extra that we could provide over and beyond a fancy hotel one factor seemed to stick out. In a world where so much speaks of things being temporary, where the challenge of making lifelong marriage vows is especially daunting, then exchanging their promises in a building that had stood faithful to its calling for far longer than many lifetimes, and would still be there long after we were all gone, gave a real solidity to the commitment that bride and groom were making. And it spoke too of the solidity and permanence of God's love, of which their love for each other was a reflection. I could go on to make similar points about baptisms and the font, often one of the oldest artefacts in the church, and about funerals and the gravestones and monuments that surround and embellish our buildings.
At the end of this month I shall be taking my leave of the Diocese of Worcester where I have been privileged to serve as Bishop of Dudley for the last 13 years, and preparing to take up new responsibilities as Bishop of Manchester. There's a lot I'm looking forward to, and also much that I shall miss. Not least I shall be sorry to say goodbye to Worcester Cathedral, a few miles down the road from here in Leominster. Over the thousand years or so that it has stood on its site on the eastern bank of the River Severn it has seen a lot of action. The stones still bear the scars of the Battle of Worcester itself, whilst right in the middle of the chancel lies the tomb of that most vilified of all English monarchs, King John. But what surprised me most, as I first got to know the building, was the way that, because it managed to contain so much history, it was able to cope with quite radical innovation. Somehow the stones provide the permanence that allows today's church community to experiment and try out new things. It has been host in recent times to a number of radical art displays; it's the place where I've felt secure enough to preach some of my most challenging sermons; a few years ago we cleared out the seating from the nave and installed the Anne Frank exhibition; memorably we even once had a clown perform a tightrope walk between the pillars. The stones so powerfully contain and proclaim the Christian orthodoxy of our faith, steadfast down the generations, that we can explore safely the boundaries of that faith.
This weekend, many churches in Dudley and across Worcestershire, Herefordshire and Shropshire are staging special events as part of our Festival of Churches. In doing so we are reiterating a welcome that lies at the heart of Christian practice and affirming that God uses our places of worship. Yet maybe the sting in the tail is that we who are being built into a living temple, as St Paul reminded the people of Corinth in our second reading, should, even more than our buildings, be the means through which he can speak into our situations: challenge our complacencies; crown our attempts at commitment and clarify our confusions as we try to live our lives courageously.
HYMN Father hear the prayer we offer (Sussex) NEH 357
1.
Love Maria Willis (1824-1908), and others
[INTRODUCTION TO PRAYERS ]
MIKE KNEEN
We pray for God's guidance and for God's presence with us today.
[INTERCESSION ]
ELIZABETH BROWN (Associate Minister)
We pray that Christ may be seen in the life of the Church.
Jesus, Lord of the Church,
in your mercy, hear us.
WENDY COOMBEY
You have called us into the family of those who are
the children of God.
May our love for our brothers and sisters
be strengthened by your grace.
Jesus, Lord of the Church,
in your mercy, hear us.
ELIZABETH BROWN
You have called us to be a temple
where the Holy Spirit can dwell.
Give us clean hands and pure hearts,
so that our lives will reflect your holiness.
Jesus, Lord of the Church,
in your mercy, hear us.
WENDY COOMBEY
You have called us to be a light to the world,
so that those in darkness come to you.
May our lives shine
as a witness to the saving grace you have given for all.
Jesus, Lord of the Church,
in your mercy, hear us.
ELIZABETH BROWN
You have called us to be members of your body,
so that when one suffers, all suffer together.
We ask for your comfort and healing power
to bring hope to those in distress.
and especially today
Jesus, Lord of the Church,
in your mercy, hear us.
WENDY COOMBEY
O God, from living stones
you prepare an everlasting dwelling-place for your majesty.
Grant that in the power of the Holy Spirit
those who serve you
may always be kept within your presence.

Jesus, Lord of the Church,
make us one in heart and mind
to serve you with joy for ever
as we pray for the coming of your kingdom.
Our Father
who art in heaven,
hallowed be thy name.
Thy kingdom come,
thy will be done
on earth as it is in heaven.
Give us this day our daily bread,
and forgive us our trespasses, as we forgive those who trespass against us;
and lead us not into temptation,
but deliver us from evil.
For thine is the kingdom, the power and the glory for ever and ever.
Amen. 

[INTRODUCTION TO HYMN  ]
MIKE KNEEN
Our final hymn brings together our themes of special places and people built into a church on the foundation of Jesus Christ.  Glorious things of thee are spoken.
HYMN  Glorious things of thee are spoken (Abbot's Leigh) AMNS 172
John Newton (1725-1807)
[BLESSING  ]
BISHOP DAVID WALKER
Christ, whose glory is in the heavens,
fill this house and illuminate your hearts;
and the blessing of God almighty,
the Father, the Son, and the Holy Spirit,
be among you and remain with you always.
Amen.
[DISMISSAL ]
ELIZABETH BROWN
Like living stones, precious in his sight,
go in peace to proclaim the mighty acts of God.
Thanks be to God.
ORGAN VOLUNTARY