Main content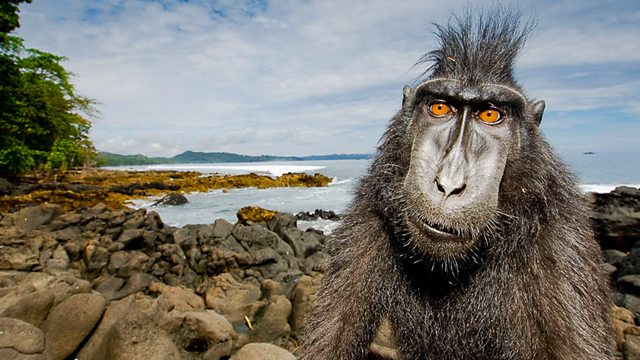 Wildlife cameraman Colin Stafford-Johnson revisits a gang of crested black macaques on the Indonesian island of Sulawesi, 25 years after his first encounter.
Peanut, Hero and Tarzan are three cheeky monkeys. They live on the Indonesian island of Sulawesi with the rest of their gang of crested black macaques. These very special primates are found nowhere else in the world. Twenty-five years ago, wildlife cameraman Colin Stafford-Johnson visited Sulawesi for the first time and now he has returned. Fascinated by the monkeys, Colin hopes to reveal their sometimes violent, often playful and, just like our own, highly political world. What he discovers leads him on a much bigger journey than he was ever expecting.
Clips

Music Played
Timings (where shown) are from the start of the programme in hours and minutes
A Rare Chance to Help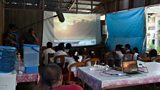 After almost three months filming with the macaques, we all completely fell in love with them. They are such gentle and intelligent creatures, and they made us laugh all day long. But they are in serious trouble and could be about to disappear forever. As the film explains, the local people hunt and eat the macaques. But they don't have to: they're not starving, it's just a tradition.
When we asked the scientists what we could do to help the monkeys, they came up with the idea of making a film in the local language, to show local people how unique their monkeys are. Our edit assistant Amber came out to Sulawesi and cut a 15 minute film which we showed in the local village, and it's now been screened in over 30 schools and 12 different towns and villages. It is a legacy that will hopefully be used as an education tool for many years to come. If people start to see the monkeys as individuals, and not just as meat, they may yet survive.
Treetop Encounter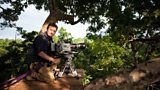 One thing that we wanted to do was find out how the monkeys behave at bed-time, so we built two platforms 100 feet up in the canopy, where we could film them in their sleeping trees. It was a huge effort by our multi-skilled sound recordist Darryl and his wife Rebecca, both climbing experts. At first we were concerned that our activity had scared the monkeys off, they avoided the platforms and the trees, but after a few weeks, they came back and then looked extremely surprised to see us up in the canopy with them. At one point while I was filming Colin on the other platform, one of the monkeys came and sat on a branch right next to me about two feet away. It was such a special moment, being high in the canopy with one of the world's most endangered monkeys. After all the effort involved in building the platforms it was the best reward I could have asked for.
An unwanted lunch guest with bad manners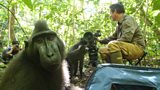 One of our main characters in the film is a young male macaque called Hero. He's a very clever and curious monkey and was always trying to steal our equipment. He made off with water bottles, umbrellas, bits of camera kit, anything he could get his hands on. 
On one occasion he approached us as we were sitting down to eat our packed lunch, now the scientists we were working with have very strict rules about not feeding the monkeys, so we moved away and tried to scare him off. Unfortunately though, when Hero realized he wasn't welcome for lunch, he climbed up into the trees and urinated all over us. After the initial shock, we cried with laughter and skipped lunch.
Credits
| Role | Contributor |
| --- | --- |
| Presenter | Colin Stafford-Johnson |
| Producer | Rob Sullivan |
| Director | Rob Sullivan |
| Executive Producer | Chris Cole |
| Series Producer | Roger Webb |
Broadcasts

Saving Pangolins from Extinction