Main content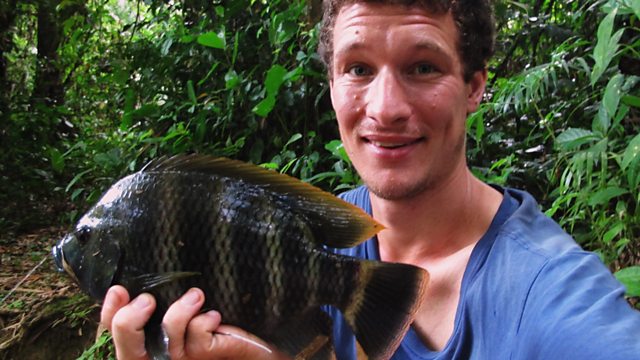 Mum Says 'You're a Long Time Dead'
Will Millard, winner of the 2013 BBC/RGS dream journey award, descends the Mano River by tiny inflatable raft, braving huge rapids, illegal hunters and African bureaucracy.
Will Millard is the winner of this year's BBC/Royal Geographical Society award for a dream journey project. Will's goal is to descend the Mano and Moro Rivers, which divide Sierra Leone and Liberia, with only a tiny inflatable packraft in which to do it. With the Sierra Leone portion of the forest already part of the Gola Rainforest National Park, the river boundary will, it's hoped, shortly become the heart of the Trans-Boundary Peace Park, straddling both countries. Local villagers, however, are divided about the merits of this significant conservation project.
Having survived the near termination of his project by local bureaucracy, Will treks through the rainforest on foot to the river's edge, inflates 'Shostakovich' (thus is his raft called) and sets out downriver. Meeting his faithful guide Sakpa once more he hears from the local chief how his villagers would prefer good medical help and a half-decent road as much as a ecologically-sound conservation project like the Peace Park.
More pressing problems for Will are the sequences of boulder-strewn rapids that dot the river, a torrential rainstorm that threatens his camp and blistered hands from the African sun that make paddling the raft hard-going. He's been warned too about a massive set of falls... But he finds the only way to negotiate it is by paddling right across the face of them - as he strikes out across the white water, he remembers his mother's old saying: "you're a long time dead"....
Producer: Simon Elmes.
Last on
More episodes
Previous
You are at the first episode
Porter Yusofu and Sakpa (right) load Will's packraft `Shostakovich' before setting out down the Moro River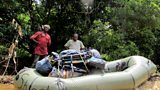 Will and his packraft about to record on location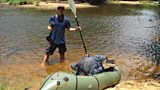 Will paddles `Shostakovich' down the Moro River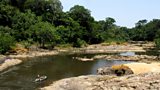 Will Millard, fisherman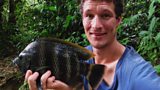 Broadcast