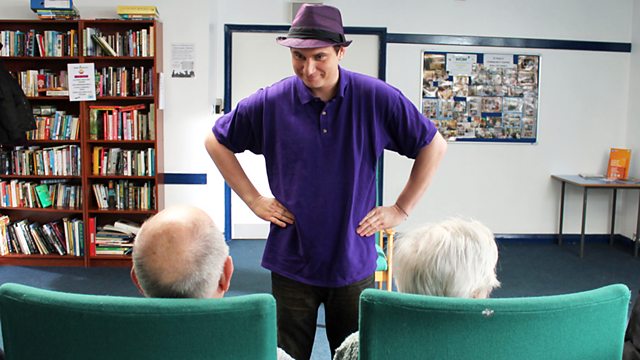 Dorota the Actress and her husband/manager Atonu showcase their skills in some adaptions of famous film scenes; Talina the Temptress tries to blag herself a free sports car; Cream the Rapper gets a job working in his local supermarket so he can pay his mum some rent; and Joel the Trainspotter is spotting Volvos.
Kev the Witch tries to get some money off a new broom; Jonny Nash the Ladies Man tries to seduce the ladies in his local swimming pool; Alan the Care Home Worker plays bingo with his residents; and superheroes the Knight Warriors wonder if they've left the iron on.
Garth the Life coach tries to motivate the nation; Pablo the Romantic has a shave; Anthony the Struggling Pub Landlord showcases his latest art installation, Chaos; Stella the Fashion Designer makes a wedding dress out of sanitary pads; and Louis the Stripper visits the optician.
Last on
Credits
| Role | Contributor |
| --- | --- |
| Executive Producer | Karl Warner |
| Director | Hannah Springham |
| Executive Producer | Jonathan Stadlen |
| Re-recording mixer | Ben Newth |
| Colourist | Enge Gray |
| On-line editing | Jean Paul Vial |
| Sound Recordist | Tim Pitot |
| Sound Recordist | James Cocksedge |
| Sound Recordist | Dominic Ollerenshaw |
| Sound Supervisor | Matt Senuik |
| Camera Assistant | Simon Dadge |
| Director of photography | Nick Martin |
| Production Coordinator | Sarah Powell |
| Post-production Coordinator | Jonathan Blessley |
| Assistant Producer | Joe Street |
| Production Manager | Samantha Stewart |
| Off-line editing | Dan Crouch |