Main content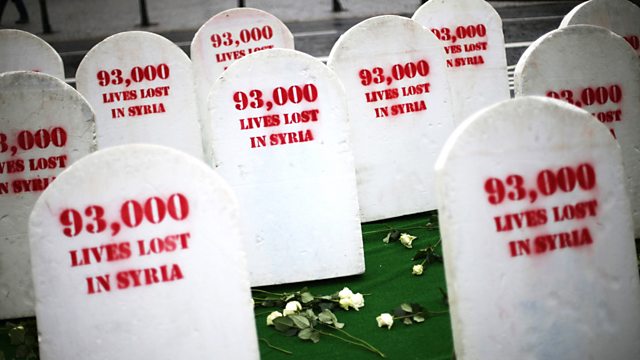 The Death Toll in Syria
Tim Harford on conflict deaths, the number of people forced to sell homes to pay for care, Super Pumas, whether left-handers die young and Parliamentary porn-gate.
As global leaders remain divided on whether to carry out a military strike against Syria in response to the apparent use of chemical weapons against its people, Tim Harford looks at the different claims made about how many people have been killed. The United States, the UK and France are sharing intelligence, but all quote different estimates of how many people they think died in the attack by Syrian President Bashar al-Assad's forces. Tim speaks to Kelly Greenhill, a professor of political science at Tufts University in the US, and co-author of Sex, Drugs and Body Counts about why the numbers vary so widely. And he speaks to Megan Price from the Human Rights Data Analysis Group who has been trying to keep a tally of the deaths in Syria since the conflict began.
The cost of care has forced a million families to sell their homes in the past five years, according to the Daily Telegraph. It's quoting research commissioned by NFU Mutual and carried out by ICM. But Tim Harford spots some tell-tale signs that the survey respondents may not all have been telling the truth.
What can statistics tell us about the safety of Super Puma helicopters, used by the offshore oil and gas industry? Tim Harford looks at the numbers, following a fatal accident off Shetland in August - the fifth incident involving Super Pumas in the North Sea since 2009.
Apparently, it's a fact that if there's one thing that's worse for you than drinking, scoffing bacon sandwiches and smoking 80 unfiltered cigarettes a day, it's being left-handed. Left-handers die on average several years earlier than right-handers. Or do they? Tim gets to the bottom of a sinister statistic with Professor Chris McManus, author of Right Hand, Left Hand.
More than 300,000 attempts were made to access pornographic websites at the Houses of Parliament in the past year, official records suggest. But with 15 attempts made in one month and almost 115,000 in another, the figures themselves raised an eyebrow at More or Less HQ - they just don't make sense. Tim speaks to Fergus Reid from Parliament's ICT team.
And finally, was Labour MP Fiona Mactaggart right to calculate that Britons have spent 76 centuries hanging on the phone to get through to government departments in just one year? She checks her sums.
Presenter: Tim Harford
Producer: Ruth Alexander.
Last on
Broadcasts