Main content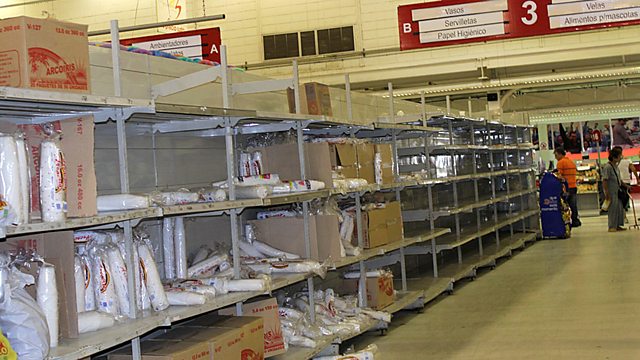 Venezuela - Out of Stock
Ed Butler investigates how Venezuela's economic crisis is affecting everyday lives across Latin America's oil giant.
Despite its massive natural oil wealth, Venezuela is a country sliding into recession, and has one of the highest inflation rates in the world. With prices of some products rising as much as 50% or more annually, the crisis presents a simple human predicament - how to lay your hands on the ever-dwindling supply of price-capped essentials that government shops pledge to provide. The trouble is that many of these basic goods like milk and toilet rolls, are disappearing from the supermarkets within a few minutes of getting there.
Ed Butler explores how gossip and the black market have become a part of the answer for many ordinary citizens. He follows one consumer's quest for goods across the capital, and examines the rumours of smuggling and massive corruption, especially in the west near the border with Colombia.
And he hears how the Socialist legacy of the former President Hugo Chavez still casts a big shadow over the nation. Businesspeople complain that his policies have made it almost impossible to produce anything profitably, and have left a legacy of massive red tape. The housing sector has been hit particularly hard with years of under-investment. Ed meets one retired couple unable to reclaim a rented apartment in their own property, who now are forced to live in their own garage.
Last on
Francisco and Rosa Paez, Caracas Venezuela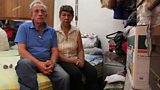 The couple, who are landlords, are forced to live in their own garage.
They have been waiting years to gain access to their own property next door, but cannot do so because of Venezuela's extremely strict tenancy-protection laws.
Long queues at Maracaibo Supermarket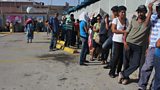 Poor men and women often travel many miles every day, and have to queue for up to five hours, sometimes in 40 degree heat.
Out of stock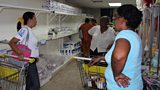 Basic goods like milk, butter and toilet rolls are disappearing from the supermarket shelves quickly.
Critics say that production is down, and that the government needs new economic policies to fix the problem.
Broadcasts