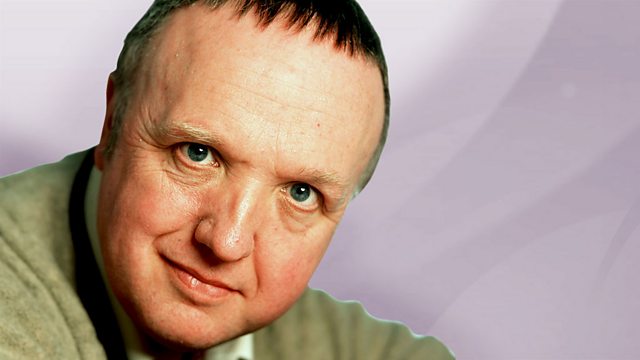 Entertaining recordings from the organ world
Nigel Ogden presents a programme of popular organ recordings with some entertaining pieces from the organ world.
Last on
The Gaumont Manchester Part 2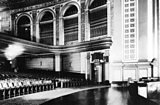 The Gaumont Manchester Part 2
After the Lancastrian Theatre Organ Trust was formed in 1968, the technical team took over the maintenance of the Gaumont, Manchester Wurlitzer and, as we saw a few weeks ago, they also took over responsibility for the other superb Manchester Wurlitzer in the Odeon cinema, just across the road. Initially, the highly popular monthly Sunday morning concerts presented by the LTOT in association with the theatre management all took place at the Odeon but, eventually, the Gaumont organ was also brought back to tip-top condition and the concerts more or less alternated between the two theatres.
The Gaumont closed its doors on the 28th. of January 1974 with a final organ concert played to a total capacity audience and, in fact, several hundred people who were still queuing around the building when the concert started had to be turned away. Although the part of the auditorium became a nightclub for a time, this also closed in due course and, in 1990, the theatre was demolished much to the horror of thousands of Manchester residents who had grown up with what has been described as Manchester's finest cinema. The interior was desgned by the famous architect, Theodore Komisarjevsky who was also responsible for the Granada, Tooting and as can be seen from the accompanying photos, the Gaumont, Manchester really was a gem.
Several organists were on the bill for that final concert in January 1974 including the one and only Reginald Dixon who had retired from the Tower Ballroom, Blackpool four years earlier. It was the one and only time Reg played the Gaumont organ in concert but he found many similarities with the Tower organ and thoroughly enjoyed himself.
During the following months, just about everything was removed from the theatre - carpets. curtains,
seats, panelling until virtually all that was left was the Wurlitzer and the electricity supply. As you can probably imagine, the reverberant acoustics that had been created within the bare shell of the building made the organ sound even more magnificent and the Lancastrian Theatre Organ Trust took advantage of the situation to get plenty of recordings made before the organ itself finally had to be removed. The Wurlitzer was in storage for many years because, despite strenuous efforts by the LTOT committee, they just couldn't come up with the right new venue. They found one eventually, of course - more about that next week.
Another view of the Auditorium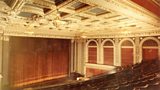 The grand view from back row