Main content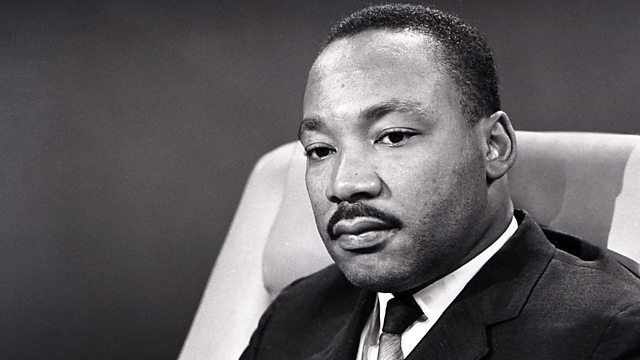 I Have a Dream
4 Extra Debut. Global figures celebrate the legacy Dr Martin Luther King by reading the words of his "I Have a Dream" speech. From 2013.
In this unique tribute programme, global figures celebrate the legacy of Martin Luther King by reading the words of "I Have a Dream."
It is Introduced by Professor Clayborne Carson, editor of the Martin Luther King papers.
Dr Martin Luther King gave his "I Have a Dream" speech in Washington D.C. on 28th August 1963.
The readers are:
Congressman John Lewis, who spoke at the 1963 March.
Dr Maya Angelou, American author and Civil Rights activist.
Prof Muhammad Yunus, Nobel Peace Laureate and economist.
Doreen Lawrence, mother of murdered British teenager Stephen Lawrence.
Wei Jingsheng, Chinese democracy campaigner.
Mary Robinson, former UN High Commissioner for Human Rights, first female President of Ireland.
John Hume, jointly awarded the Nobel Peace Prize for his contribution to the peace process in Northern Ireland.
His Holiness the Dalai Lama.
Albie Sachs, anti-apartheid campaigner, judge on South Africa's Constitutional Court.
President Ellen Johnson Sirleaf of Liberia, first female Head of State in Africa.
Raja Shedadeh, Palestinian lawyer, author and human rights activist.
Ndileka Mandela, granddaughter of Nelson Mandela.
Ariel Dorfman, Chilean-American author and human rights activist.
David Grossman, Israeli author and peace campaigner.
Dr Shirin Ebadi, Iran's first female judge, Nobel Peace Laureate.
Malala Yousafzai, sixteen-year-old student from Swat in Pakistan, shot by the Taliban.
Satish Kumar, Indian peace campaigner and environmentalist.
Maestro José Antonio Abreu, Venezuelan educator and musician.
Joan Baez, American musician and activist, performer at the 1963 March on Washington.
Stevie Wonder, American musician, singer and songwriter. Campaigner for Martin Luther King's birthday to become a national holiday in the United States.
First broadcast on BBC Radio 4 in August 2013.
Last on
The global figures reading the speech talk about their perspective of the speech.

A selection of programmes covering Martin Luther King's 'I Have A Dream' speech.

Reassembled footage surrounding the assassination of Martin Luther King.

Commemorating the 50th anniversary of the 1963 March on Washington for Jobs and Freedom.
Clips

Broadcasts