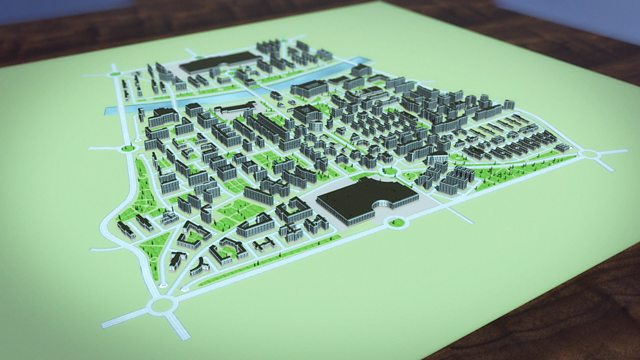 Using her skills to uncover long-forgotten and abandoned plans, architectural investigator Dr Olivia Horsfall Turner explores the fascinating and dramatic stories behind some of the grandest designs that were never built.
Destruction, whether intentional or circumstantial, often creates a clean slate and demands a fresh outlook in which we come to think the unthinkable. This programme looks at bold, and in some cases shocking, plans to make revolutionary changes to Britain's biggest cities.
In the mid 17th century, the capital was reeling from the devastation caused by the Great Fire of London. But amid the destruction, a huge opportunity arose to completely remodel and modernise London and make it into a very different city than the one we know today.
London was effectively a blank sheet of paper and, within a week of the city being razed to the ground, architect Sir Christopher Wren presented King Charles II with a vision to create a completely new city. Wren wanted the winding streets and old courtyards that had existed almost unchanged since medieval times to be replaced by monumental Parisian-style avenues in a formal grid pattern with large piazzas. This was a unique opportunity to improve on the past but, while Wren's design for St Paul's Cathedral did become a reality, London was reconstructed on essentially the same street plan as before the fire.
Three centuries later, Glasgow was the second city of the empire and the industrial powerhouse of the nation, but was struggling to cope with overcrowding and slum housing. Many believed the only solution was to start again. The city's leading planner, Robert Bruce, proposed demolishing the entire city centre - the celebrated buildings of Mackintosh and Greek Thompson would all have been bulldozed - to create a 1940s vision of the future. The new Glasgow would have been built as a system of regular tower blocks, ringed by a motorway, built in districts according to function. Bruce's justification for these drastic proposals was the creation of a new 'healthy and beautiful city'. Although his plan was not realised in its entirety, many of his ideas were carried out, and the M8 motorway which cuts right through the city centre is probably the most visible legacy of the 'Bruce Report'.
In both plans, destruction was the driving force behind creating a new city on a fresh slate. Separated in time by 300 years, these two radical thinkers, Christopher Wren and Robert Bruce, devised colossal, transformative schemes for their respective cities in a bid to create their very personal vision of the 'perfect city'.
Last on
Credits
| Role | Contributor |
| --- | --- |
| Presenter | Olivia Horsfall Turner |
| Series Producer | Paul Murton |
| Director | Kathryn Ross |
| Producer | Kathryn Ross |