Main content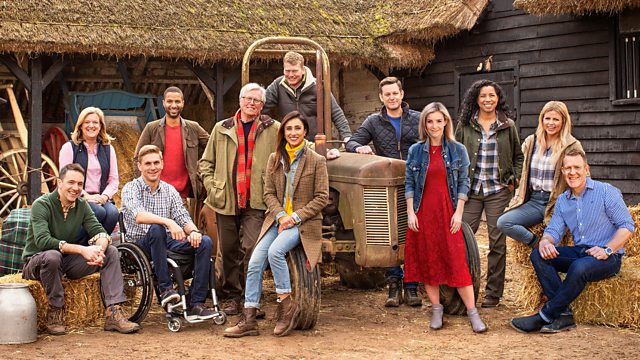 Oxfordshire
Julia Bradbury explores the Wittenham Clumps in south Oxfordshire, John Craven visits a farm with a difference and Tom Heap investigates a rise in livestock rustling.
Julia Bradbury, John Craven and Jules Hudson are in south Oxfordshire where Julia explores the magical Wittenham Clumps and learns how they inspired one of our greatest landscape painters.
John lends a hand down on a farm with a difference where people with learning difficulties are getting first hand experience of working on a real life farm. Jules meanwhile take a trip round the Oxfordshire lanes in a vintage Morris car and goes in search of the enigmatic Mr Morris.
Tom Heap investigates the rise in rustling of livestock and Adam's doing a bit of wheeling and dealing selling a prized Cotswold ram to buy a top quality Gloucester old spot pig.
The Wittenham Clumps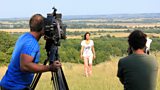 Julia Bradbury travels to the Wittenham Clumps in South Oxfordshire. These ancient beech-covered chalk mounds inspired and fascinated British artist Paul Nash when he first visited in 1912.  The official war artist returned to the county throughout his life to paint the clumps, which he described as 'the pyramids of his small world'. Julia looks at the painters' relationship with the area and meets the volunteers shaping the landscape today.
John meets the co-farmers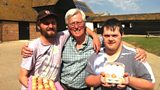 John Craven visits a farm at Wytham in Oxfordshire which offers people with autism and learning disabilities the opportunity to learn new skills. Trainers at FarmAbility teach horse care, animal husbandry and horticulture.  John meets the co-farmers who share a love of farming and the outdoors. They tell him how working on the farm has improved life for them and their families. And they offer John a spot of home-grown lunch.
Swifts in the city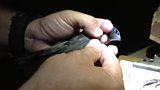 Oxford is home to one of the world's most famous universities, but students are not the only ones who flock to the dreaming spires. Britain's largest swift colony is at the city's Museum of Natural History. It is believed that swifts have nested at the tower since before the Second World War. More than sixty years on the birds are still monitored. Julia meets the man responsible for looking after them and gets special access to the tower where the birds nest.
Tom and the disappearing sheep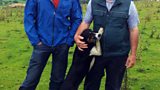 Every year tens of thousands of animals are stolen from farmers' fields in the UK. Most simply disappear without a trace. Tom Heap investigates the growing problem of rustling, especially on sheep farms, and discovers that a lack of evidence or witnesses makes it a particularly difficult crime to solve. Tom also heads to a livestock market and a slaughterhouse to try to find out where all these animals are going. He also learns that stolen animals entering the food chain could be putting human health at risk.
IMAGE: Tom and Fred Mountford, a victim of sheep rustling.

Buying and selling with Adam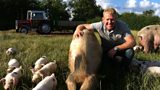 This week Adam Henson is doing a bit of buying and selling. A local farmer visits Adam's farm to inspect and buy a prized and rare Cotswold ram that gets its name from the area. Adam also needs a new Gloucestershire Old Spot boar for his farm. He goes to meet a breeder who has a magnificent herd of these rare breed pigs. Adam gets a quick lesson in what to look for in a good Old Spot and then has to decide between two impressive boars.
The man behind Morris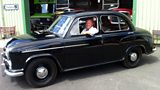 It is now a hundred years since the first Morris motorcar was made in Oxfordshire. Jules Hudson takes a spin in a Morris Bullnose and finds out about the man behind the car. William Morris, Lord Nuffield, was one of the great manufacturers and philanthropists of his time, but lived a simple life. Jules hears from former workers at the Morris Motors factory and visits Lord Nuffield's modest home in the Oxfordshire countryside.
The Aunt Sally challenge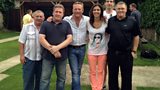 Julia attempts to master an historic Oxfordshire pub game, based on throwing sticks to dislodge a target from the top of a wood or metal pole. Every week more than one and a half thousand people across the county play Aunt Sally. Julia meets a craftsman who has made parts for the game for more than half a century. Then, with help from a few expert players, Julia challenges Jules Hudson to a game at a local pub. But, as they both discover, it is not as easy as it looks!
Credits
| Role | Contributor |
| --- | --- |
| Presenter | John Craven |
| Presenter | Julia Bradbury |
| Presenter | Jules Hudson |
| Presenter | Tom Heap |
| Presenter | Adam Henson |
| Series Producer | Teresa Bogan |