Main content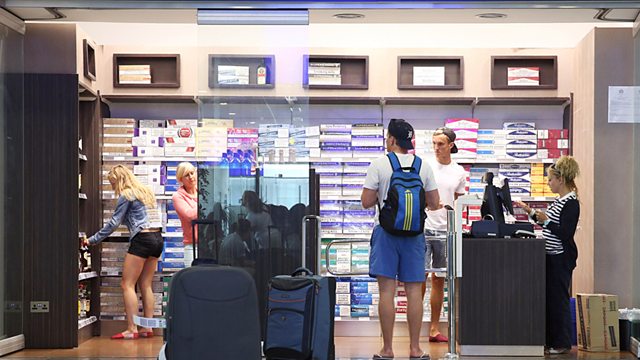 Paying for internships; Is duty free good value?
Consumer news with Peter White, including a best-before date for cycling helmets, films and supermarkets using tweets as reviews, and is duty free good value for money?
If you've been on holiday and bought from the duty free this summer - did you really get better value than on the high street? Trading standards officers object to a government proposal to give two days' notice before inspections.
When should you renew your cycling helmet? The energy customers complaining they've not received their gas bills.
Graduates paying thousands of pounds for internships in the city. Film reviewers being replaced by tweets from the public.
Presenter: Peter White
Producer: Simon Browning.
Chapters
Late Trains

When is a late train not really late? We talk to one of the biggest rail operators.

Duration: 06:09

Trading Standards

Trading standards object to a proposal to give two days notice before inspections.

Duration: 03:49

Cycling Helmets

Some of the leading bike shops recommend changing your helmet every 2 years.

Duration: 06:27

N Power

Npower has apologised after customers stopped receiving bills for months.

Duration: 03:17

Tech Watches

As two big companies prepare to launch smart watches we look at what is already available

Duration: 04:33

Paying for Internships

Graduates are paying recruitment companies up to £5000 to get work experience placements.

Duration: 07:25

Duty Free

Is Duty Free shopping the bargain it's cracked up to be?

Duration: 08:28

Online Reviews

Do online reviews help or hinder consumers?

Duration: 06:22

School Gate Fashion

Research says mums sepnd average of £87 each on school gate fashion.

Duration: 02:20

Smart Meters

We look at the criticisms facing the smart meter programme.

Duration: 04:40