Main content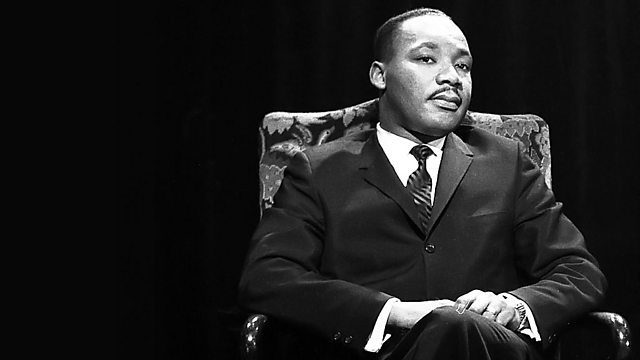 God's Trombone: Remembering King's Dream
Gary Younge looks behind the scenes of Martin Luther King's iconic speech and explores why, 50 years on, it's lionized as one of the greatest of all time.
On August 28th, 1963, at the March on Washington for Jobs and Freedom, Martin Luther King stepped to the podium in front of the Lincoln Memorial. Around 10 minutes into his speech, King sounded as though he were wrapping up when Mahalia Jackson, the gospel singer and King's friend, shouted: "Tell them about the dream Martin". He ignored her at first. Then she shouted again. He put the text to the left of the lectern, grabbed the podium and, after a pause more pregnant than most, started to riff.
King's adviser Clarence Jones turned to the person next to him and said: "Those people don't know it, but they're about to go to church."
It's 50 years since Martin Luther King gave the speech that stands as one of the nation's favourite addresses delivered by one of its most beloved figures. But "I have a dream" wasn't in the text of the speech and its mainstream popularity only grew after King was assassinated.
Gary Younge looks behind the scenes of the speech and explores what made it both timely and timeless. Why do we remember it? How do we remember it? Does the way we remember it say as much about us today as it does about those events 50 years ago?
We'll hear from King's colleagues and friends including his speechwriter Clarence Jones; King's aide, later US ambassador to the United Nations and Andrew Young. Young explores how King was influenced by African-American preachers: he was firmly rooted in a tradition of orators described by influential Harlem Renaissance poet and intellectual James Weldon Johnson as "God's Trombones".
The speeches and images of Dr. Martin Luther King, Jr. has been licensed by Intellectual Properties Management, Inc. (IPM) manager for the Estate of Martin Luther King, Jr. This license is in no way an endorsement of the views, policies, opinions, statements, and actions of the featured participants.
Producer: Peggy Sutton
A Somethin' Else production for BBC Radio 4.